Invisalign, a revolutionary orthodontic tool, has changed the way many perceive dental adjustments. One of the most pressing questions many patients have is: Can you actually eat with Invisalign? While the process of eating and drinking with Invisalign does come with its own set of guidelines, patients have found ways to adapt without compromising their treatment.
For instance, while hard and crunchy foods might be challenging, there are soft foods to eat with Invisalign that can be both satisfying and safe (Smith & Jones, 2018). Moreover, understanding the best foods to eat with Invisalign can significantly enhance the overall experience of the treatment, ensuring that the aligners remain in optimal condition (Doe et al., 2019). This guide delves deeper into the nuances of foods to eat with Invisalign, offering insight into maintaining oral health while enjoying a varied diet.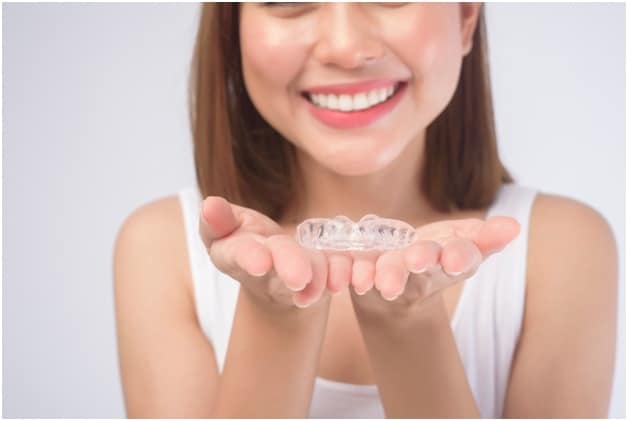 7 Guidelines For Eating & Drinking With Invisalign
Invisalign has revolutionized orthodontic treatment by providing a virtually invisible way to achieve a straighter smile. However, one of the common queries regarding Invisalign revolves around dietary habits: Can you eat with Invisalign? Here's a comprehensive guide to eating and drinking with Invisalign:
1. Always Remove Aligners Before Eating
Your Invisalign aligners are durable but aren't designed to withstand the forces of chewing. Make it a practice to always remove your aligners before eating. This ensures they don't get damaged or stained.
2. Only Drink Water While Wearing Your Aligners
If you're thirsty and wearing your aligners, stick to plain water. Colored or flavored beverages can stain your aligners and might allow sugar to get trapped between the aligner and your teeth, promoting tooth decay.
3. Avoid Temptation
While it might be tempting to have a quick snack without taking out your aligners, it's a risk not worth taking. Not only can this damage your aligners, but trapped food can increase the risk of cavities.
4. Keep Up With Brushing & Flossing
After eating, ensure you brush and floss before putting your aligners back in. This prevents food particles from getting trapped, maintaining oral hygiene and preventing potential stains on your aligners.
5. Set A Consistent Cleaning Schedule
In addition to regular brushing and flossing, set a consistent schedule to clean your aligners using appropriate cleaning solutions or as recommended by your orthodontist.
6. Stop Chewing Gum
Gum can stick to your aligners, making it challenging to clean. Avoid gum altogether during your Invisalign treatment. Plus, it can be very difficult to chew with the aligners in.
7. Limit Coffee & Tea
Coffee and tea can stain your aligners. If you're a regular drinker, ensure you remove your aligners before indulging and rinse your mouth thoroughly before putting them back.
What Types Of Foods Should I Avoid With Invisalign?
While Invisalign offers greater flexibility compared to traditional braces, it's essential to be mindful of what you eat. Although the convenience of removable aligners means you can technically eat any food, some considerations can optimize your experience and protect your teeth.
1. Soft Foods: Initially, after fitting a new set of aligners or changing to the next set, your teeth might feel a bit sensitive. During these times, soft foods to eat with Invisalign, such as mashed potatoes, yogurts, soups, or smoothies, can be soothing and reduce discomfort. These are foods you should not avoid.
2. Avoid Hard and Crunchy Foods: Even though you will take your aligners out to eat, it's still a good idea to avoid very hard or crunchy foods immediately after switching to a new set of aligners. These can exert undue pressure on the teeth that have just been adjusted, leading to potential discomfort.
3. Steer Clear of Sticky Foods: While you won't have brackets or wires like traditional braces, sticky foods can still be problematic. They can adhere to the teeth, which might make it difficult to place the aligners back correctly.
4. Stay Prepared: It's beneficial to have a go-to list of the best foods to eat with Invisalign. Such a list can be a guideline for ensuring you enjoy your meals without affecting the alignment process or causing unnecessary pain.
Always ensure that after eating, especially foods that can get trapped between teeth, you brush and floss thoroughly before placing the aligners back in. This ensures that food residues don't stay trapped under the aligners, which could lead to cavities or gum issues.
Where Can I Get Invisalign In Miami, Fl?
Miami, renowned for its sun, sand, and vibrant culture, is also home to some of the country's leading orthodontic practices. If you're contemplating an Invisalign treatment in this city, it's essential to make informed decisions.
1. Research and Recommendations: Start by seeking recommendations from friends or family who have undergone Invisalign treatment. Their firsthand experiences can provide invaluable insights.
2. Experienced Orthodontists: The outcome of your treatment significantly relies on the expertise of the orthodontist. Ensure that the clinic you select boasts professionals with substantial experience in administering Invisalign treatments. They should be equipped to handle various cases, from the simplest alignments to more complex dental scenarios.
3. Consultation: Before diving into the treatment, schedule a consultation. This session provides an opportunity to discuss your dental goals, get a feel for the clinic, and understand the process in-depth.
4. Reputation Matters: Reviews and testimonials can give you a clearer picture of patient satisfaction. A clinic with positive feedback is likely to offer top-notch services and care.
5. Post-Treatment Support: Aftercare is as vital as the treatment itself. Ensure that the clinic provides robust post-treatment support, guiding you on maintenance and addressing any potential concerns.
Eager to begin your Invisalign journey in the heart of Miami? Visit ivanovortho.com to schedule an appointment. With expert orthodontists and state-of-the-art facilities, your path to a radiant and confident smile starts here!