Metal braces are the ones that people think of when they think about braces.  It is likely that you have a lot of questions that you would like to ask your orthodontist such as do metal braces work better than other types of braces? How do traditional metal braces move the teeth? How do invisible braces stack up against other types of braces?? What's the difference between dental braces and ligating braces? There are a lot of types of braces out there and each one has its own set of pros and cons. There are also a number of reasons why you should use metal brackets for teeth.
For one, metal braces are the most cost effective. In orthodontics, reducing costs without compromising quality is of importance to the patient, the practitioner, and the health care provider (Deans, J et al., 2009).
At times in orthodontics, treatment can be publicly funded or insurance-based, and in this case, cost-effectiveness is of interest to all involved including the insurance company, the health care providers, and possibly the department of health (Deans, J et al., 2009).
When orthodontic treatment is paid for solely by the patient, reducing costs and improving cost-effectiveness is of interest to both patient and practitioner, as improved cost-effectiveness can lead to increased practitioner profit (Deans, J et al., 2009).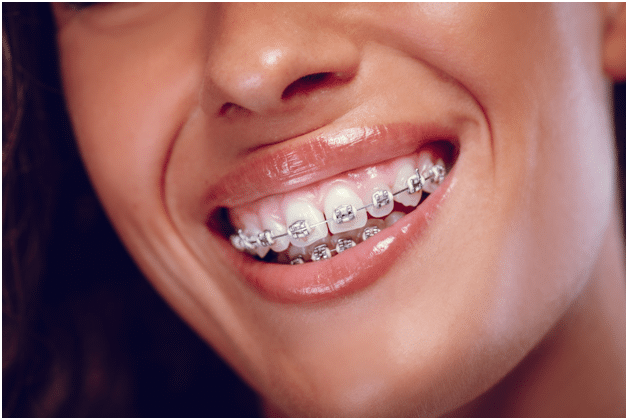 Is There An Alternative Treatment In Orthodontics With Metal Brackets?
For many years, metal brackets for teeth have served as the cornerstone in the realm of orthodontics. They have efficiently set the standard in aligning and perfecting the positions of teeth, giving way to countless metal bracketssimply beautiful smiles.
When we talk about metal brackets teeth, we refer to those sturdy fixtures that have been trusted by orthodontists worldwide. Yet, with the rapid advancements in dental technology, the landscape of orthodontics is shifting. Today, the orthodontic world is not just limited to metal brackets. A wide variety of alternatives have blossomed, offering patients an expansive spectrum of options beyond traditional metal brackets for teeth. This progression in the field signifies a responsive adaptation to the varied needs and preferences of patients globally. So what are some of the alternative options out there?
Clear Aligners:
In the constantly evolving world of orthodontics, clear aligners have emerged as one of the most sought after alternatives to traditional metal brackets for teeth. Representing a revolutionary step forward, these aligners present an almost invisible method of straightening teeth. Made of durable, transparent plastic, they are custommade to snugly fit each patient's dental structure.
Not only do they offer a discreet way to correct dental imperfections, but clear aligners also grant patients the luxury of removing them during meals or special occasions. This flexibility means individuals can maintain optimal oral hygiene and continue enjoying their favorite foods without restriction. Furthermore, for those who prioritize aesthetic appeal, clear aligners provide a golden opportunity to undergo orthodontic treatment without the highly visible appearance of metal, allowing them to pursue those simply beautiful smiles with confidence.
Ceramic Braces:
Ceramic braces represent a harmonious blend of traditional design and modern aesthetics in the field of orthodontics. While they share a structural similarity with conventional metal brackets teeth, their most distinctive feature lies in their material composition. Made from a ceramic material, these braces come in translucent or tooth-colored brackets, allowing them to integrate smoothly with the natural hue of one's teeth.
For patients who are a tad conscious about sporting noticeable braces but still require the robust corrective power that bracket and wire braces offer, ceramic braces become an appealing choice. They promise the effectiveness of metal braces but with a subtler presence. Over the years, the advancements in the materials used for ceramic braces have ensured reduced chances of staining, making them an even more attractive option for those eyeing a seamless orthodontic experience while journeying towards that simply beautiful smile.
Self-Ligating Braces:
Self-ligating braces stand as a progressive type of appliance in the world of orthodontics. While they bear a resemblance to the classic metal brackets for teeth, their mechanism is distinct. Instead of employing traditional elastics or metal ties to hold the archwire in place, these braces boast a specialized clip. This innovative design carries several advantages: foremost, the reduction in friction between the bracket and the wire. With less friction, the teeth can potentially move more freely and quickly, possibly accelerating treatment times.
Additionally, the absence of elastics means fewer appointments for adjustments and less plaque accumulation around the brackets. Patients often find self-ligating braces more comfortable and easier to clean, making their journey towards simply beautiful smiles a touch smoother.
Lingual Braces:
Venturing into the realm of near invisibility in orthodontic solutions, lingual braces offer a unique selling point: complete invisibility. Unlike conventional braces that sit on the front of the teeth, lingual braces are ingeniously placed behind them. This placement ensures they remain hidden from view, granting the wearer the confidence of undergoing corrective treatment without being obviously visible. Especially favored by adults and professionals in the public eye, these braces offer the robustness of metal braces but in a concealed manner. Achieving a simply beautiful smile without the conspicuous presence of orthodontic appliances becomes a reality with lingual braces.
Functional Appliances:
While functional appliances might not be the first thing that comes to mind when discussing alternatives to metal brackets teeth, they play a pivotal role in orthodontic treatments. These devices aren't necessarily designed to replace metal brackets but rather complement them, or in certain cases, be used independently.
Their primary purpose centers around modifying the jaw's growth, ensuring that both the upper and lower jaws align correctly. By addressing bite issues and jaw discrepancies early on, functional appliances can pave the way for a more straightforward braces treatment later or even negate the need for braces altogether in some instances. Whether used in conjunction with traditional braces or as standalone devices, functional appliances are instrumental in sculpting simply beautiful smiles by setting the foundation right.
What Are The Advantages And Disadvantages Of Metal Bracket Orthodontics?
The choice of metal brackets in orthodontics comes with its set of pros and cons. On the one hand, metal brackets are durable, efficient, and often less expensive. On the downside, they are more noticeable than some of the modern alternatives, and there can be initial discomfort or potential for mouth sores.
Considering orthodontic treatment in Miami? Explore your options and get the best guidance for your journey to a simply beautiful smile. Schedule an appointment with us today at ivanovortho.com!