What Are Incognito Hidden Braces?
In the dynamic and continually advancing field of orthodontics, several innovations have garnered attention, with hidden braces leading the charge as a revolutionary offering. These are not just an aesthetic blessing but a leap forward in dental science. One notable development is the emergence of incognito hidden braces, which stand as a testament to the advancements in dental technology.
These hidden lingual braces are virtually undetectable, offering a discreet yet effective solution to teeth alignment issues. Moreover, options such as inbrace hidden braces are a reflection of the orthodontic community's commitment to merging comfort with aesthetics, creating a revolution in how we perceive orthodontic treatments (Johnson & Smith, 2019).
Furthermore, understanding the hidden braces cost is essential to making an informed decision as cost can play a major factor in your orthodontic choices. Despite being a relatively recent innovation, these braces have proven their efficacy in numerous cases, promising an enhanced oral health outlook with a substantial focus on aesthetic preservation (Lee & Kim, 2020).
Read on to learn more and explore the various facets of these undercover orthodontic marvels, offering a comprehensive view into the world of hidden braces and the benefits they bring to the table.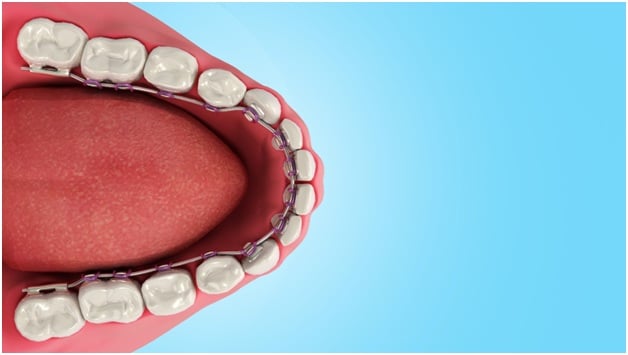 What Are Hidden Braces?
In the vibrant landscape of modern orthodontics, hidden braces, frequently referred to as lingual braces, emerge as a pinnacle of innovation and discretion. These unique braces are meticulously positioned behind your teeth, making them virtually invisible to others, thereby allowing for a more confidential approach to orthodontic care.
This significant advancement in orthodontics enables individuals to pursue a path of improving their dental alignment without having to worry about the aesthetic implications often associated with traditional braces. While they operate like traditional braces, their concealed location ensures that your orthodontic journey remains a personal and discreet experience, granting you the freedom to smile confidently even during the treatment process.
They do have a drawback due to their design you should discuss with your orthodontist before proceeding.  Because they are on the back of the teeth, they can be more likely to cause sores or even cuts on your tongue until you get used to them.
Why Choose Lingual Hidden Braces
Choosing hidden lingual braces as your pathway to a better smile comes with a variety of distinct advantages that extend beyond mere aesthetics. Firstly, these braces retain the natural allure of your smile throughout the entire duration of your treatment, given that they are expertly crafted and concealed behind your teeth, remaining entirely unseen from the public eye.
This innovative approach to orthodontic care means that your journey to a perfect smile doesn't interfere with your current smile, allowing you to showcase your natural charm without hindrance. This is also important to adults who want to correct orthodontic issues but not reveal that they are receiving treatment. You can give speeches or even appear on camera with no visible treatment.
Additionally, each set of these braces is custom-designed to align perfectly with the unique structure of your teeth, promising not only a perfect fit but also an optimized and efficient treatment process that caters specifically to your dental needs. This personalized approach ensures that the braces work effectively and are custom to just you.
Moreover, the hidden nature of these braces eliminates the common issues of wear and tear that often occur on the front surfaces of your teeth with traditional braces, safeguarding your enamel and maintaining the pristine condition of your teeth in the long term. By opting for lingual hidden braces, you invest in a solution that combines comfort, discretion, and efficiency, promising a rewarding and fulfilling orthodontic experience.
 How Do Incognito Hidden Braces Work?
Starting a journey with incognito hidden braces means stepping into a realm of absolute precision and unparalleled customization that stands at the forefront of orthodontic advancements. These braces are meticulously crafted, with each piece being uniquely designed to adapt seamlessly to the individual contours and nuances of your teeth, meaning you get a harmonious alignment.
The start of this process lies in making an appointment with an orthodontist who will take detailed images and impressions of your dental structure, which are then used to craft your braces. This extensive prep work ensures that the braces are optimized to align your teeth to perfection, fostering a journey towards a new dazzling smile that is conducted with utmost secrecy, with the braces being completely concealed from the outside world. This method combines the realms of science and artistry, promising an orthodontic experience that is as efficient as it is invisible.
How Much Do Hidden Braces Cost?
Taking the step to invest in hidden braces is a decision that shows you have a commitment to achieving a radiant and perfectly aligned smile through means that blend innovation with discretion. It is a venture that, while it is a higher cost from a financial aspect, promises rewards that transcend mere aesthetics.
The hidden braces cost, while it reflects the advanced technology and high degree of customization involved in the process, can indeed fluctuate based on a variety of factors. These factors may encompass the complexity of the individual case, the extent of alignment required, and the geographic location of the treatment facility, among others.
Therefore, it is fundamentally important to have a detailed consultation with a reputable orthodontist who can provide an accurate and comprehensive estimate tailored to meet your unique needs and preferences. This consultation serves as a gateway to not only understanding the financial investment involved but also charting out a customized treatment plan that promises results that are nothing short of transformative, steering you towards a journey of self-enhancement that is both rewarding and fulfilling.
Schedule Your Hidden Braces Consultation Today!
Ready to embark on a journey to a perfect smile with maximum discretion? Schedule your consultation today to explore your options with hidden braces, including inbrace hidden braces, and find the perfect fit for your orthodontic needs. Visit ivanovortho.com to book an appointment with the best orthodontists in Miami.