A free orthodontic consultation gives you the chance to go over all of your options with an orthodontic specialist. You can find one using the AAO search feature or by doing some research of your own. This starts you on the path to straighter teeth and a healthy mouth the correct way. The free consultation does not obligate you to get your treatment done at that clinic, and it is a solid option if you want to get a second opinion or have your questions answered.
If you or your child needs braces, your free orthodontic consultation appointment is the best time to learn about all the options you have available to you. You can get all of your questions answered and learn about payment plans that are available for you as well.
Dentists are an important part of your overall oral health program, and they do a lot in terms of keeping your teeth healthy, performing things like root canal procedures, and even helping you treat sleep apnea. But when it comes to orthodontic treatment, your best bet is to seek the advice of an orthodontist near me, who is an expert at realigning teeth and understanding jaw alignment and the overall shape of your face.
An orthodontist is someone who went to dental school and after completing that program went on to specialize in orthodontics. Orthodontics is a 2-3 year program in addition to dental school. On top of that, orthodontists who work with clear aligners may also be certified by Invisalign. You may see a certificate or plaque in their office from Invisalign that lets you know what level of expertise they have in working with Invisalign aligners.
At your orthodontic consultation appointment, your orthodontist may notice that you have some jaw alignment problems. These are called malocclusions, and they are very common. He or she will go over your treatment options that will realign your teeth and put your jaws into correct alignment. This means you will no longer have teeth that don't chew properly, and you may even have less jaw tension.
Your orthodontist will likely take X-rays or a scan of your teeth and also take your medical history so that they can develop a correct treatment plan customized just for you.
Your free orthodontic consultation is the time to ask about appointment availability and what kind of hours your orthodontist keeps. It will be much easier to keep up with your orthodontic treatment if you're able to make your appointments at times that fit your already busy life. Your kids and you shouldn't have to miss school or work in order to have a beautiful smile.
Your initial consultation is also your chance to ask about before and after photos so that your orthodontist can show you what your teeth might look like when you are all done with your orthodontic treatment.
This is also a great time to get to meet the whole team. An orthodontist's office is more than just the orthodontist. He or she will have a whole team of assistants and a treatment coordinator who are all a big part of your orthodontic treatment. Their role is to help you feel comfortable about your braces. When you walk in you should feel welcome, and that's important because you're going to be spending quite a bit of time there over the next two to three years.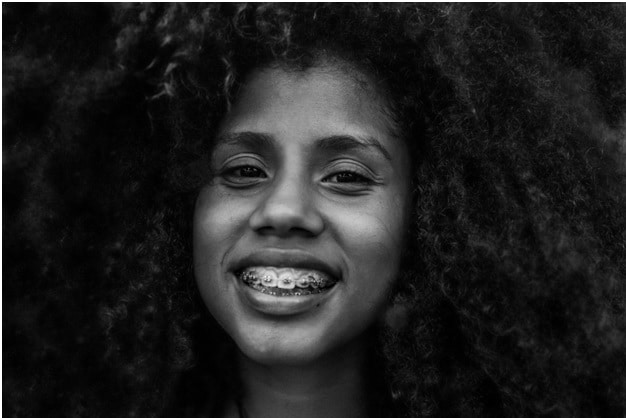 What happens when you get braces
If you choose to go with metal or ceramic braces near me, your orthodontist will glue the brackets to your teeth and then run an archwire through all of the brackets. Every few weeks you will go in and get your braces tightened. This is what moves the teeth into their new spots.
Something else your orthodontist will likely go over with you is proper care and cleaning of your braces. This includes regular visits to your dentist, brushing and flossing, and possibly even using a water irrigation device to help get food and plaque out from between your teeth.
Your orthodontist will probably also talk to you about some diet modifications like no sticky or hard foods to protect your braces.
Types of braces
Once upon a time, there was only one type of braces – the traditional metal kind. They are still the least expensive, but they are not your only option anymore. Clear ceramic braces are also available, but they cost about $1,000 more than metal ones.
And in recent years, clear aligners have become all the rage. They are popular because they work really well and they are easily adaptable to your life. However, because they can't be removed, they are not recommended for kids. Teens and adults can use them as long as they commit to wearing Invisalign at least 20 but preferably 22 hours a day. Free consultations are a way to learn more about the types of braces and what will be best for you and your life.
How to pay for your braces
Braces generally run between $3,000 and $7,000, but some types of braces cost more than others. If you have a lot of work that needs to be done, your treatment is going to be more expensive. That said, most treatments last about 2 years, but some people who just need a small gap closed or some minor straightening may be able to get done in as little as six months. No matter how you look at it, that's a lot of costs to try to budget.
Many orthodontists offer flexible payment plans that help make braces affordable for everyone. These types of payment plans can break the cost of braces down to as little as $150 a month, or the cost of going out for coffee every day. Getting braces becomes much less daunting when things get broken down into more manageable monthly payments.
Some dental insurance plans also offer coverage either in part or in full for braces. This is especially true for kids under the age of 18, but more and more plans are starting to add coverage for adults who have medically necessary braces needs as well. To find out what kind of coverage you have, you can contact your benefits department at work or the dental insurance plan administrator, or you can stop and talk to the office staff at your orthodontist's office at your free orthodontic consultation. They are more than happy to help you.
In addition, many orthodontists will take good old-fashioned credit cards. Imagine being able to earn miles on a credit card while also getting orthodontic treatment. In the end, you can have a vacation and a beautiful smile!
Summary
At your free orthodontic consultation in Miami Shores Florida 33138, you get an opportunity to not only learn what kinds of orthodontic treatment types are available, but you can also get a treatment plan created just for you, meet the staff including your treatment coordinator, and even learn about ways to pay for your braces. Who says you can't get anything for free anymore?
Contact Us
IVANOV Orthodontic Experts, 12866 Biscayne Blvd, North Miami, FL 33181
https://www.google.com/maps?cid=154326063970645489
Call us at (786) 540-1919 to schedule a free orthodontic exam.
Learn more about How You Can Find The Best Orthodontist Near Me in Miami at https://ivanovortho.com/how-you-can-find-the-best-rated-orthodontist-near-me-in-miami/