Finding braces near me is easily done when you start your search on the internet. You can also use tools like the American Association of Orthodontics find an orthodontist tool.
Where can I get braces done near me – dentist to get braces near me
Finding an orthodontist is actually pretty simple when you need to know where can I get braces done near me Miami FL. You will want to apply a logical approach, starting by doing some internet research first to locate orthodontists in your area. By using the geolocation service built into your web browser, you can find a nice list of orthodontists within a close geographic range to you.
Then you can look for ratings and reviews of the orthodontists that you have located. This is a great way to find out what kind of service they provide to their patients. It also gives you a good idea of how many patients they have served, because the more ratings they have it's likely the longer they've been in business. This is not to say that someone who is just starting out is less qualified, but if you're looking for a top rated orthodontist this is a great place to start.
Once you have narrowed down who is close to you, set up a free initial consultation to meet the office staff and the orthodontist to learn whether this is going to be a good fit for you or not. You can also ask for before and after photos that they likely have to show you what kind of work they are capable of doing. Most orthodontists can work with a number of orthodontic treatments to provide solutions for everyone regardless of budget or what kind of orthodontic care they need. At the end, they will get you a beautiful smile that you deserve.
We'll learn more about where can I get braces done near me in just a moment but first let's pause and take a look at what some of the experts of orthodontic medicine have to say.
There are a range of orthodontic appliances available for everyone, including adults, who are looking for orthodontic treatment, ranging from clear aligners like Invisalign to traditional braces (Alansari RA et al., 2019).
What you choose will depend on a variety of factors like function, appearance, and fit (Alansari RA et al., 2019).
The aesthetics of orthodontic treatment are important and they can play a big role in what type the patient chooses.  Clear and tooth-colored appliances are more popular with adults than other types of orthodontic appliances (Alansari RA et al., 2019).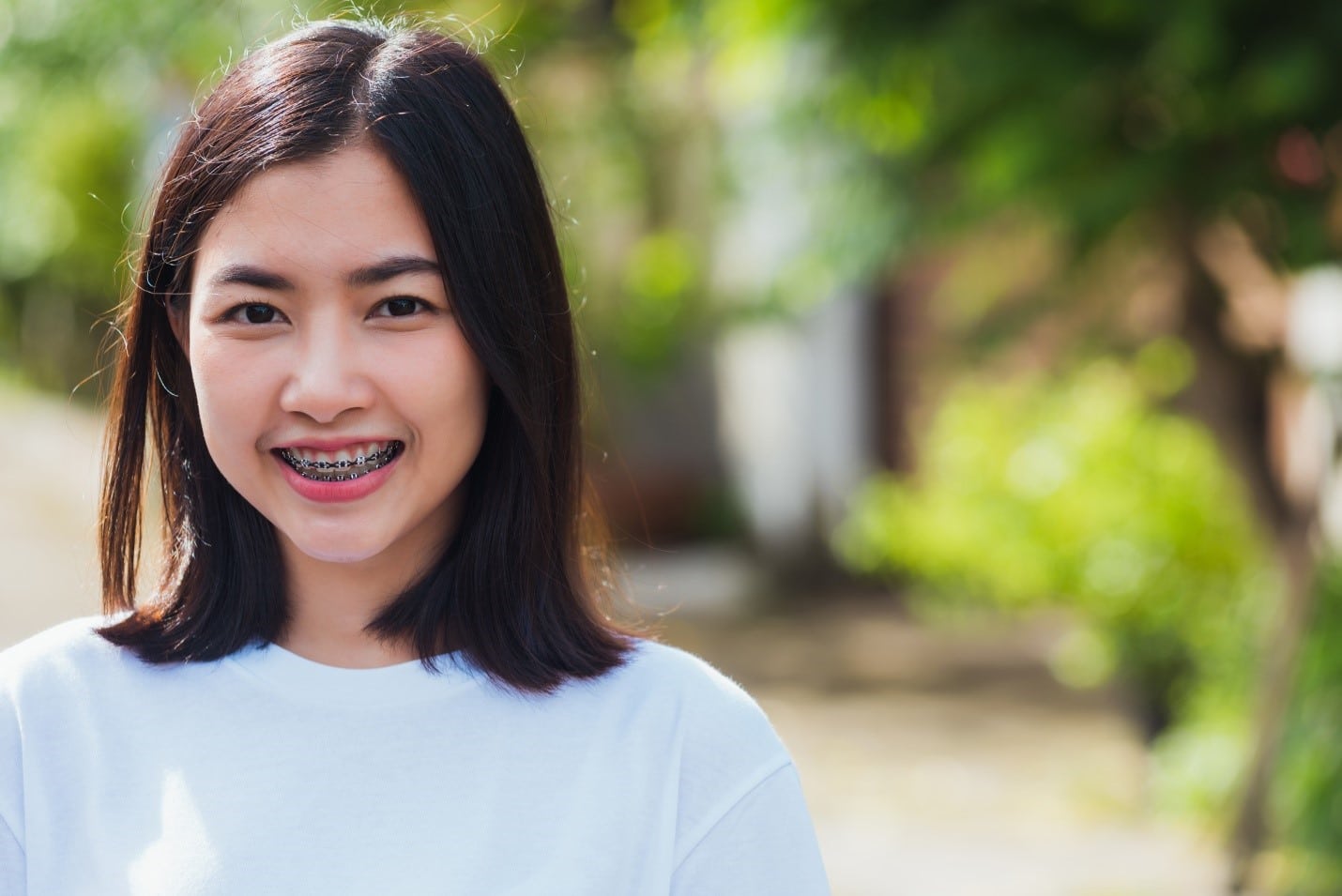 Do you regret getting braces? Where to get braces
Very few people will ever regret getting braces, because once the braces are applied, they will start to see the transformation of their smile within just a few months. They no doubt have had either crooked teeth, gapped teeth, or misaligned teeth that they now can get into a much better alignment. It may even result in a reduction in jaw pain because of misaligned jaws. Orthodontic treatment helps so many different dental and orthodontic issues.
When you are all done with your orthodontic treatment, your oral health will be improved, too, because it will be easier to keep your teeth clean and as we mentioned above, your teeth will be in a much better alignment so you can chew better and possibly even eliminate speech impediments caused by misaligned teeth. Your new beautiful smile will also help boost your confidence as you greet the world.
Where do I get the cheapest dental braces in Miami? Get braces near me
While you can certainly contact the orthodontist closest to you and ask what they charge, there's more to consider than just price. Different orthodontists will offer different payment plans and take different insurance so while one orthodontist might be less costly, it may actually be more expensive in the long run because you will end up paying more out of pocket compared to another orthodontist that accepts a wider range of insurance plans.
One of the other things to keep in mind is that the type of braces you choose will affect the cost of your orthodontic treatment. Braces like lingual braces or self-ligating braces are more costly than are traditional metal braces. It is also now more common for people to use other types of treatments like ceramic braces or Invisalign and this has helped bring the cost of both of these types of treatments down so that the nearly invisible treatments are much more affordable than in years past.
Still, generally speaking, traditional braces are the most cost-effective type out there. When you go for your first consultation appointment, ask the office staff what kinds of payment plans they offer and if they offer anything like a cash discount, or if they accept FSA disbursements. This can be a great way to afford your orthodontic care without impacting your budget as much as paying for them outright would.
Is it OK to get braces at my age? Best place to get braces near me
Without knowing your exact age, it's difficult to answer this question concretely, but generally speaking anyone of any age is an excellent candidate for braces. Some people are just now getting braces as adults because it is something that they can afford, or they may be getting braces again because of their teeth shifting as they age.
It should be noted that if you are getting braces at as an adult, your treatment times may be slower than they would have been if you got them as a teenager because the bones in your jaw have now fully set, but this should not discourage you. Adults can successfully get braces and achieve great results just like teenagers and tweens can.
How should I care for my braces while I wear them? Get braces today near me
It's important that while you have your braces that you take good care of them. Once your braces are applied, you may experience some discomfort. This can be treated by over-the-counter pain relievers, or ice bags applied to the sides of your face. Many people don't experience any discomfort at all after initially getting their braces and they're able to carry on as they did before they got them. You can also give yourself a treat and have some ice cream. The cold and soft material will feel good on your teeth and gums after you get your braces on.
As your teeth move, you will go in for periodic appointments to get your braces tightened. After each of these appointments you may experience some discomfort like you did when you first got your braces on. Not to worry, as you can when you first get them on, an over-the-counter pain reliever will assist.
One thing you should be aware of if you are wearing any sort of traditional braces involving brackets and wires is that you should eat soft foods. Hard foods like whole carrots, whole apples, ice cubes, and the like can actually damage the brackets and wires. You should eat softer foods and be more mindful of cutting hard or crispy foods into smaller bits so that they don't cause damage.
It's also important that you keep up with brushing your teeth and flossing. It is easy to get food particles stuck within the brackets and rubber bands that go around each of the brackets.
To help get tooth particles out from around your teeth braces, you can also consider getting an oral irrigator like Waterpik. These are devices that use small jets of water to help blast out food particles and plaque from between your teeth and around your brackets. It's also important to maintain your good oral health and go in to have your dentist clean your teeth every 6 months. This will help ensure that when your braces are removed, your teeth look healthy and clean and you do not end up with discoloration around where the brackets were.
Reference:
Alansari, R. A., Faydhi, D. A., Ashour, B. S., Alsaggaf, D. H., Shuman, M. T., Ghoneim, S. H., Linjawi, A. I., Marghalani, H. Y., & Dause, R. R. (2019). Adult Perceptions of Different Orthodontic Appliances. Patient preference and adherence, 13, 2119–2128. https://doi.org/10.2147/PPA.S234449
Contact us:
IVANOV Orthodontic Experts, 12866 Biscayne Blvd, North Miami, FL 33181
https://www.google.com/maps?cid=154326063970645489
Call us at (786) 540-1919 to schedule a free orthodontic exam.
Learn More about How to Find Good orthodontist that take insurance at