A dentist orthodontist in Biscayne Park FL 33161 is someone who will help your whole family have healthy smiles for life. Your straighter teeth and aligned jaws will give you confidence and peace of mind knowing your teeth are in great shape. The office staff will do their very best to make you feel comfortable about the process and know that you are being well taken care of.
Finding a dentist Orthodontist near me in Biscayne Park FL 33161
One of the best things that you can do for yourself is to take good care of your health. And one of the best things you can do for your oral health is to find a good dentist or orthodontist near me in Biscayne Park FL 33161. This is an expert who will be able to straighten crooked teeth, realign a malocclusion or misaligned bite, or even help your child with dentofacial orthopedics.
What can clean teeth do for you?
You might think that brushing and flossing alone is going to be enough to keep your teeth clean. However, this is not the complete picture. You do need to go see a dentist on a regular basis to get professional cleanings to remove any tartar buildup and also have him or her check your teeth to make sure there are no cavities forming.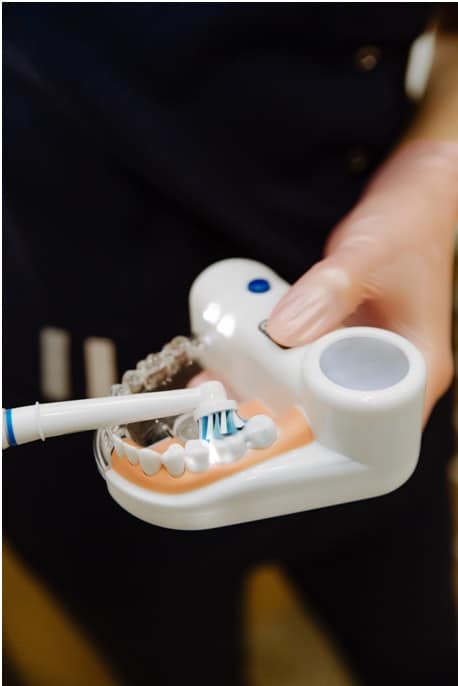 Being able to catch any dental issues early on means that they can be treated easily and potentially in a pain-free manner.  And it certainly can help avoid any invasive procedures and oral surgery.
Why a dentist orthodontist near you matters
If you have crooked teeth, gaps in your teeth, or a misaligned bite, you need to see your best local orthodontist near me, Ivanov Orthodontic Experts to help correct these dental issues. You might even experience fewer headaches because the pressure on your temporomandibular joint is reduced thanks to your jaws lining up. Your local orthodontist in Biscayne Park FL 33161 will be able to assess your teeth and come up with a customized treatment plan just for you.
This also means assessing what kind of orthodontic treatment you need. Your orthodontist will take a series of X-rays and do an exam to see what is going on inside the jaw as well as how your teeth line up.
Traditional metal braces are the braces you think of when you think about braces. They are a series of metal brackets that are affixed to the teeth and connected by a stainless steel archwire. Then small rubber bands are affixed to the front to hold the archwire in place. By applying gentle pressure to the teeth, they move the teeth into their new position.
There are also ceramic braces. These are made from a clear ceramic material and work much as metal braces do. They are almost invisible because of the tooth-colored ceramic.
Then there's Invisalign. This is a great treatment option for teens and adults who are looking for a nearly invisible option. These clear trays work like braces do by applying pressure on the teeth to align them into a new position.
Orthodontic treatment for kids
When you are trying to choose an orthodontic practice, you need to consider who the patient is going to be. Some orthodontists are able to treat a whole family, while some are pediatric specialists. This is important because if your child is young and needs to have some special appliances in order to create enough room for their adult teeth to come in, you will need to choose an orthodontist who is an expert in dentofacial orthopedics.
So what is the difference? Orthodontics focuses on the teeth, while dentofacial orthopedics focuses on the overall facial structure, and that's a separate subspecialty. These experts will assess your child's overall jaw structure and teeth and see whether or not appliances like a reverse pull headgear or palate expander will help them.
When it comes to orthodontic treatment for kids, you may find that your dental insurance will offer partial or maybe even complete coverage depending on the type of treatment your child needs. Many dental insurance plans offer orthodontic coverage for teens and kids, so ask the orthodontist office what insurance plans they take and how much coverage your plan offers, or contact your benefits office at work for information about the coverages you have on your dental health insurance plan.
Finding the best local orthodontist near me
We just talked a little bit about the need to find an expert in pediatric orthodontics if you have children who need braces. But there are other factors to consider when looking for the best dentist orthodontist near me in Biscayne Park FL 33161.
Some of these factors also include how easy it is to make an appointment. If the orthodontist has too many appointments and you can't get in, this does not do you any good. You need to find an orthodontist who has appointments available so you can be seen each month.
Another factor to consider is location. Is the office easy to see from the road? Is it easy to get in and out of there? Or is traffic during certain times of day difficult to navigate?
Does your orthodontist offer appointment at times that make it easier to get to all of them? Your orthodontist should offer evening and weekend appointments to help make it possible for you to get to all of your appointments. It also means if you run into an orthodontic emergency, you know that you will be able to be seen in a reasonable amount of time so you can have it fixed.
You can also check the American Association of Orthodontists website for a listing of top orthodontists in your area. By finding an AAO orthodontist, you know that you will be going to see someone who agrees to adhere to treatment standards and also provides great customer service.
You also need to consider how you will pay for your braces. If you visit the office and you see state-of-the-art equipment, you should not automatically think that this office is out of your price range. Orthodontists who offer a wide variety of treatment options should have state-of-the-art equipment that they use depending on the type of orthodontic treatment you receive. Ask the office staff what kinds of payment options are available so you can have affordable braces. This may mean a combination of health insurance dental plans, payment plans, FSA or HSA accounts, and credit cards.
Contact Us
IVANOV Orthodontic Experts, 12866 Biscayne Blvd, North Miami, FL 33181
https://www.google.com/maps?cid=154326063970645489
Call us at (786) 540-1919 to schedule a free orthodontic exam.
Learn more about All About Dental Orthodontics in Miami Shores, Florida https://ivanovortho.com/what-is-orthodontics-in-dentistry-miami-shores-florida/