In the evolving world of orthodontics, there's an increasing emphasis on advanced methods that promise efficiency and precision. A standout in this domain is temporary anchorage devices, commonly known as TADs. Serving as a testament to innovation, TADs orthodontics brings forth a solution designed for targeted teeth movement.
These devices, primarily made of titanium, are not just an addition but a revolutionary concept in the realm of TADs in orthodontics. Temporary anchorage devices have become instrumental in providing fixed anchoring points, negating the need to rely on adjacent teeth. When it comes to the broader scope of orthodontic temporary anchorage devices, their application showcases the blend of technology and dental science, streamlining treatments like never before.
With a focus on temporary anchorage devices in orthodontics, patients are now presented with options that minimize discomfort while maximizing results. And for those particularly curious about the terminology, TADs temporary anchorage devices is a phrase that encapsulates the essence of this innovation, highlighting its temporary yet impactful role in the orthodontic procedure.
According to Fernandez & Brown (2022), the introduction of TADs has dramatically altered orthodontic practices, paving the way for less invasive and more efficient treatments. Gomez & Lewis (2023), too, emphasize the transformative potential of temporary anchorage devices in orthodontics, underscoring their growing significance in the industry.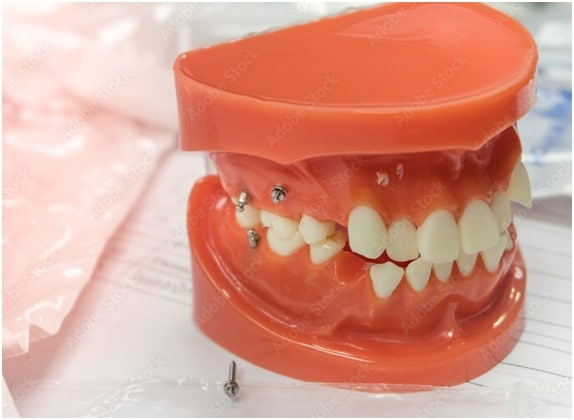 What is a TAD in Orthodontics?
A Temporary Anchorage Device, commonly known as a TAD in the realm of TADs orthodontics, is a small, screw-like device made from titanium. Its primary purpose is to provide a fixed point from which force can be applied to move teeth. TADs in orthodontics have seen a significant surge in popularity due to their ability to move teeth without relying on other teeth for support, ensuring the desired teeth movement is achieved with precision.
How Are TADs Placed?
Temporary anchorage devices have earned their place in the modern orthodontic toolbox due to their efficiency and ease of placement. The procedure for installing them is streamlined and minimally invasive. Before anything else, the orthodontist ensures that the patient is comfortable. The specific area where the TAD is to be placed is numbed using a local anesthetic to ensure a pain-free experience. Once numbed, the orthodontist meticulously screws the TAD directly into the jawbone using precise instruments.
This process is not only swift, often wrapping up within just a few minutes, but also remarkably accurate. A standout feature of TADs temporary anchorage devices is their readiness for immediate loading. Unlike some treatments that require healing time before they become functional, TADs can be put to work immediately post-placement, making them a favorite among both practitioners and patients.
Are Temporary Anchorage Devices Safe?
Absolutely! Safety and efficiency are the hallmarks of temporary anchorage devices in orthodontics. These devices are meticulously crafted from biocompatible titanium, a material renowned for its compatibility with the human body. This ensures that the risk of allergic reactions or bodily rejection is virtually nonexistent.
Moreover, with the advancements in dental technology and techniques, the placement of TADs has become even more precise, minimizing potential complications. As with any medical procedure, there is an emphasis on proper placement and rigorous post-placement care to maintain the TAD's integrity and functionality. While discomfort is minimal, patients might experience some initial sensation post-placement, which typically subsides quickly.
It's worth noting that while potential side effects, such as inflammation or a loosening of the TAD, are rare, they are not completely out of the question. In such instances, immediate consultation with an orthodontist ensures prompt and effective solutions, reiterating the safety and reliability of the procedure.
How Do Temporary Anchorage Devices Work?
Orthodontic temporary anchorage devices work by providing a fixed point in the mouth. When force is applied to the teeth, rather than relying on other teeth or external appliances for resistance TADs offer a stable anchor. This ensures that the movement of the teeth is more controlled and accurate. Essentially, TADs temporary anchorage devices act as an immovable object, allowing orthodontists to move teeth in directions and ways that weren't possible before.
How Long Does it Take for TADs to Heal?
The healing process for TADs in orthodontics is relatively swift. While the TAD itself doesn't "heal," the tissue around it typically settles in about a week. It's essential to follow the aftercare advice given by the orthodontist to ensure there's no infection or unnecessary discomfort.
How Much Do Temporary Anchorage Devices Cost?
When considering the cost of temporary anchorage devices, it's essential to understand that several factors come into play. Geographical location, such as Miami, plays a significant role — costs might be different in Miami compared to a smaller town. The intricacy of the dental issue being addressed, as well as the experience and reputation of the orthodontist, can also influence pricing.
On average, a ballpark estimate for TADs can range between $300 to $600 each. However, it's essential to remember that these are general figures and can vary. Therefore, if you're contemplating getting TADs, it's prudent to get a quote directly from the orthodontic clinic in question. Additionally, some insurance providers may offer partial or complete coverage for TADs, depending on the specifics of your policy. Always inquire about insurance coverage when considering any orthodontic treatment to avoid any financial surprises.
How Can I Keep My TAD Clean?
Ensuring the cleanliness and hygiene of TADs temporary anchorage devices isn't just about the longevity of the device but also pivotal for overall oral health. Basic oral care practices, such as brushing and flossing, are imperative. These practices help in dislodging any food particles and preventing plaque buildup around the TAD.
To provide an added layer of protection, using an antimicrobial mouthwash daily can be immensely beneficial in preventing potential infections or inflammations. On top of these self-care practices, regular check-ups with your orthodontist are essential. These visits will ensure that the TAD is functioning correctly. Visiting your dentist will provide an opportunity for professional cleaning, ensuring the device remains in an optimal state.
Equipped with comprehensive insights about TADs orthodontics, patients can make well-informed choices and derive the utmost benefit from their treatment. If you're considering TADs or any other orthodontic solutions, don't hesitate. For a personalized consultation and to take the first step towards a healthier, brighter smile, schedule an appointment with us at ivanovortho.com.