Rotten teeth, often depicted in nasty teeth images, represent a dental concern affecting a significant portion of the global population, both adults and children alike. When we discuss rotting teeth, we are referring to the progressive decay of the tooth structure, primarily due to bacterial activities. Searching for "pictures of rotten teeth" or "rotten teeth images" or "rotten teeth pics" online can reveal the disheartening effects of dental neglect, with teeth that are rotten, displaying severe discoloration and structural damage.
This condition is especially concerning in children, with rotten baby teeth, rotten kids teeth, rotten teeth kids and children's rotten teeth pictures frequently surfacing as alarming examples of early dental neglect. Adults aren't immune either; searches for "rotten teeth adults" or "people with rotten teeth" yield equally disturbing results.
The decay process can start innocuously, perhaps with just a black or dark spot, but can lead to more severe symptoms such as hot/cold sensitivities, bad breath, falling teeth, or even teeth appearing of different sizes. The causes range from poor dental hygiene to diet, dental crevices, fluoride deficiency, and even practices such as prolonged baby bottle use (Selwitz, Ismail, & Pitts, 2007).
Recognizing these early signs and understanding what causes such deterioration, backed by scientific studies on caries prevention (Featherstone, 2000), can guide individuals toward better oral health practices, potentially fixing rotten teeth and preventing their recurrence. The last thing anyone wants is pictures of rotten teeth from not brushing, or their kids rotten teeth, or having to look up rotten teeth images because now you need to know about fixing rotten teeth. So let's dive in and find out what you can do.
What Are the Early Signs of Rotting Teeth?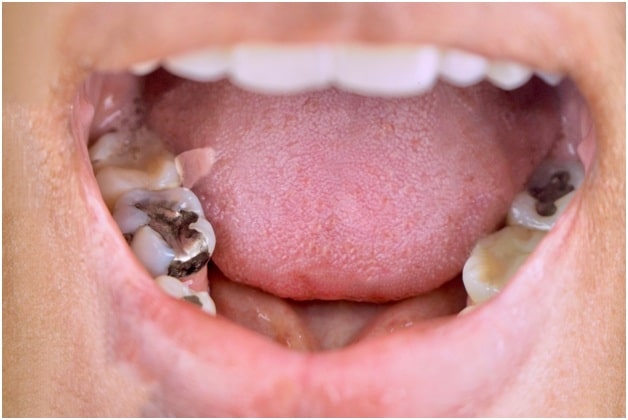 Identifying the early signs of rotting teeth is pivotal in preventing further complications and ensuring oral health. Rotting teeth, or dental decay, often begin as minute changes that might not cause discomfort but serve as a precursor to more severe dental issues. Early symptoms can be quite subtle, perhaps manifesting as a slight sensitivity to sweet foods or a minor change in the tooth's color. Regular dental checkups are crucial, as a dentist can spot these early indicators and recommend preventive measures. This proactive approach can help avoid more severe dental problems, reduce discomfort, and potentially save on costly dental treatments in the future. Always pay attention to the slightest changes in your oral cavity; your teeth may be trying to send you an important message.
What are the visible signs/symptoms of rotten teeth?
Rotten teeth are not just an unsightly condition; they can indicate severe oral health problems. The various symptoms of teeth that are rotten include:
Teeth have a black/ dark spot: This is often one of the first and most apparent signs of tooth decay.
Bad breath: Persistently bad breath or a bad taste in the mouth can be indicators.
Hot/cold sensitivities: A reaction to temperature changes can denote enamel damage.
Falling teeth: Advanced decay can result in loose or falling teeth.
Different tooth size: Decayed teeth might appear shorter due to wear or breakage.
What Causes Rotten Teeth?
Several factors can contribute to rotting teeth. Recognizing these causes can pave the way for preventive measures:
Poor dental hygiene: Neglecting regular brushing and flossing can lead to tooth decay.
Poor diet: Frequent consumption of sugary or acidic foods and drinks can erode enamel.
Dry mouth: Saliva helps in neutralizing acids. A dry mouth can increase decay risk.
Dental crevices: Deep pits or fissures in teeth can harbor bacteria, leading to cavities.
Fluoride deficiency: A lack of fluoride can make teeth more susceptible to decay.
Baby bottle: Prolonged exposure to sugary liquids in baby bottles can cause rotten baby teeth.
What Do Rotten Teeth Look Like?
Pictures of rotten teeth often depict darkened, broken, or crumbling teeth. Advanced cases might show significant enamel loss, exposing the more yellowish dentin or even the pulp. Images of rotten teeth from not brushing particularly underscore the importance of regular oral care. Viewing rotten teeth images can be alarming, but they serve as a reminder of the potential outcomes of neglect.
How to Fix Rotten Teeth?
Addressing rotten teeth is a multifaceted process that requires a tailored approach depending on the degree of decay and damage. For early stage decay, where the damage is minimal, dental fillings are often the preferred treatment. These fillings can be made from a variety of materials, including amalgam, composite resin, and porcelain, and they effectively restore the structure and function of the tooth.
As decay progresses and if the tooth pulp gets affected, a root canal treatment may be necessary. This procedure involves removing the affected pulp, cleaning and disinfecting the inside of the tooth, and then filling and sealing it. In cases where the decay is so advanced that the structural integrity of the tooth is compromised, extractions might be inevitable.
Post extraction, or if the decayed tooth can't be salvaged, various dental prosthetics come into play. Dental implants are a durable and natural looking option, acting as a replacement for the tooth root and providing a foundation for fixed or removable replacement teeth. Bridges are another option, using adjacent teeth as anchors for a prosthetic tooth. For those who've lost multiple teeth due to decay, dentures might be the most suitable solution, offering a full set of artificial teeth.
Furthermore, it's not just about treatment, but prevention is equally significant. After undergoing any procedure to fix rotten teeth, it's crucial to maintain good oral hygiene, adhere to regular dental checkups, and follow a dentist's advice on care and maintenance. Whether you're considering solutions for rotten teeth adults or children, a dentist's expertise is invaluable in guiding you towards optimal oral health.
How Do You Prevent Rotten Teeth?
The adage "prevention is better than cure" holds exceptionally true when it comes to dental health. Rotten teeth can not only affect one's appearance but also lead to pain, infections, and a range of other health issues. To circumvent such problems, a proactive approach towards dental care is essential.
At the heart of this is maintaining impeccable oral hygiene. Brushing twice a day, preferably with fluoride toothpaste, helps in removing food particles and bacteria that can lead to decay. Additionally, regular flossing is indispensable as it reaches areas between teeth where a toothbrush might not effectively clean. Using an antiseptic mouthwash can further aid in killing harmful bacteria and keeping the mouth fresh.
Beyond personal dental care routines, professional dental checkups and cleanings at least twice a year are essential. These checkups can identify early signs of cavities or gum diseases, ensuring timely intervention before they escalate and cause rotten kids teeth.
Dietary choices play a pivotal role in dental health. Consuming a balanced diet rich in vitamins and minerals strengthens teeth. It's advisable to limit the intake of sugary and acidic foods and beverages, as these can erode tooth enamel, paving the way for decay. Drinking water, especially if it's fluoridated, can help wash away food particles and acids, thereby reducing the risk of decay.
For children, who are particularly susceptible to cavities due to their eating habits and lesser manual dexterity in brushing, certain preventive measures are crucial. Avoid letting children go to sleep with bottles containing sugary liquids. Instead, promote drinking water. Start their dental checkups early, and foster a positive attitude towards oral care. Using dental sealants, which are thin protective coatings applied to the chewing surfaces of the back teeth, can also be a good preventive measure against decay for kids.
In essence, preventing rotten teeth is a blend of diligent daily care, informed dietary choices, and regular professional oversight. The rewards, in terms of a radiant smile and optimal oral health, are well worth the effort.
If you need a pediatric dentist or orthodontist, look no further than Ivanov Orthodontics.  We're happy to provide you with an initial consultation and offer you some solutions based on your unique needs.