Retainer Care: How To Clean And Handle Your Retainers
Today's modern orthodontic treatments offer it all. Orthodontic appliances treat Class I, II and III orthodontic issues. As a result, orthodontics provides children adults with many successful treatment options. However, if there is one thing that all orthodontic appliances have in common, it is retainers. Retainers are an orthodontic device, mostly used after completing a regular orthodontic treatment. Retainers play a key role in completing any orthodontic treatment. This is why implementing proper retainer care is also important.
Retainers are in charge of holding both your back and front teeth balanced with the gum line. At the same time, bone tissue surrounds them to help fix them even more.
Wearing retainers requires a day-to-day commitment. By using it daily, retainers will keep your teeth and jaws aligned, thus preventing them from movement. Read on to learn everything on wearing retainers and implementing the best retainer care for your device.
What kinds of retainers are there?
The type of retainer goes in accordance with your particular case. Namely, there are several types of retainers a patient can wear. Such include removable, permanent retainers, or a semi-fixed retainer. Let's discuss all these in detail.
Removable retainers
You can put in and take out removable retainers whenever you choose. Still, even despite this, you should wear removable retainers as much as possible. The reason you are wearing a removable retainer is that your orthodontic treatment showed greater effects. This type of retainer touches the roof of the mouth or the area below your tongue, depending on where you need it. To make it more fun and appealing, removable retainers come in various colors. If you are planning on wearing a removable retainer at work, choose a transparent and less visible one.
Permanent/Fixed retainers
When wearing a permanent retainer, you cannot take them out as you can do with removable retainers. This is because the retainer has to do the rest of the treatment job. Your orthodontist is in charge of putting your retainer and taking it out when necessary. The appliance has custom-made wires which connect to the inner side of your teeth.
It is important for you to practice discipline when you wear your retainer. Persistence is key to completing the orthodontic treatment successfully. Of course, this might even mean wearing your retainer for years to come. Useful Retainer Care and Maintenance Tips. Below let's answer some of the most popular questions on retainer care.
How to wear your retainer?
Regardless of your retainer type, you ought to wear it for 24 hours a day. If removable, take your retainer out when eating, cleaning it, or playing sports.
How to keep retainers clean?
The best way to clean the retainer is by brushing it with your toothbrush. Use toothpaste when brushing and floss as much as your retainer allows it. Rinse and brush your teeth and retainer after eating. Make sure the food doesn't form a plaque and tartar in the most secluded areas of the retainer. This helps you protect yourself from tooth decay. You can use cleaning tablets which help maintain the hygiene on point.
How to protect my retainer?
For the best retainer care, place your retainer in a protective retainer case. When you get a retainer, your orthodontist will provide you with a case for it. The case keeps the retainer dry and safe from bacteria, so it isn't wise to switch cases. Keep the retainer out of babies' and pets' reach, as both tend to play with smaller objects and can damage it. Don't keep the retainer in your pockets, as it can bend the wires and distort the appliance. Avoid heat and hot water rinses, as both can melt the plastic and wires. The best way to rinse it is to soak your retainer in a suitable solution.
What can I expect from wearing my retainer?
In the first few days, you will have excess saliva in the mouth, but that is normal and it goes away in up to 3 days. If you hadn't used a similar device, you could experience initial speech problems. At times, the retainer might break. In such a case, make an appointment with your orthodontist near me to have it fixed. If the retainer doesn't fit for some reason, make an appointment to get it readjusted.
Can I trust my orthodontist?
Yes. Orthodontists have a dental school diploma, followed by two-to-three years of residency.
What should I know on the best retainer care?
If you want to obtain the best retainer care, here are a few extra tips to help you do so.
Make it a routine to wear your retainer at all times, and even make reminders if necessary.
Don't warp the retainer in a napkin. The paper sticks onto the appliance, and you could also throw it away or lose it.
Don't leave your retainer in direct sunlight, whether coming from a house window or a hot car.
As much as you apply retainer care, do the same with dental care, too.
If you find it difficult to brush and floss or use a floss threader, try using interproximal brushes instead.
Don't drink liquids when wearing a retainer, and especially if you have an Essix retainer. This is because water tends to get stuck into the free space and can stain the teeth. That said, consume as little colored drinks as possible. These include coffee, tea, soft drinks, and other sugar-rich beverages.
When you visit your orthodontist, take your retainer with you, so your doctor can check and adjust it, if needed.
Wearing a retainer is definitely a process, and it can even last for as long as you need it. In terms of lasting oral health, retainers can contribute plenty. Give yourself the chance to obtain the ideal oral and trust retainers to get you all the way there. Use this retainer care guide and enjoy the simple, yet efficient innovative orthodontic appliances.
HOW TO CLEAN AND HANDLE YOUR RETAINERS TO PROLONG THEIR LIFE
Everyone who has ever worn braces has heard of retainers. Retainers are a device a patient following a completed braces or similar orthodontic treatment. As a matter of fact, wearing retainers represents another step to maintaining your best oral health. Retainers have a few important jobs to do, which is why retainer care matters as well.
Initially, retainers are in charge of maintaining the teeth straight, a job braces have been doing thus far. Retainers offer a greater stability within the jaw as well. By wearing retainers and practicing proper retainer care, patients treat many oral health problems. Such can be teeth grinding, jaw clenching, unforeseen front teeth movement, and TMJ pain.
Usually, your orthodontist or dentist will take measurements for the retainers you'll wear. First, your doctor will take a mold of your teeth, also known as impression. The retainer is composed of a wire and metal and are adjusted during another appointment.
Speaking of retainer care, it is important to know there are two main types of retainers.
Fixed Retainers
Fixed, or permanent retainers are attached to the frontal top and bottom teeth. After cementing them in place, your doctor will suggest a proper care for your retainer. As the device is fixed, it will take a floss-like cleaning to keep the retainer in top shape.
Removable Retainers
Removable retainers are also wearable but show milder effects. Also, when wearing removable retainers, the patient must not forget to wear your retainers daily. This type of retainers is not worn longer than three months, and you don't have to use it when eating. Maintaining removable retainers is easier as you can see if there are any problems. Cleaning food is also easier, but keep in mind the treatment outcome might not be as successful.
6 Tips for the Perfect Retainer Care
To learn how to make the most of your retainer, establishing a proper care is essential. Here are some tips to help you maintain your retainers clean functional.
Keeping the Retainer Clean
Along with your teeth, cleaning your retainer is very important. Retainer care and cleaning helps eliminate bacteria and prevent plaque. Together with brushing, make sure you brush and floss your teeth and appliance, too. For the best retainer care, soak your retainer in a mouthwash, and reapply as required. Even better, to clean the retainer ideally, use cleaning tablets, especially intended for this purpose.
Wearing It As Much As Possible
Even though the idea sounds unappealing, you should never stop wearing a retainer. You can ask any orthodontist and they will tell you that retainer care never stops. After taking your braces off, your teeth will feel loose and will require extra support. Retainers are very helpful in doing just that, and the longer you wear them, the better.
If you are wearing removable, don't lose track of putting them back on. Feel free to wear them when you are home all day or elsewhere.
Taking Your Retainers off During Meals
One of the most important aspects in retainer care is remembering to remove the appliance when eating. Yes, you should wear your retainer as much as possible, but eating with it can do more harm than good. In fact, you might crack a wire or distort the retainer's shape, and will then need to get it fixed.
Remove any food from the retainer to maintain the perfect hygiene and to prevent plaque. Take your time to brush the retainer well, before putting your retainer back in the mouth.
Being Gentle When Using It
Whether you are taking it off or putting it on, the retainer care should never stop. Know that retainers are fragile and can crack if you misplace or misuse them. Therefore, wherever you go, make sure your retainer is safe.
At the same time, be careful how you fit it in the mouth. Push all wires into their respective place and be sure it fits the teeth right. Otherwise, you may experience gum pain or discomfort and are risking tooth cracking and/or tooth decay.
When taking it off, don't use any extra force. If placed correctly, the retainer will come off easy, without causing discomfort. While wearing your retainer, avoid pushing your tongue against it. This may cause the appliance to loosen, or widen too much for your teeth.
Avoiding Heat Exposure
Given the fact that most retainers are plastic, you will need to pay attention to heat exposure. Namely, do not leave your retainer nearby heating objects. Such are appliances in your kitchen, bathroom or bedroom. Also, don't forget your retainer in a hot car, especially if the heat was on for a longer time. As plastic melts, your retainer can distort in shape, and therefore, in effect. Finally, make sure you use lukewarm water to clean the retainer.
Storing Your Retainer
As mentioned earlier, keeping your retainer in its designated case is very important. With that, you should also follow some of the useful tips below. For the proper retainer care:
Floss and brush your teeth regularly. Depending on your retainer, you can mildly brush and floss it if fixed, or clean it in depth if removable.
If using water or mouthwash, let the retainer dry off before placing it in its case.
Some patients wrap their retainer in a napkin or a tissue. This is not the best idea because it attracts potential bacteria. Instead, let your retainer dry off on its own, then put it away.
Do not use other retainer cases for your retainer. Know that your Orthodontist office will provide you with a suitable case. If you happen to damage the case you already have, you can ask your orthodontist for a new one.
Just as you keep your retainers clean, keep the case clean as well. Use anti-bacterial gel to clean it and keep it dry at the same time.
Retainer Care: A Conclusion
It is crucial to remember that you will probably have to wear your retainer for years ahead. For that reason, practicing regular retainer care is essential. If you have any questions or concerns regarding your retainer, call your orthodontist for help.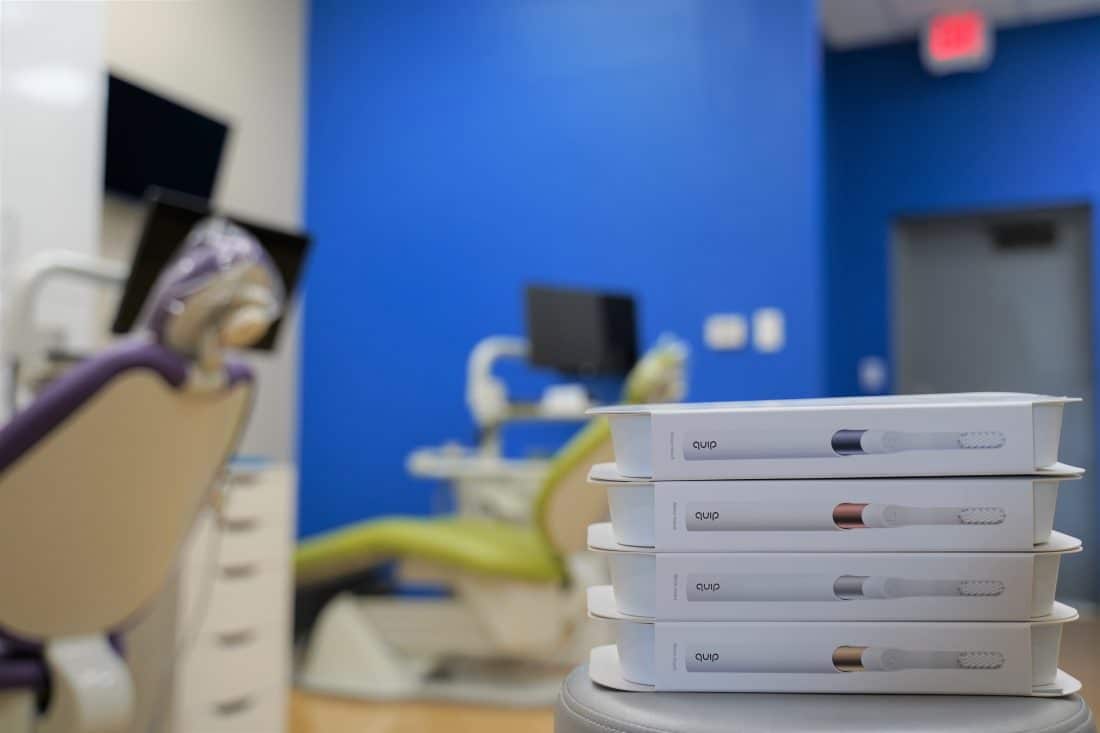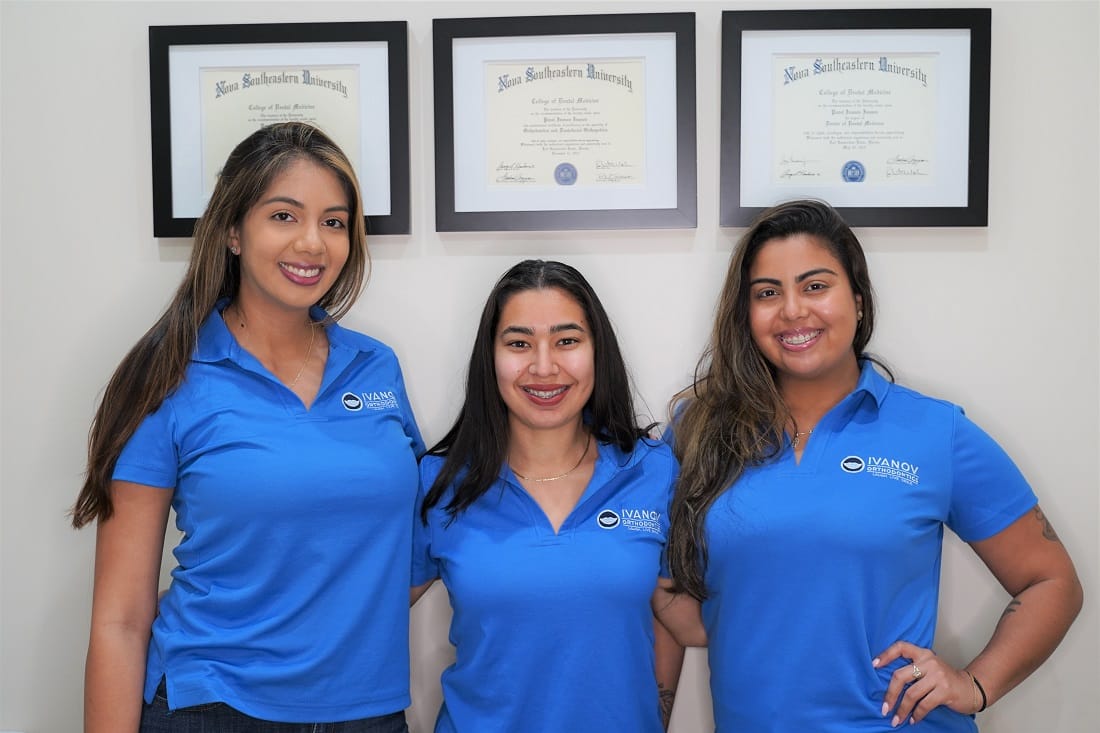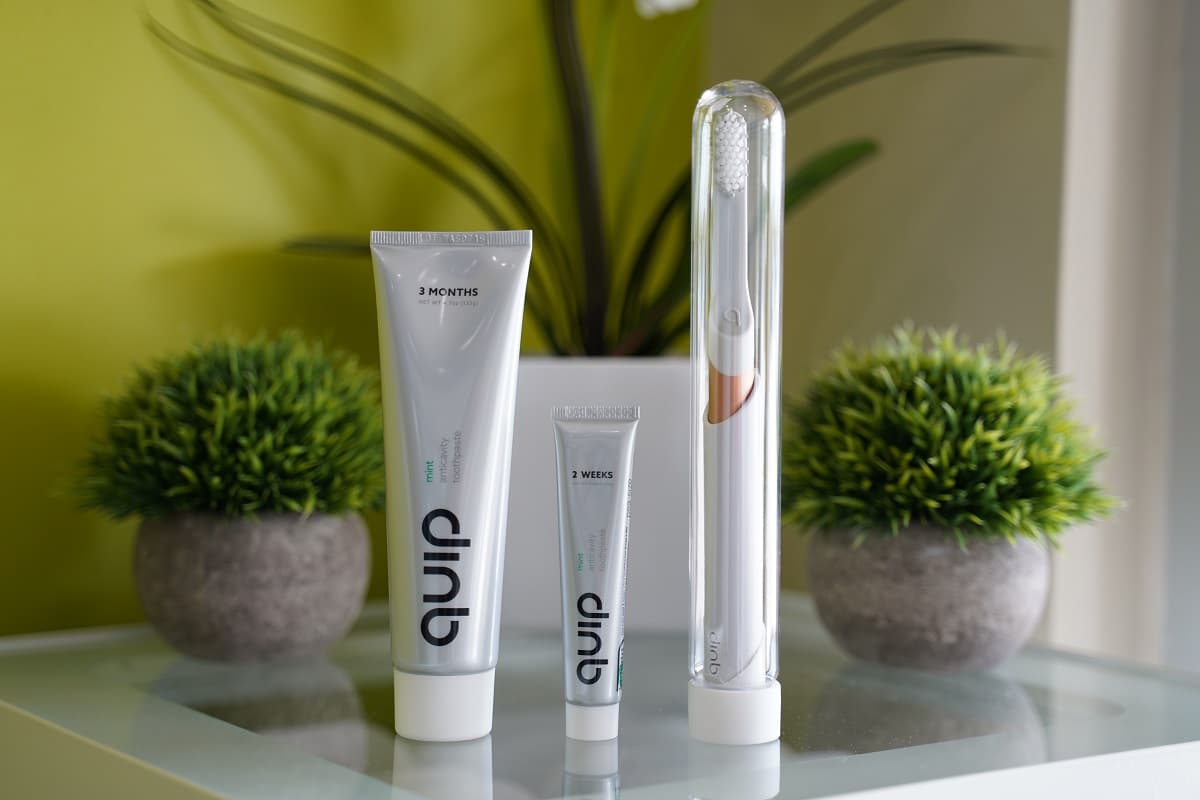 FIVE-STAR PATIENT TESTIMONIALS
Omg. I came here as a second opinion due to high prices and crazy time frames from another office. They welcomed me with open arms and their friendly atmosphere made me feel so comfortable and confident!Doctor I is very knowledgeable and set my expectations perfectly. 2 weeks later the team had me in braces! I couldn't be happier!
Empress Vali
I just wanna say Dr Ivanov and his teams are the best!!! I had a very easy breezy experience getting my braces. Everyone was extremely gentle and informative the place was super clean and fresh. They deserve 1000 stars and more. I absolutely love the experience but best of all how caring everyone was.
Jade Menos
When i say the reviews are pretty much an understatement, it does no justice. the service is amazing, The staff takes their time to make sure that you feel very special. if i can leave a honest review 100 times i would. im very pleased and happy that i found this place. thank you guys so much! i have found a HOME!!
Brittnisha Marks
Amazing experience! I've had my braces for 6 month now and I'm impressed of how much my teeth have changed. No pain at all. Dr. Ivanov is such a sweet person and very professional, he knows what he's doing and always cares for patients personal concerns. Highly recommended!
Tula Garcia
Dr. Ivanov was amazing. When I first got my braces I was scared it was going to last 4yrs for my teeth to look better but it only lasted 2yrs and the results are beyond amazing. I'm really happy with everything and would absolutely recommend him to anyone. Thank you so much.
Kimberly Martinez
Very good experience. The attention was great. The doctor is very punctual and they don't make you wait, which for my busy schedule is super important. Also, the time the doctor told me I had to wear the braces was the exact time I needed and I was very happy with the results. Definitely recommend him.
Laura Jimenez
Dr. Ivanov was amazing. He was very understanding and took the time to explain, every step of the process for my daughters braces. I am proud to say with great care her braces were finally removed and the end result is the beautiful smile she now has. Thank you
Christina Jenkins
Ivan and his staff made my experience a smooth and convenient process. I am absolutely delighted and satisfied with the progress and how far my teeth has come. Ivan and his staff works effortlessly to ensure that my teeth are perfected beyond my expectations. If I had any other choice I would still choose Ivanov Orthodontic experts.
Joshua Xavier
My family and I are so happy with the results of Dr. Ivanov!!! So knowledgeable, kind and always available to answer questions. I am so happy we found him and his staff. I am looking forward to addressing my dental needs now that the family is on track!!! How many can say that about their dental experts. Way to go Dr. Ivanov!!!
James C. Murphy
He is awesome. You will start seeing changes quick in your smile. He shows passion in his work, he cares about you and your smiles. The office is very nice and great customer service. You will be in good hands if you choose to go with him.
Ketty Platon
Supplemental Content
Are you undergoing your orthodontic treatment to straighten out your teeth and solve a malocclusion problem? As you come close to the end of your current therapy, another treatment will start. This one does not use braces; it is all about wearing a retainer. This dental appliance is used to hold teeth in their new dental positions and can be worn consistently for 3 to 6 months. After this, one can wear their retainer only when going to bed (8 hours minimum). Note that it takes time for your jaw bone and the tissues surrounding your teeth to get accustomed to the new positions of your teeth after having an orthodontic treatment.
Hence, you should wear retainers until your bite stabilizes and be particularly careful during the first month after your braces are pulled out. If you don't, your teeth can take longer to get stable after having your orthodontic treatment with traditional braces or the Invisalign clear aligners. The period will even be longer if you have gaps between your teeth prior to the straightening process. And if teeth move back to the position they were before braces, you will be forced to get new braces. Since you would hate to wear braces all over again, even if they are removable, it's advisable to wear your retainer religiously. Additionally, you must take good care of your retainer just as you did your braces.
RETAINER CARE – FIRST FOLLOW YOUR DENTIST'S INSTRUCTIONS
Retainer care is a subject that cannot be overlooked. That's because some retainers are fixed like traditional metal and ceramic braces and can trap plaque. Even if your retainer is removable, it is advisable to keep it clean to protect your teeth from plaque and calculus. Before you even learn how to take care of your orthodontic retainers, make sure you use it as instructed by your dental specialist. First, remove your detachable retainers when eating, playing a sport and cleaning your teeth. And each time you are not using your retainers, place them inside a box and avoid wrapping them in a piece of cloth or tissue paper because you can lose or break them easily. In case you lose your retainers, you will need to buy new ones and that will make you incur an extra cost you did not expect.
PROPER HANDLING OF RETAINERS AT HOME
It is important to know that retainer cleaners are on the market today. They are mainly the same ones that were used to clean dentures in the past. Conventional denture cleansers are no longer the only options used today to clean retainers. Indeed, dental experts warn that while they are usable, denture cleaners are not always the best method of cleaning retainers. No matter the kind of retainer your orthodontist will provide to you, the following are things you must not do when caring for it:
Do not scrub your retainer. Coarse metal brushes are too abrasive for retainers and can make their acrylic or clear surfaces rough and large enough for bacteria to attach themselves and hide. And if you create more irregular and porous surfaces on your retainers, it will be harder to clean them effectively and your risk for gum disease and cavities will increase. Hence, you should make use of soft toothbrushes and liquid soap to scrub your retainers.
Do not expose your retainers to a lot of heat. It is possible to forget and leave items on your car's dashboard when the weather is hot. Avoid leaving your retainers there, as well as don't place them in the microwave or dishwasher. Further, never boil your retainers or always empty your clothes and bags' pockets prior to throwing them into the washing machine.
Avoid careless handling. Whenever you go out to eat, keep your retainers in their box rather than the napkin because you can forget them there. If you do, the waiters will throw them away and you will need replacements. As well as this, do not wrap them in a piece of tissue because you might drop them. Keep your retainers away from pets because they love chewing on things. As for kids, they are curious about everything; so, keep your retainers away from them.
Just like the things you should avoid when handling your retainers, there are those you should always do. Here they are:
Soak in a mouthwash and water solution. So, dilute equal amounts of mouthwash and water to temporarily make your retainer smell nice as well as kill germs. This is to protect the plastic in your retainer.
Always rinse your retainer case. Prior to storing a clean retainer in its box, ensure that you clean the box itself. Use warm soapy water to scrub the surfaces of the box or case and then rinse it with clean water before drying.
Clean your retainer based on its brand or kind. If you have Vivera(from the Invisalign maker), or Essix clear aligners, the best type of cleanser are Retainer Brite, Efferdent, Polident, or SonicBrite. Besides these conventional persulfate cleansers, you can use a non-persulfate cleanser like DentaSoak. Among the above, the most prevalent one is the Retainer Brite that boasts Kosher certification and this makes it safer and more efficient.
Once you follow the aforesaid advice, you will maintain the best retainer care at home. As well as this, make sure that you attend every appointment with your orthodontist. He or she will let you know whether you have been a great or bad job of caring for your retainer.
Contact Us
IVANOV Orthodontic Experts
12866 Biscayne Blvd, North Miami, FL 33181
https://www.google.com/maps?cid=154326063970645489
Call us at (786) 540-1919 to schedule a free orthodontic exam.