Having concerns about the appearance of your teeth is not uncommon, and the question often arises: Will braces fix my "ugly teeth"? The good news is that braces can be a transformative solution for enhancing dental aesthetics and correcting various dental concerns.
Orthodontic problems can significantly impact dental aesthetics and oral health. Braces, a widely utilized orthodontic treatment, have proven effective in addressing various dental issues, providing both functional and aesthetic benefits. Understanding the orthodontic problems that braces can fix is essential for individuals seeking orthodontic treatment.
Orthodontic Problems Addressed by Braces
Braces are a versatile orthodontic treatment method capable of correcting a wide range of dental problems. They work by applying controlled forces to the teeth and jaws, gradually moving them into proper alignment and improving overall dental health. Numerous studies and scholarly sources have highlighted the effectiveness of braces in addressing specific orthodontic issues including ugly teeth. Let's explore some common orthodontic problems that braces can effectively address:
Malocclusions: Malocclusions refer to misalignments of the teeth and jaws, affecting the way the upper and lower teeth fit together. Braces can correct different types of malocclusions and other bite issues including spacing issues, crossbites, overbites, underbites, and open bites (Proffit, Fields, & Sarver, 2019).
Crowding: Dental crowding occurs when there is insufficient space in the jaw for all the teeth to fit properly. Braces can gradually align the crowded teeth, creating adequate space and improving both the appearance and function of the smile.
Misplaced Midline: The midline refers to the imaginary line that divides the upper and lower dental arches. If the midline is not properly aligned, it can affect facial symmetry and overall aesthetics. Braces can help align the midline, bringing balance to the smile (Fleming, 2020).
Gaps and Spacing: Excessive gaps or spacing between the teeth can affect both appearance and oral function. Braces can move the teeth closer together, closing gaps and achieving a more harmonious smile.
Crossbites: Crossbites occur when the upper teeth bite inside the lower teeth instead of outside. This misalignment can lead to jaw discomfort and uneven wear on the teeth. Braces can correct crossbites, improving both bite function and aesthetics.
Orthodontic Problems that Braces Cannot Fix
While braces are effective for addressing a wide range of orthodontic problems, there are certain conditions that may require additional or alternative treatments. It is important to note that braces alone may not be able to fix every orthodontic issue. Understanding the limitations of braces is crucial for individuals seeking orthodontic treatment. Some orthodontic problems that braces alone may not be able to fix include:
Missing Teeth: Braces can help align the existing teeth, but they cannot replace missing teeth. In cases of missing teeth, the orthodontist may recommend additional treatments, such as dental implants, bridges, or partial dentures, to restore a complete and functional smile.
Jawbone Irregularities: Severe jawbone irregularities, such as significant overgrowth or undergrowth, may require surgical interventions in conjunction with orthodontic treatment. These cases often involve collaboration between orthodontists and oral surgeons to achieve the desired functional and aesthetic outcomes.
Braces are a highly effective orthodontic treatment option for addressing various dental problems and enhancing dental aesthetics. Extensive research and scholarly sources, including the works of Proffit, Fields, and Sarver (2019), and Fleming (2020), have emphasized the effectiveness of braces in correcting common orthodontic issues. However, it is essential to consult with a qualified orthodontist, such as those at Ivanov Orthodontic Experts, to assess your individual needs and determine the most suitable treatment plan for achieving optimal dental correction and aesthetic improvement.
Enhancing Dental Aesthetics with Traditional Braces and Colored Bands
Traditional braces, consisting of metal brackets and wires, have long been a reliable method for addressing dental misalignments and irregularities. While their effectiveness in achieving dental correction is well-known, many individuals wonder about the aesthetic aspect of wearing braces.
One way to add a touch of personalization and style to traditional braces is through the use of colored bands. These elastic bands, available in various shades and hues, allow individuals to express their creativity and individuality. By choosing colored bands that complement their style or even coordinating them with different holidays or events, patients can turn their braces into a fashion statement.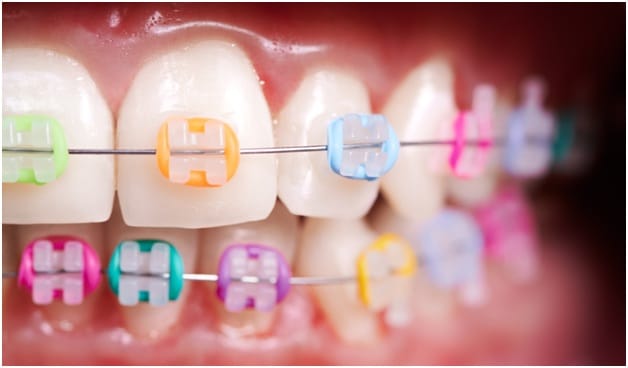 The Aesthetic Appeal and Dental Correction of Lingual Braces
For individuals seeking a more discreet orthodontic option to correct dental issues like ugly teeth, lingual braces offer a compelling solution. Lingual braces are placed on the back surface of the teeth, making them virtually invisible from the front. This positioning allows individuals to undergo orthodontic treatment without compromising their smile's aesthetics.
In addition to their aesthetic appeal, lingual braces provide effective dental correction. They can address various orthodontic issues, including crowding, spacing, and bite misalignments. The brackets used in lingual braces are custom-made to fit the unique shape and contour of each individual's teeth, ensuring optimal comfort and precision during treatment.
Ceramic Braces: Aesthetically Pleasing Orthodontic Solution
Another popular option for individuals seeking aesthetically pleasing braces is ceramic braces. Ceramic braces utilize tooth-colored or clear brackets that blend seamlessly with the natural color of the teeth. This discreet appearance makes ceramic braces an excellent choice for those who desire orthodontic correction while minimizing the visible presence of braces.
Ceramic braces offer almost the same effectiveness in dental correction as traditional metal braces. They are just a bit more fragile and are not really suitable for very active people. They can address a wide range of dental issues and provide long-lasting results. The translucent or tooth-colored brackets make ceramic braces a more subtle and visually appealing choice for individuals concerned about the aesthetics of their treatment.
In conclusion, braces are a remarkable solution for improving dental aesthetics and correcting various dental concerns including ugly teeth. Traditional braces with colored bands allow for personalization and style, turning the braces into a unique fashion accessory. Lingual braces offer both aesthetic appeal and effective dental correction by being discreetly placed on the back surface of the teeth. Ceramic braces provide an aesthetically pleasing option with tooth-colored or clear brackets that blend with the natural color of the teeth.
Whether seeking traditional braces, lingual braces, or ceramic braces in Miami, consulting with a qualified orthodontist such as Ivanov Orthodontic Experts at Ivanovortho.com can help determine the most suitable treatment for achieving the desired dental correction and aesthetic enhancement.