Choosing the right orthodontic treatment can be a complex decision, with multiple factors such as cost, aesthetics, treatment time, and personal comfort all coming into play. Braces, a common solution for misaligned teeth, come in various types, one of them being white teeth braces. But are these the right choice for you?
White braces, as the name suggests, are designed to blend with your natural tooth color, providing a more discreet alternative to traditional metal braces. This can be an attractive option for those who are self-conscious about their appearance during their orthodontic treatment period. However, it's essential to understand that the choice of braces extends beyond the realm of aesthetics, delving into aspects such as functionality, durability, and maintenance.
According to a study byRosvall et al. (2009), patients' desire for aesthetic appliances have resulted in a significant increase in the use of ceramic or white braces over the years. Meanwhile, another study by Eliades et al. (2009) points out that ceramic braces' aesthetic benefits may come with a higher susceptibility to staining, emphasizing the importance of proper care and maintenance.
In the following sections, we will explore what white braces are, how you can achieve white teeth with braces, the variations available, their maintenance requirements, and how they compare with traditional braces. This comprehensive examination should provide a clearer picture, helping you make an informed decision on whether white braces are indeed the right choice for you.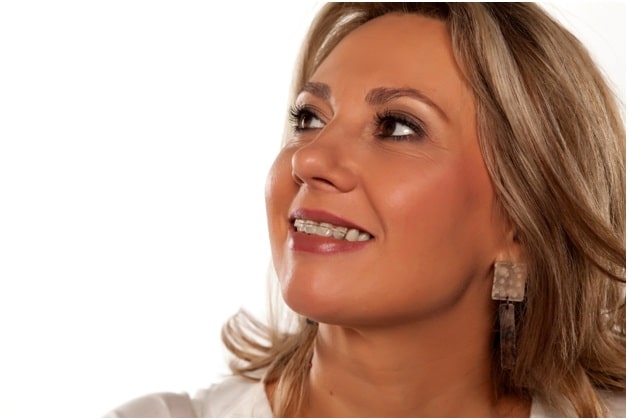 What Are White Braces?
White teeth braces, often referred to as ceramic braces, are orthodontic appliances used to correct misaligned teeth or jaws. The term 'white' comes from the color of the brackets which blend in with the natural color of your teeth, providing a more discreet alternative to the traditional metal braces.
The primary advantage of white teeth braces is their aesthetic appeal. They're less noticeable than metal braces, making them an excellent choice for those who want a less conspicuous orthodontic treatment. This aesthetic quality of white teeth braces has made them increasingly popular among adults who wish to straighten their teeth without the noticeable 'metal mouth' associated with traditional braces.
How To Get White Teeth with Braces?
Achieving white teeth with braces is a two-step process. First, the braces work to align your teeth correctly. During this phase, maintaining a diligent oral hygiene routine is crucial as braces, whether white or metal, can trap food particles which lead to plaque build-up and possible discoloration.
Once your teeth are aligned, you may consider teeth whitening procedures to enhance the color of your teeth. It's essential to discuss this with your orthodontist before proceeding as certain whitening methods might not be recommended while you have braces on.
 Do White Teeth Braces Come in Different Materials or Variations?
Yes, white teeth braces do come in different materials and variations. The most common type of white teeth braces are ceramic braces. These braces have tooth-colored or clear brackets, which are often made from ceramic or plastic materials.
Another variation is clear aligners, such as Invisalign, which are virtually invisible and offer a high level of discretion. It's worth noting that while clear aligners can straighten teeth, they do not directly contribute to making them whiter.
Are There Any Specific Maintenance or Care Requirements for White Teeth Braces?
The maintenance and care of white teeth braces are paramount to their effectiveness and durability. Just like their traditional counterparts, these braces require regular attention and thoughtful care.
One crucial aspect of this care routine is brushing after each meal. When you consume food, particles can easily become trapped in the brackets and wires of your braces. If not properly cleaned, these food particles can lead to plaque build-up, tooth decay, and discoloration. Using a soft-bristled toothbrush and fluoride toothpaste, take your time to clean around the wires and pins of the braces, ensuring no food debris remains.
Additionally, flossing is an important part of the cleaning process. It may be more challenging to floss with braces, but it is essential for your oral health. Tools like interdental brushes or floss threaders can help clean between the brackets and wires, where a toothbrush might not reach.
Moreover, regular dental and orthodontic check-ups should be a part of your maintenance schedule. Professional cleanings help remove any plaque or tartar build-up that at-home brushing, and flossing might miss. Regular check-ups also allow your orthodontist to monitor the progress of your treatment and make any necessary adjustments to your braces.
One unique challenge with white teeth braces is their susceptibility to staining. While their color helps them blend in with your teeth, it also means that discolorations can be more noticeable. Foods and drinks that have strong coloring, like coffee, tea, or red wine, can stain the ceramic brackets over time. Similarly, smoking can also lead to discoloration.
Therefore, you might want to limit your intake of these substances or ensure to clean your teeth thoroughly after consumption. If stains do appear, your orthodontist may be able to help remove them or replace the stained parts during your next appointment.
Lastly, caring for your braces also includes protecting them from damage. Avoid hard, crunchy, or sticky foods that can damage your braces. If you participate in sports, consider wearing a mouthguard to protect both your braces and your mouth.
What Are White Teeth Braces and How Do They Differ from Traditional Braces?
White teeth braces and traditional metal braces function in a similar way – they apply continuous pressure to slowly move your teeth and align them correctly. The primary difference lies in their visibility. While metal braces are noticeable due to their silver or gray color, white braces are less visible because they blend with the color of your teeth.
Another difference is the material used. Metal braces are made of stainless steel, sometimes in combination with titanium, while white braces are typically made from ceramic or plastic materials. This difference in material may influence durability, with metal braces generally considered more robust, but it primarily affects the aesthetics.
In conclusion, white teeth braces can be an excellent option for those wanting a more discreet orthodontic treatment. Always consult with your orthodontist to determine the best course of treatment for your specific needs.
Ready to start your journey to a healthier, straighter smile? Make an appointment at ivanovortho.com today.