The Vivera retainers from Invisalign are clear plastic retainers that you are provided at the end of your Invisalign treatment. They look just like the Invisalign aligners you've been using and are even made from the same Smarttrack plastic. However, they are thicker than your Invisalign aligners because they are meant to keep your teeth in their final position. They're also meant for longer-term use than just a couple of weeks so they are built to last. You may even have a set for several years if you take care of them correctly. They're designed to be up to twice as durable than your regular aligner trays.
Like your Invisalign aligners, Vivera retainers are clear and easy to keep clean. Plus, you will often get your first set with several backups, so even if one gets lost or damaged, you just take another one out and keep going. Many times you will be issued four sets of retainers. Each set is a pair of upper and lower retainers.
In rare cases, your orthodontist may recommend a different kind of retainer because some people based on their lifestyle may benefit from a permanent retainer. But, because you've gotten used to the comfortable trays, you likely are interested in the Vivera retainer.
And, if you've had traditional braces, sometimes you can get the Vivera retainer instead of a Hawley retainer or another different type. Your orthodontist will review all the different options with you so you can choose the correct one.
Just like your Invisalign trays, Vivera retainers are very comfortable to wear. Typically, you will wear them for about 6 months to a year all the time, and then switch to wearing them only at night.
We'll learn more about Vivera retainers in just a moment but first let's take a moment to see what the experts of orthodontic medicine have to say about them.
Recently clear aligners like Invisalign have become more high-tech and that has led to an increase in both their popularity and their effectiveness (Putrino A et al.,2021).
Clear aligners have been around since the 1990s. They continue to make improvements keeping both patient desires and also patient needs in mind. There are multiple brands of clear aligners, but the most innovative is definitely Invisalign (Putrino A et al.,2021).
Many people prefer to use clear aligners over traditional braces and orthodontists will recommend clear aligners to patients depending on their individual needs (Putrino A et al.,2021).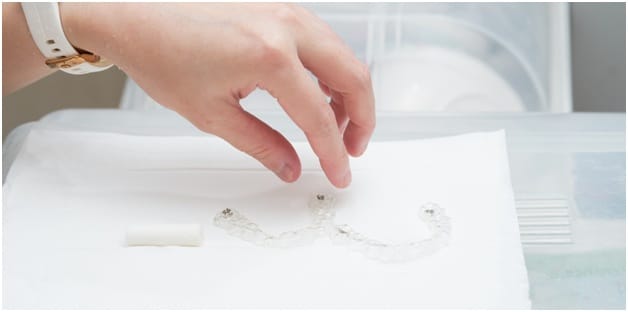 How Does The Vivera Retainers Process Work?
The process of getting your retainers begins at the end of your orthodontic treatment time. Your orthodontist will already have the 3D scan of your teeth and they will make sure that that is still accurate. Then they will place the order for your Vivera retainers which are custom fit just to you. Then, when your Invisalign treatment ends you will have your sets of Vivera retainers to use along with instructions on how to keep them clean and how long you need to wear them.
Retainers are an important part of any orthodontic treatment. Not using retainers will mean that your teeth can end up shifting back to the original positions, undoing all that hard work you put in.
The good news is Vivera retainers are just as comfortable as the Invisalign trays you had been using so they will be familiar to you. After you wear them for 6 to 12 months, you may need to switch out only to wearing them at night. And that will become an easy routine for you as well.
Even though you get a number of sets when you first get your Vivera retainers, if you need to replace them your orthodontist will be happy to help you out with that. It's very easy for your orthodontist to order you a new set and you don't need to worry about any sort of sticky goo to get an impression of your teeth because they're made from the same high-tech software that is used to create your aligners in the first place. You may even be able to get your replacement set mailed directly to you so you don't even have to go out to your orthodontist to pick them up.
What Makes Vivera Retainers Different?
Vivera retainers are the brand name of retainers used by Invisalign. They're made out of the exact same clear plastic material that your Invisalign aligners are made from, but they are designed to be up to twice as strong so they will last longer. They're about 30% thicker so they are less likely to get damaged or stained.
What Are The Benefits Of Vivera Retainers?
The benefits of Vivera retainers over other types of retainers are many. Because they are custom fitted for your teeth exactly, they will be smooth and comfortable to wear. And, just like your Invisalign aligners, they're removable for when you eat and need to brush your teeth. That means it's very easy for you to keep up with your oral hygiene habits and to keep your teeth clean. Because they're very comfortable, you can sleep with them easily and not feel any discomfort.
The clear plastic proprietary Invisalign Smarttrack material is perfectly clear so you can wear your retainers without anyone seeing them. And they still provide the same retention that regular retainers do to help make sure that your teeth get set in their new position and you have that great smile for life.
How Long Do Vivera Retainers Last?
Vivera retainers will last a very long time when if they are cared for properly. You will get additional sets when you first get your retainers in case you do need to have a backup, but your retainers should last you at least 6 to 9 months if not longer. With proper care like keeping them in their storage box when not in use and keeping them clean, you may even get several years of wear out of them.
How Much Do Vivera Retainers Cost?
Depending on your particular market, the Vivera retainers cost is between $600 and $1,200. But please remember, this includes multiple sets and this cost will already be included in the cost of your overall orthodontic treatment so it's not like you have to come up with this price at the end of your treatment.
If you do need to get a new set of retainers, your orthodontist will already have the 3D scans from your orthodontic treatment so it is very easy to print a new set for you and get it in your hands quickly.
How Do I Clean My Vivera Retainers?
There are a few different ways that you can clean your Vivera retainers. One of the easiest is simply to use a mild soap and your fingers and clean them under running water. If you find that your retainers are getting build up, you can always visit your orthodontist and have your retainers professionally cleaned. It's important that you rinse them out each time you take them out for eating or brushing your teeth so that your retainers will stay sparkling clean.
If you are interested in the Vivera retainer, be sure to book an appointment with us to learn more.
Reference:
Putrino, A., Barbato, E., & Galluccio, G. (2021). Clear Aligners: Between Evolution and Efficiency-A Scoping Review. International journal of environmental research and public health, 18(6), 2870. https://doi.org/10.3390/ijerph18062870