There are times when children need to have a jump start on their orthodontic treatment. They need to get some braces treatment before they get their full set of braces as a tween or teen. This is when partial braces come in. Partial braces can be used on the upper teeth, the lower teeth, or both. Typically the brackets are affixed to the front 4-6 teeth, then a bracket is affixed to the back teeth to anchor the archwire. Like with full braces, elastics are then affixed around the brackets to keep the archwire secure.
Some kids may be able to use Invisalign First, the system designed for younger kids, instead of metal braces.
Children will only use these braces for about a year. Then your child will likely get braces on all of their adult teeth to finish the correction for teeth spacing issues or crowding, or for bite alignment issues.
We'll learn more about partial braces treatment in just a moment, but first let's see what some of the experts of orthodontic medicine have to say.
The demand for clear braces including Invisalign is increasing (Tamer İ et al., 2019).
Clear braces have big advantages in terms of aesthetics, oral hygiene, and comfort over traditional braces. This all has led to their increase in popularity in the last decade (Tamer I et al., 2019).
As a result of the rise in popularity, technological advances keep moving the quality of Invisalign and other clear aligners forward. It also means that they are increasingly able to treat more complex cases (Tamer I et al., 2019).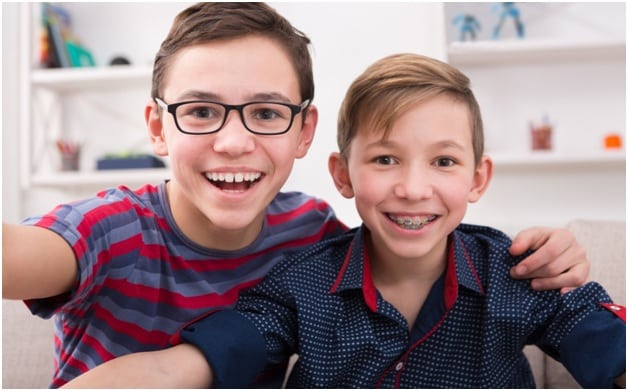 Why Use Partial Braces?
There are a number of reasons why partial braces may be needed. Your child may need to begin their orthodontic treatment with a partial brace on either the upper teeth, lower teeth, or both sets of teeth.
Some of the reasons why your child might need to get partial braces include gapped teeth or crowded teeth. Your child may also be given palate expanders to help provide more space for your child's adult teeth to grow in.
Your child may also have bite issues like crossbites where the teeth do not line up properly. Partial braces can help move the teeth into alignment and give your child better teeth contact so they can chew correctly, which also helps their digestion so they can properly get their nutrients from their food.
This early treatment can mean that your child will need shorter treatment times later on and give them more room for their adult teeth.
How Do Partial Braces Work?
Partial braces look a lot like traditional full sets of braces, but they are only attached to a few teeth in the front, or maybe even only on the upper or lower teeth. They are not as intrusive as a full set of braces, but they are still visible unless you use the Invisalign First system.
You may be able to get clear or ceramic brackets as an alternative to traditional metal braces.
Partial braces are not likely to correct skeletal issues and so surgery cannot be ruled out for major issues, but partial braces can do a lot while your child's jaws are still developing.
Partial braces work by gently applying pressure to the front teeth and moving them into a better alignment so there is more room for the rest of the teeth, much like full sets of braces do. They align and straighten the teeth but your child will only wear them for a few months to a year instead of a couple of years like full braces.
What Do Partial Braces Look Like?
Partial braces cover some of the front teeth, and then some of the molars will have brackets to anchor the archwire. They are commonly used on kids, but they can be used on adults as well.
How Much Do Partial Braces cost?
You might wonder how much partial braces cost. Since they are put on just a few teeth, they cost less than a full set of braces does. That does not mean that they are inexpensive, but they will run less, costing you between $2,500 and $3,500 dollars.
The cost of partial braces will vary depending on where you live, what other corollary treatments you might need, how old your child is and how long they will need to wear their braces, and what type of treatment you choose to go with.
How Do You Know If You Need Partial Braces?
The best way to know if your child needs partial braces is to see your orthodontist and have them assess your child's teeth and jaws. Your child may be a candidate if they have any bite issues like crossbite, open bite, underbite, or overbite. They may also be a candidate if they have crowded or gapped teeth, or they have trouble with sucking their thumbs, pushing their teeth out. But, your orthodontist will go over everything with you and advise you on the right solution.
How To Take Care Of Partial Braces?
It's important to take care of partial braces the same way you would a full set of braces. Your child will want to brush and floss their teeth twice a day, and it may be helpful to use a water irrigation device to help get food particles out from around the brackets and wires.
Your child will also want to avoid any foods that can break the wires or damage the brackets like crispy foods or sticky foods. Cutting your child's food into slices or bite sized bits can help prevent damage to the brackets and wires. Soft foods may also feel better after they get their braces on or after a tightening appointment.
If your child does experience some discomfort, you can check with your pediatrician to see what over the counter pain relievers he or she recommends.
To learn more about partial braces, please contact our office and set up an appointment so we can confidently review your child's dentition and make a recommendation for you.
Reference:
Tamer, İ., Öztaş, E., & Marşan, G. (2019). Orthodontic treatment with Clear Aligners and The Scientific Reality Behind Their Marketing: A Literature Review. Turkish journal of orthodontics, 32(4), 241–246. https://doi.org/10.5152/TurkJOrthod.2019.18083