Everything Know About Your Dental Tooth Number Chart
You may have wondered how are teeth numbered when you hear a dental professional refer to #12, or lingual #6. Firstly, we will discuss baby teeth.
Baby teeth are called primary dental tooth number chart and they are generally smaller and whiter than adult or permanent teeth. These are lost anywhere between early childhood through to the teenage years.
Tooth identification
There are three different numbering systems used to identify the primary teeth in dentistry. Your dentist can let you know the specific system that they utilize.
One system in use is where the mouth is divided into quadrants and the teeth are alphabetized. The tooth with the letter A is the one that is farthest back on the right side of the mouth in the upper jaw (A-J). The lettering continues by dropping to the lower jaw, and the letter K is the tooth on the farthest back of the left side of the lower jaw. The letters continue from K-T.
Right maxillary (upper jaw region)
A: second molar
B: first molar
C: canine
D: lateral incisor
E: central incisor
Left maxillary (upper jaw region)
F: central incisor
G: lateral incisor
H: canine
I: first molar
J: second molar
Left mandibular (lower jaw region)
K: second molar
L: first molar
M: canine
N: lateral incisor
O: central incisor
Right mandibular (lower jaw region)
P: central incisor
Q: lateral incisor
R: canine
S: first molar
T: second molar
Alternatively, some dental practitioners number the teeth from 1-20, and place a small d beside the number to differentiate it from the permanent teeth numbering.
Furthermore, some orthodontists, pediatric dentists, and oral surgeons use the Primary Palmer Notation Numbering System. In this system, the child's mouth is divided into four quadrants. The letters A through E and a unique symbol are used to distinguish each quadrant's teeth as follows, running from the center of the mouth to the back.
In this system, A is the central incisor and E is the second molar. In this system, the letters are placed in L shaped symbols to identify the appropriate quadrant.
L: teeth in the upper left quadrant
backward L: teeth in upper right
upside-down L: left lower quadrant
upside down backward L: lower right quadrant.
Finally, the Primary Federation Dentaire Internationale Numbering System (FDI) is a two-digit system that is used in Canada and Europe. If you want to know more about this system because you will be traveling or deployed in the military, speak to your orthodontist or dentist.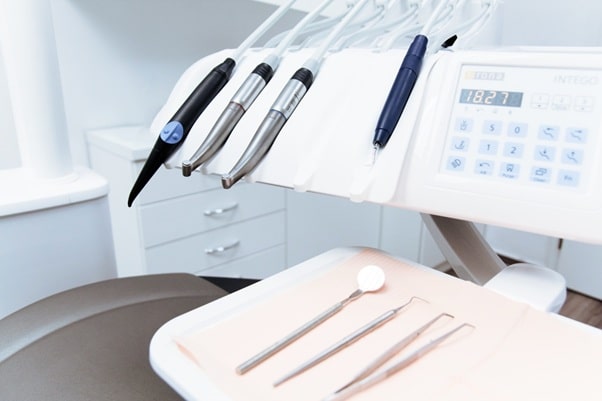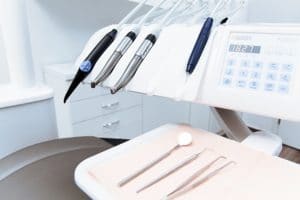 Adult Teeth by number
Adult teeth are permanent teeth.  Like the systems in place with milk teeth, there are also three systems for naming adult teeth. Now let's look at how dental identification tooth numbers adopted by the ADA which is the most widely used system in the US works.
For adult teeth, the ADA's system uses numbers, and you may be wondering what are the numbers for each tooth, and how to use the numbers 1-32 to identify your teeth.
Tooth number 1 is the tooth that is most posterior (back) on the right side of the mouth in the upper (maxillary) jaw. The numbering continues along with the upper teeth toward the anterior region and across to the tooth most posterior (back) on the top left side which is number 16.
The numbers continue down to the lower (mandibular) jaw, where number 17 is the tooth most posteriorly located on the lower left side of the mouth and continues to number 32 on the most posterior right side of the bottom.
If your dentist finds that your teeth are missing, this system will account for that and the missing teeth will be numbered as this prevents confusion.
Identification Dental Teeth Numbers
Based on the above method of tooth identification, dental teeth numbers are used to identify canines, your molars, your wisdom teeth, and so on. This means that numbers 1, 16, 17, and 32 are your wisdom teeth, numbers 6-11 are your front or anterior upper teeth, and numbers 22-26 are the front teeth of your lower jaws. In a similar fashion of teeth identification, the canines will be numbers 6, 11, 22, and 27.
Ask us at Ivanov Orthodontics for a visual representation or a visual chart if you would like to get a deeper understanding of the dental teeth numbers.
Permanent human teeth names
If you would like to know the numbers and names for each tooth, below is a list of names of teeth and their identifying tooth numbers of permanent or adult teeth.
 Upper right jaw
1 Central incisor
2 Lateral incisor
3 Canine/Cuspid
4 First Premolar/1st Bicuspid
5 Second Premolar/2nd Bicuspid
6 First Molar
7 Second Molar
8 Third Molar/ Wisdom tooth
Upper left jaw
9 Central incisor
10 Lateral incisor
11 Canine/Cuspid
12 First Premolar/1st Bicuspid
13 Second Premolar/2nd Bicuspid
14 First Molar
15 Second Molar
16 Third Molar/ Wisdom tooth
Lower left jaw
17 Central incisor
18 Lateral incisor
19 Canine/Cuspid
20 First Premolar/1st Bicuspid
21 Second Premolar/2nd Bicuspid
22 First Molar
23 Second Molar
24 Third Molar/ Wisdom tooth
Lower right jaw
25 Central incisor
26 Lateral incisor
27 Canine/Cuspid
28 First Premolar/1st Bicuspid
29 Second Premolar/2nd Bicuspid
30 First Molar
31 Second Molar
32 Third Molar/ Wisdom tooth
Teeth Number Charts for Adults
This is a somewhat non-exhaustive list of the main types of tooth numbering systems or teeth number charts for adults or nomenclature that different dentists and orthodontists and other dental professionals use.
If you want a more in-depth look at how teeth are numbered, it is best to speak to your dentist about the specific system they use to avoid confusion regarding the various dental tooth numbers and teeth names used worldwide. In general, dentists in the US will identify teeth by number, and dental offices will have a tooth chart with numbers.