Retainers vs. Invisalign: Understanding the Distinctions
What Is a Retainer?
A retainer is a crucial component of orthodontic treatment that helps preserve the alignment and stability of the teeth following the completion of braces or other orthodontic interventions. Custom-made to fit the patient's teeth, retainers are typically crafted from either plastic or metal materials.
Plastic retainers, also known as clear retainers, are made from a transparent, durable plastic material. These retainers are designed to be discreet when worn, allowing individuals to maintain their confident smiles while still benefiting from the retainer's function. On the other hand, metal retainers, often referred to as permanent retainers or fixed retainers, are made of thin stainless-steel wires that are attached to the back of the teeth. This type of retainer provides a more permanent solution, as it remains in place without needing to be removed like a plastic retainer.
Hawley retainers are made from a combination of materials and are the least expensive and also the most common.
Retainers are intended to be worn consistently over a specific period, typically during sleep or as directed by the orthodontist. This ensures that the teeth maintain their desired alignment and do not shift back to their original positions. Compliance with wearing the retainer as instructed is essential for achieving long-term orthodontic results.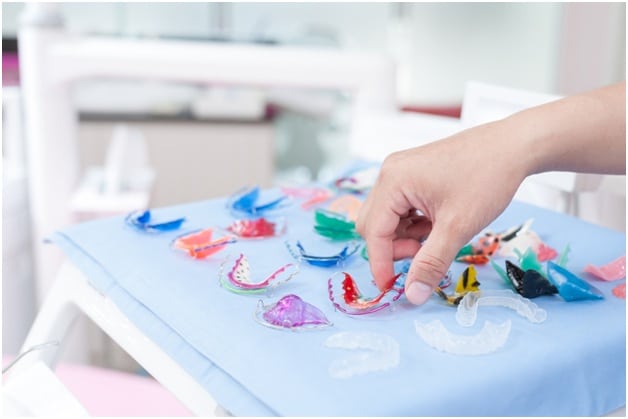 What Is Invisalign?
Invisalign has revolutionized the field of orthodontics with its innovative approach to teeth straightening. This modern treatment method utilizes a series of clear aligners to gradually and discreetly align the teeth. The aligners are custom-designed for each patient using advanced computer imaging technology.
Invisalign aligners are made of a smooth and virtually invisible plastic material called SmartTrack, developed specifically for this treatment. The aligners fit snugly over the teeth and gently apply controlled forces to guide them into their desired positions over time. As the patient progresses through the series of aligners, the teeth gradually shift, resulting in a beautifully aligned smile.
The removability of Invisalign aligners sets it apart from traditional braces. Patients can easily remove the aligners when eating, allowing them to enjoy their favorite foods without restrictions. The ability to remove the aligners also simplifies oral hygiene routines, as brushing and flossing can be performed as usual without any obstacles.
Invisalign treatment begins with a consultation with an experienced orthodontist who will assess the patient's orthodontic needs and determine if they are a suitable candidate for Invisalign. Following a comprehensive examination, including dental impressions, photographs, and X-rays, a personalized treatment plan is created.
Research studies have demonstrated the effectiveness of Invisalign in achieving desired orthodontic outcomes. According to a study by Miller et al, Invisalign treatment resulted in significant improvements in tooth alignment and occlusion. The study found that Invisalign achieved comparable results to traditional braces while providing greater comfort and convenience for patients.
Another study conducted by Pritchard investigated patient satisfaction with Invisalign treatment. The findings revealed high levels of patient satisfaction regarding the aesthetics, comfort, and ease of use of Invisalign aligners.
Retainers vs. Invisalign: Material and Design
When considering retainer vs Invisalign,one key distinction between retainers and Invisalign lies in their material and design. Retainers can be made of plastic or metal, while Invisalign aligners are exclusively made of clear plastic. The plastic used in Invisalign aligners is durable and comfortable, offering a discreet and aesthetically pleasing option for orthodontic treatment.
Retainers vs. Invisalign: Cost
When considering the cost factor between Invisalign vs. retainer, retainers are generally more affordable compared to Invisalign treatment. Retainers have a one-time cost associated with their creation and may require occasional replacements. Invisalign, on the other hand, involves a series of aligners that are custom-made and replaced periodically throughout the treatment process. As a result, Invisalign treatment may be associated with a higher overall cost.
Retainers vs. Invisalign: Length of Use
Retainers are designed to be worn for an extended period, often at night while sleeping. They serve the crucial role of maintaining the teeth in their newly aligned positions after the completion of orthodontic treatment. The length of retainer use may vary depending on the individual's specific orthodontic needs and the recommendation of the orthodontist. In some cases, patients may need to wear retainers consistently for several months or even years to ensure the long-term stability of the teeth.
Invisalign treatment, on the other hand, follows a different approach in terms of length of use. It involves a series of clear aligners that are custom-made and replaced every few weeks. Each set of aligners is designed to exert gentle pressure on the teeth, gradually moving them toward the desired alignment, just like braces do.
The duration of Invisalign treatment can vary depending on the complexity of the case, the severity of the misalignment, and the patient's compliance with wearing the aligners as instructed. In general, Invisalign treatment tends to have a shorter duration compared to the prolonged use of retainers.
It is important to note that the exact length of treatment for retainer vs. Invisalign can vary greatly depending on individual factors. The orthodontist will provide a personalized treatment plan and timeline based on the specific orthodontic needs and goals of each patient. Regular check-ups and follow-up appointments will be scheduled to monitor progress and make any necessary adjustments throughout the treatment journey.
Whether choosing retainers or Invisalign, it is essential to follow the orthodontist's instructions regarding wear time and maintenance to achieve the best possible outcomes. Compliance with wearing retainers or Invisalign aligners, as recommended, plays a crucial role in maintaining the results achieved through orthodontic treatment.
While retainers are typically worn for an extended period to maintain teeth alignment, Invisalign treatment involves the use of a series of aligners that are switched periodically to gradually move the teeth into their desired positions in the active phase of orthodontic treatment. The length of use for each option varies depending on individual needs and treatment goals. Consulting with an experienced orthodontist is key to determining the most suitable approach and achieving a confident, straight smile.
In conclusion, while both retainers and Invisalign serve their distinct purposes in orthodontic treatment, they differ in terms of materials, cost, and length of use. Retainers are primarily used for maintaining tooth alignment after orthodontic treatment, while Invisalign offers a discreet and removable alternative to bracket and wire braces for achieving tooth straightening. Consultation with an orthodontist is crucial to determine which option is best suited to each individual's orthodontic needs. For expert orthodontic guidance and personalized treatment in Miami, book an appointment at our website today at Ivanovortho.com.