Dental tape
For individuals with braces, it can be incredibly difficult to figure out exactly how you are supposed to floss for braces. Flossing with braces or using flossers for braces can be a difficult thing, and you are unlikely to get help by simply looking up things like braces floss, dental tape, or a floss threader. However, just because it is more difficult to floss with braces does not mean that it is impossible as there are many different ways to meet that important oral health need. There are some tools like a dental floss threader, but flossing threaders, while effective for many people, are by no means the easiest way to floss with braces.
One thing you're likely to come across regularly is the idea of the Waterpik flosser when you look for floss picks for braces. But what is a Waterpik for braces? How well does a water flosser for braces work? And is an oral irrigator the same thing? Before we learn more about flossing with braces, let's see what the experts of orthodontic medicine have to say on the topic of how to floss with braces:
Good oral hygiene practices reduce the frequency of dental caries and gingivitis (Goh & Doubleday 2018).
These dental disease conditions are primed to happen when saliva, bacteria, and something like sugar or food particles accumulate on the teeth (Goh & Doubleday, 2018).
Because it can be tricky to use a toothbrush effectively to remove all food particles when one has braces, studies show that additional aids and measures for tooth cleaning may help to effectively clean teeth (Goh & Doubleday, 2018).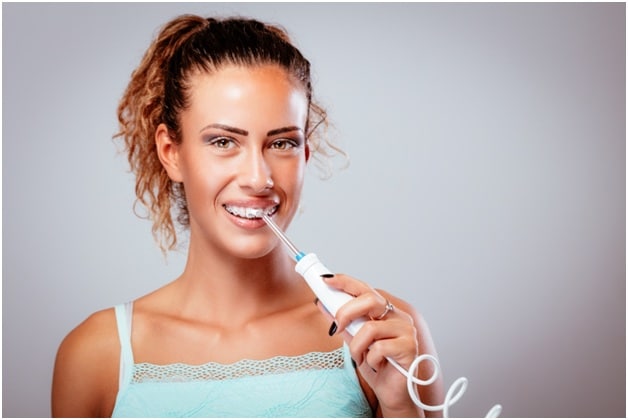 Waterpik or oral irrigator and how to floss with a Waterpik?
Secret many people may not know is that Waterpik and an oral irrigator are exactly the same things. Similar to how the Kleenex brand of facial tissue became so popular that all individuals began referring to disposable tissues as Kleenex, the same thing has happened with Waterpik. Waterpik is actually just the brand name of the most common oral irrigator.
For individuals who may not know what either of these things is, simply put it's a tiny pressure washer for your mouth. There is usually a small tank of water that is pumped through a small pump compressor and depending on the type of nozzle you use, you can adjust the flow rate of the water being sprayed against and between your teeth. Most of them also have different power settings so if you're having something that is particularly stuck and unwilling to budge this can be a great way to help blast it out.
For individuals wearing braces, the oral irrigator is amazing. Not only is it great at getting out food from between your teeth but it is also safe to use with your braces, can help to keep your braces clean, and because it can get rid of food material on the braces as well as between the teeth it also will help to reduce halitosis caused by food stuck to your braces.
Traditional flossing: How to use traditional floss with braces
Using traditional floss when you're wearing braces can be extremely difficult. The fact of the matter is that braces add a whole host of complexity when it comes to flossing. You now have wires, brackets, and bands, and depending on the type of braces, it may be extremely difficult to utilize floss traditionally.
However, there are some methods that individuals can use and one is to simply get a slightly thicker or stouter type of dental floss. This dental floss, also sometimes referred to as dental tape, does come in differing levels of thickness and stiffness. If you're finding the one you're using to be too limp to be able to push through or around the braces, then you may need to go with a thicker version which will be easier for you to manipulate inside your mouth. However, if that all sounds too finicky for you, there is another option, the floss threader.
Floss threader – How to use a floss threader to floss with braces
A floss threader is basically a simple plastic needle that allows you to be able to attach the floss and pull it using the stout plastic of the threader through the gaps in the braces or the gaps in your teeth. Basically, a floss threader helps to negate the issues mentioned above where floss can be too limp and difficult to weave through your teeth or braces since you no longer have the ability to start at the bottom of the tooth and simply floss up as you would traditionally. The floss threader is a great way of being able to still floss regularly using the old flossing method while having braces.
General tips and tricks for flossing with braces – Don't use whitening toothpaste- Schedule regular cleanings
While it is possible to use either traditional floss or in conjunction with a floss threader, the fact of the matter is that these traditional forms of flossing are far less effective when it comes to braces than something like an oral irrigator. An oral irrigator is easier, faster, can spray and clean around different surfaces, can be used front and back, can get out food from within the divots between teeth and at the tops of crowns, and is overall a superior method of flossing for most individuals but especially for those with braces.
Being able to spray and clean around the braces is far faster than any floss threader could hope to be and when combined with regular tooth brushing, it is by far the easiest method of ensuring regular hygienic flossing and minimal invasiveness around your braces.
While wearing braces, you should also avoid using whitening toothpaste as they can leave your teeth a different color when compared to the color of your teeth under the braces brackets. Instead, be sure to book regular cleaning appointments with your dentist so you can get a professional clean around all of the brackets and wires.
Reference:
Goh, H. H., & Doubleday, B. (2018).Aids for mechanical cleaning of teeth with fixed braces.The Cochrane Database of Systematic Reviews, 2018(1), CD012931.https://doi.org/10.1002/14651858.CD012931