People need straight teeth for a proper bite and a normal beautiful smile. In any case, if you have irregular teeth, it can spoil your overall appearance and you can lack self-confidence. Therefore, it is necessary to visit an orthodontist to have a precise solution to such an oral issue, i.e dental braces.
Orthodontists suggest dental braces to offer patients more straight teeth to have a correct bite. It can reduce wear and tear on your teeth and relocate them in the right position in the mouth. There are various types of dental braces offering patients an aesthetic smile, including:
Different Types of Dental Braces:
Clear braces
Diamond braces
There is no single process to achieve the expected smile. Your orthodontist can tailor patients' needs according to your expectations and budgets.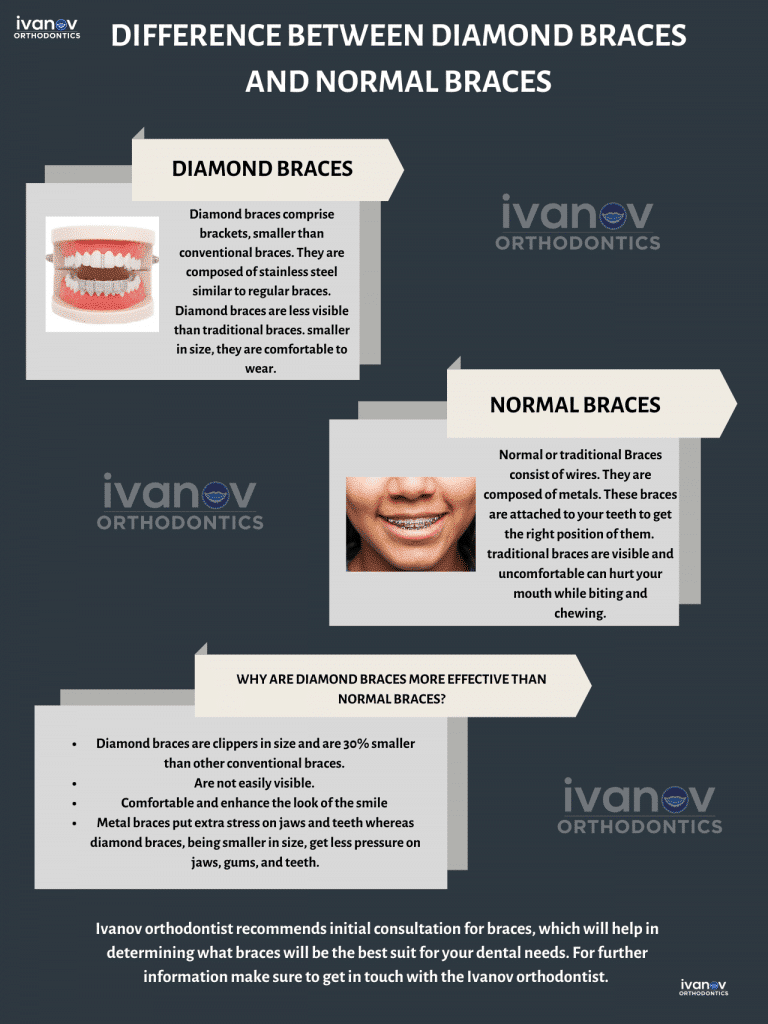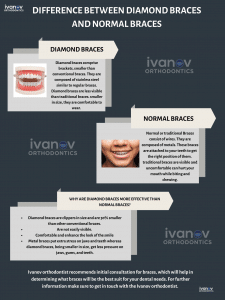 What's The Difference Between Diamond Braces Vs Normal Braces?
What are Diamond Braces?
Diamond braces are also known as mini diamond braces. They comprise brackets, smaller than conventional braces. They are composed of stainless steel similar to regular braces. Although they are less visible than traditional braces. Since the brackets are smaller in size, they are comfortable to wear. The diamond braces are suitable for both children and adults.
What Are Normal Braces?
Normal or Regular Braces consist of wires. Generally, they are composed of metals. Dentists attach them to your teeth in order to get the right position of them. Nowadays, dentists use heat-activated archwire that is a new feature of traditional braces.
Both the  braces have equivalent components, including
Orthodontic bands to provide an anchor of wires;
Spacers; fitted between your teeth to offer space for the orthodontic bands.
Brackets; Comes in square shapes bonded to each tooth. They bear the archwire that helps shift teeth during treatment.
Ties that are available in rubber or fine wire, utilized to attach the archwire to the brackets on the teeth.
Lastly, springs, Elastic rubber bands, and headgear are used to shorten the time of wearing braces.
How do diamond braces work?
Diamond braces function by applying persistent pressure to the teeth in order to move them slowly in an expected position. With the frequent application of pressure, bones help maintain the pressure. The results can become permanent.
Why are diamond braces popular?
Braces with Diamonds have many advantages, including;
Smaller Diamond Brackets than traditional calipers
Very relaxing to wear
The color of ligatures can be changed.
An effective option to fix various kinds of oral problems
Teeth cleaning is easier.
Takes less time in getting expected teeth alignment.
Results are more effective.
These are some of the necessary benefits of choosing Crystal Braces.
Diamond Braces vs Normal Braces: Which One Is Right For You?
Usually, diamond brace clippers' size is 30% smaller than other conventional braces. These types of braces are also less noticeable so users can smile without any hesitation. Young patients can prefer this type of braces compared to normal ones as they offer an ugly appearance.
Most people feel discomfort while wearing metal braces. But braces offer comfort and make you feel normal.
Metal braces put extra stress on both jaws and teeth causing discomfort all the time whereas diamond braces, being smaller in size, get less pressure on jaws, gums, and teeth.
The ligatures in braces are utilized to grasp the caliper firmly, you can customize their color during every appointment of the orthodontist. The diamond braces can cure various dental issues including gaps, crowding, and others. The users need to clean both types of braces. But metal braces are harder to clean than diamond braces.
Individuals need to find an experienced orthodontist to determine which type of braces will be the best suited for their needs and budgets. Schedule an appointment now to have a precise diagnosis and treatment.