Navigating the world of orthodontics brings forth a lot of questions, particularly when it comes to everyday habits. A prevalent question iscan you eat gum with braces or Invisalign? Or is sugar free gum a safer bet? With various types of gum available in the market, understanding which ones are compatible with braces or Invisalign is vital.
We will take a look atgum for braces, chew gum with Invisalign, and the potential challenges of gum in braces or Invisalign chewing gum. Moreover, if you've ever pondered over chewing gum alternatives, we've got you covered.
Whether it's chewing gum with braces, braces gum, gum with braces, Invisalign gum, gum and braces, braces and gum, gum with Invisalign, or chewing gum Invisalign concerns, we aim to provide clarity. And for those wondering, "can I chew gum with Invisalign?" or looking into sugar free gum for braces, then it's always best to check with the experts.
As Parker and Benson (2018) noted, the relationship between gum and braces is complex, while Thompson and Andrews (2019) highlighted the considerations to take when thinking about chewing gum Invisalign. Now let's get into some of the most popular questions about chewing gum and orthodontic equipment.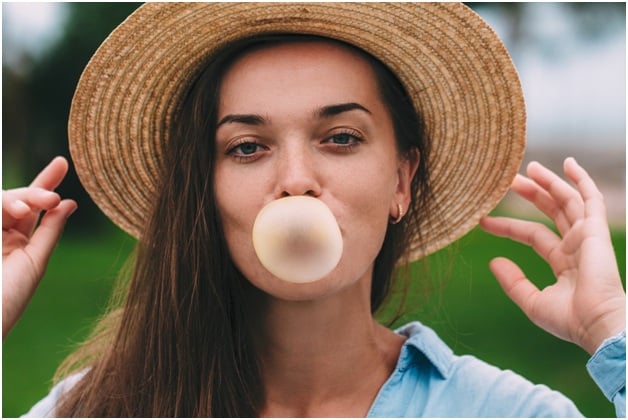 Can You Chew Gum with Braces?
Chewing gum with braces is a common concern among many orthodontic patients. Traditional braces involve brackets and wires that can easily trap food particles and sticky substances like gum can exacerbate this problem. While many believe that sugar free gum for braces might be a viable option, the stickiness remains an issue. When gum and braces come together, there's a risk of damaging the appliance, leading to unplanned orthodontic visits.
Can You Chew Gum with Invisalign?
Invisalign, known for its discreet and convenient nature, certainly has its advantages over traditional braces, especially when it comes to dietary restrictions. Being removable aligners, Invisalign gives patients the liberty to take them off during meals, snacking, or when sipping on drinks. This flexibility often leads to the question: can you chew gum with Invisalign?
While Invisalign doesn't have brackets or wires that gum can get stuck to, there are still potential risks. Gum, by its nature, is sticky and malleable. If chewed while wearing Invisalign aligners, it can cause a deformation in the aligner's structure or even stick to its surface, making it challenging to maintain the aligner's cleanliness and form. Even though one might be tempted to enjoy a piece of gum, it's always a best practice to remove the aligner beforehand to ensure its longevity and prevent potential damage. After all, maintaining the integrity of the Invisalign aligners is essential for them to be effective in their teeth aligning mission.
Can You Chew Sugar Free Gum with Braces Or Invisalign?
Sugar free gum is often championed for its oral health benefits, primarily because it doesn't contribute to the sugar content that promotes cavities. Dentists frequently recommend sugar free alternatives as they can stimulate saliva production, which naturally cleanses the mouth and neutralizes harmful acids. However, when orthodontic appliances come into play, things aren't so straightforward.
For those with braces, the issue isn't just about sugar; it's also about consistency. Regardless of whether the gum contains sugar or not, its stickiness can be problematic. It can easily get lodged in between braces, leading to potential damage or misalignment of the wires and brackets. As for Invisalign wearers, while sugar free gum doesn't pose as much of a threat to cavities, the same precautions about gum's potential to alter the shape or fit of the aligners remain.
So, while chewing sugar free gum for braces or Invisalign might seem like a less harmful choice, it's always best to err on the side of caution. If the urge to chew gum arises, ensure you take the necessary precautions, such as removing your Invisalign so as not to mess up your expensive orthodontic treatment.
Why Can't You Chew Gum with Braces?
Braces are designed to align and straighten teeth, but they come with certain limitations when it comes to what one can and cannot eat or chew. Braces gum interactions are particularly risky. When you chew gum with braces, the sticky texture can easily become entangled in the intricate brackets and wires. This not only poses a risk of potential damage to these delicate orthodontic fixtures but can also be a challenging and time-consuming ordeal to remove.
Further complicating matters is the fact that many types of gum are sugary. Even if you opt for sugar free gum, the stickiness of the gum can trap particles against the teeth, especially in the spaces around the braces. This creates an ideal environment for bacteria to thrive, accelerating plaque formation and thereby increasing the risk of cavities and gum disease.
Moreover, constant pulling and tugging at the braces due to gum can also delay the orthodontic process. Braces work by applying consistent pressure to move teeth in a specific direction. The added pressure or pull from gum can counteract this, leading to potential delays in treatment progress. It's not just about maintaining the integrity of the braces but also ensuring an efficient and effective treatment process.
For these reasons, many orthodontists advise against chewing gum with braces, emphasizing the importance of safeguarding the investment made in achieving a beautiful, healthy smile.
What Should You Do If Gum Becomes Sticky with Your Orthodontic Appliances?
Accidents happen. If you find yourself with gum in braces or having chewed gum with Invisalign on, remain calm. Carefully try to remove as much gum as possible without applying force. Using ice can help harden the gum, making it easier to remove. If challenges persist, schedule an appointment with your orthodontist.
Understanding the intricacies of daily habits with orthodontic appliances ensures a smoother journey towards a perfect smile. If in doubt, always consult with your orthodontic professional. Ready to embark on your orthodontic journey or need advice on care? Schedule your appointment at ivanovortho.com today!