A free initial consultation with an orthodontist is a great way to learn about treatment options and also to discover all of the ways you can pay for your treatment.  Many good quality orthodontists will offer you a free consultation.
Orthodontist consultation
There are some big advantages to getting an orthodontic consultation. Each person's orthodontic problem is unique and they will need to meet with the orthodontist and their team to learn about which treatment option is the right one. Some kids will need orthodontic care for correcting their adult teeth that grew in crooked due to the baby teeth not falling out on time. Others might have small palates that need to be expanded to make room for the adult teeth to have room to come in.  Still other patients coming for an orthodontist consultation Miami FL are adults who are looking to correct their teeth and get the beautiful smile they have always wanted.
At this initial consultation, you will meet with the team including the treatment coordinator who will help review your full treatment plan with you and the office staff can review payment plans with you. There are many ways you can get your orthodontic treatment paid for, including combinations of insurance, cash discounts, affordable monthly payments, and FSA reimbursements.
We'll learn more about an initial orthodontist consultation in just a moment, but first let's pause and take a look at what some of the experts of orthodontic medicine have to say.
The doctor-patient relationship has evolved a lot in recent years, and that extends to dental practices as well. The care provided has changed from being doctor-centered to patient-centered (Adobes-Martin, M et al.,2021).
The satisfaction of patients when it comes to their orthodontic care is the driving force behind the patient-centered care and that comes from patients and providers talking about their treatment (Adobes-Martin, M et al.,2021).
These conversations between patient and provider review things like the impact on quality of life, the treatment outcomes, and what the patient's needs and wants are (Adobes-Martin, M et al.,2021).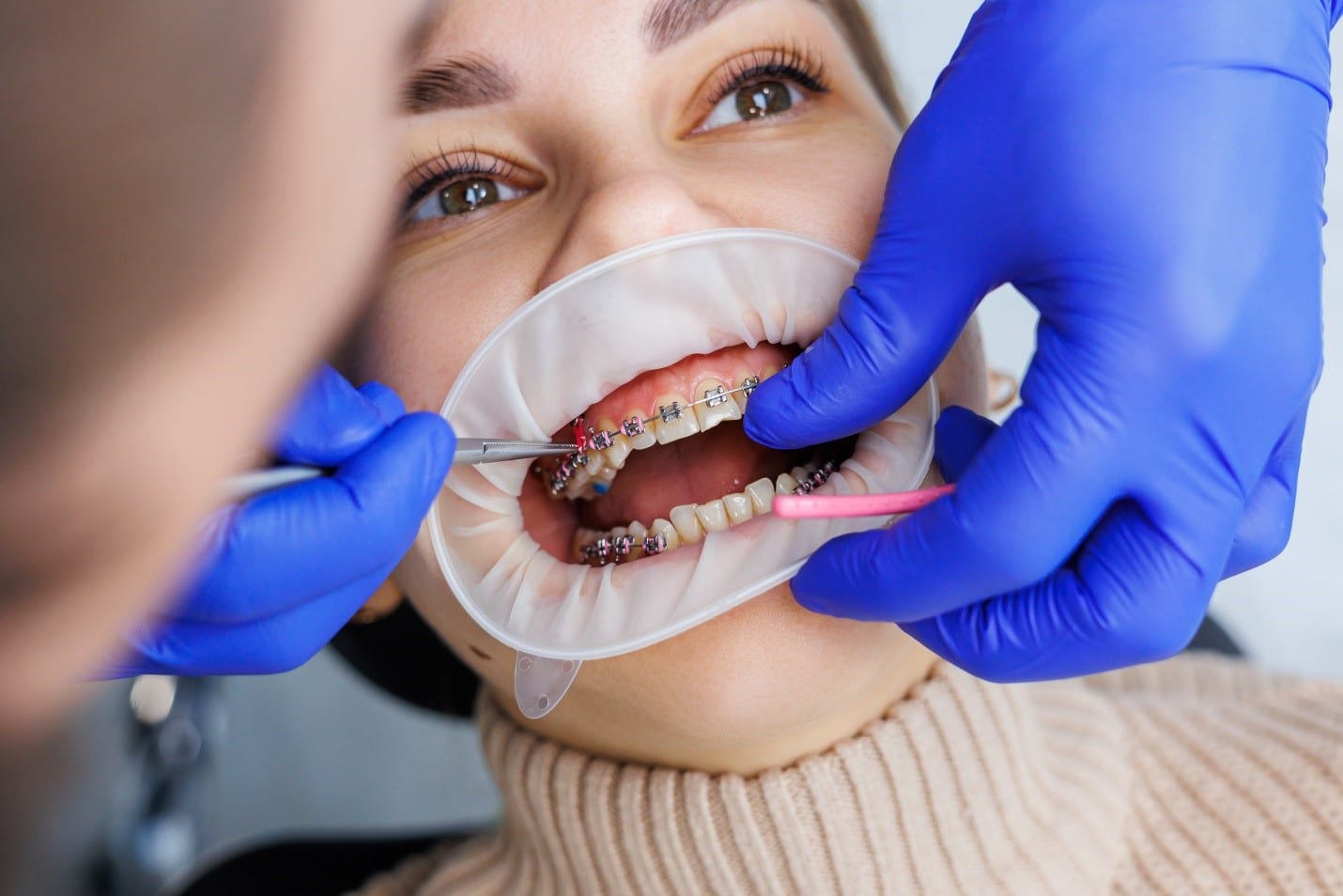 What should I do before I go to the orthodontist for the first time? Orthodontist consultation near me
There are a few things you should plan to complete before you go to the orthodontist for the first time. One is that you should visit your dentist and get your teeth professionally cleaned. By getting your teeth cleaned, and any other dental issues addressed first, you can be sure that you will have the strongest, healthiest teeth before beginning your orthodontic treatment.  You will likely have the braces for about two years, so you want to be sure that your orthodontist is affixing the brackets to the cleanest possible teeth.
Another thing you should do before going to the orthodontist is to review your dental insurance coverage to see if you have any orthodontic coverage. More and more dental plans are offering orthodontic coverage for at least children and teens, and an increasing amount are also covering adults. If you don't have dental insurance, you may be able to add this on to your benefits package. Ask your employer's benefits coordinator if this is something that is possible.
If you have not yet had an orthodontist consultation, you may want to schedule this before making your first actual appointment.  At this meeting, your orthodontist will take your medical history, take orthodontic x-rays, and talk to you about what your ultimate goal is for your orthodontic treatment. This consultation appointment is your greatest opportunity to ask questions of the orthodontist and their team.  It's low stress and designed to be an informational session. And most quality orthodontists will offer this as a free consultation because they want you to be informed.
You can meet everyone from the orthodontist to the treatment coordinator to the orthodontic assistant. You can leave this meeting knowing what your payment options are and what your specific treatment will include, whether that is the Invisalign clear aligner system, metal braces, or some other type of treatment that is necessary for your unique orthodontic needs.
Does a dentist get his dental treatment for free? Orthodontist consultation cost
While there's often a professional courtesy that allows dentists to get discounted treatment from other dentists, most of them do not actually get free treatment from each other. There may be times that a dentist works at a teaching college or hospital, so he or she may get free care from the students since they need to have hands-on practice.
Even if you want to provide professional courtesy, the cost of cleaning and materials is not insignificant.  Dentists may offer a fee at cost to colleagues, but they won't offer free treatment.
Is the Invisalign orthodontic treatment effective? Orthodontist consultation fee
The Invisalign orthodontic treatment system is a great treatment option for many people who have mild to moderate orthodontic issues. It works the same way as metal braces do by applying pressure to the teeth in specific ways. Its prices also compare to traditional braces, costing about the same as ceramic braces would, about $4,000 to $8,000.
Invisalign can even be used for teens and tweens. It's a great way for all patients to receive comprehensive orthodontic treatment in a way that doesn't show the world that you're getting treatment.
Can I ask my dentist to put my braces back if I'm not satisfied with? Orthodontist with free consultation near me
You can put your braces back on, but if you're not satisfied with your treatment, you should talk with your orthodontist about your concerns. There was likely a big disconnect between desired outcomes and the treatment plan. This is not likely to happen as most quality orthodontists will make sure that you are a part of the planning process. Your free consultation at the beginning starts the process of learning about what you wish to accomplish through your orthodontic treatment, as well as establish what your budget is.
Everyone's treatment is unique, and as such you will have different paths to achieve your desired and results. As you go through your treatment, you should be talking with your orthodontist and learning about where you are in the process.
Reference:
Adobes-Martin, M., Montoya-Morcillo, M. L., Zhou-Wu, A., & Garcovich, D. (2021). Invisalign treatment from the patient perspective: A Twitter content analyses. Journal of clinical and experimental dentistry, 13(4), e376–e382. https://doi.org/10.4317/jced.57835
Contact us:
IVANOV Orthodontic Experts, 12866 Biscayne Blvd, North Miami, FL 33181
https://www.google.com/maps?cid=154326063970645489
Call us at (786) 540-1919 to schedule a free orthodontic exam.
Learn More about How To get Invisalign Braces Near Me at