What Is the True Cost of Invisalign?
If you are considering Invisalign treatment, the cost is one of the most important aspects to consider. Invisalign is a transparent orthodontic appliance, which works in the same way as braces. In this treatment, Invisalign works on correcting milder Type II malocclusions. Just as it reflects the effects of wearing braces, Invisalign cost is the also the closest to that of metal braces.
From today's standpoint, Invisalign is among the most popular appliances used in adult orthodontic treatment. Invisalign is a set of plastic aligners, applied over the teeth. These aligners are intended to manage any misalignment or crowing thereof. If you haven't worn braces before, Invisalign can be a great alternative to treating many orthodontic issues. Before considering this treatment, it is important to see whether you are an eligible treatment candidate. That said, it is important to learn the cost of Invisalign near me and your available payment plans for the treatment.
How Much is Invisalign Without Insurance?
Unlike with traditional braces, the Invisalign invisible braces cost can be slightly higher. The average Invisalign treatment can cost patients from $3,500 and $8,000, depending on the case. Some of the factors which also impact the Invisalign cost include the number of aligners you need, the delivery process and the insurance plan you are using. With braces, a standard treatment of up to two years can range from $2,500 to $6,000. Still, even here, the cost can differ in accordance with the case and the patient's needs. In addition, know that the Invisalign braces cost for just bottom teeth will be the same as using aligners for both jaws.
The best way to determine if Invisalign or braces are suitable for you is by consulting your orthodontist.
Before digging deeper into insurance, know many insurance policies cover at least part of the total invisalign cost Florida. While braces are typically included in your insurance policy, Invisalign aligners may not be. Therefore, check your insurance treatment plan and see if Invisalign treatment works for your budget.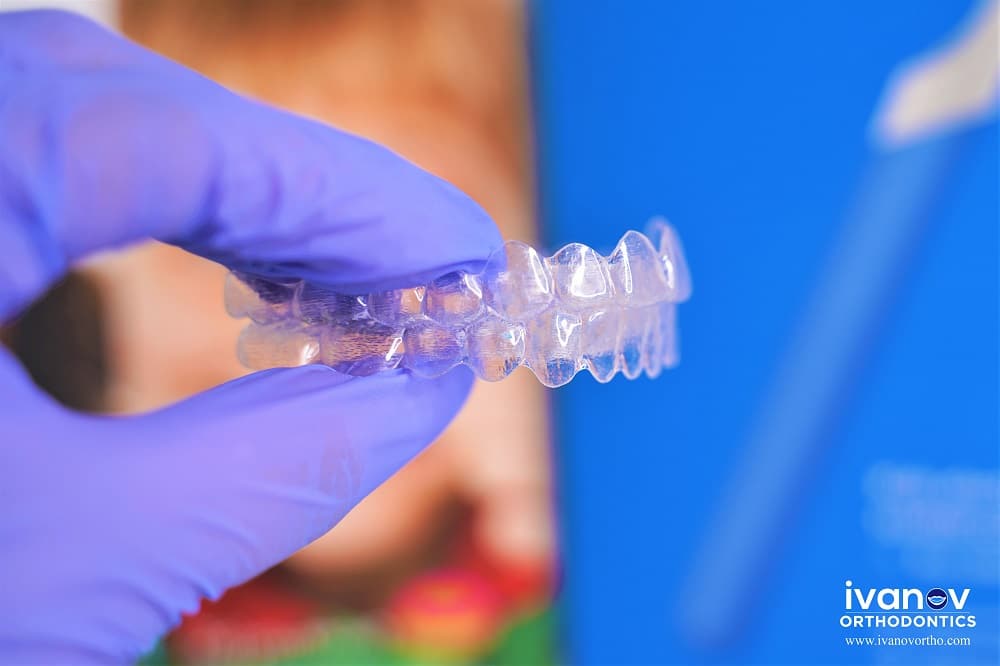 Cost Aside, Why Choose Invisalign over Braces?
Invisalign is a modern-day technique that successfully shortens the treatment time seen in braces. With that, the Invisalign clear aligners can be worn without being noticeable. Invisalign targets the same areas as braces. But, it also allows is greater hygiene (no messy putty in the mouth!) and usability of the appliance. If you worry about the Invisalign cost, despite its benefits, let's discuss important aspects of the topic.
Invisalign Cost vs. Braces Cost
As mentioned earlier, Invisalign costs a bit more than traditional braces. However, given the shorter treatment time, Invisalign is a popular choice for some. There are many other benefits to choosing Invisalign over braces, like:
– Invisalign is a removable device, meaning you won't have to wear it during meals.
– Invisalign is easier to use, clean and maintain and doesn't press the teeth as much as braces.
– Unlike braces, Invisalign doesn't require dietary changes.
– Invisalign treatment does not require as many doctor's offices as braces.
– Invisalign is transparent, so you can wear it anywhere without it being visible.
Some of the downfalls of wearing Invisalign include practicing greater self-discipline in wearing the device. This is so because, unlike braces, Invisalign is not fixed, so you can easily forget to put it on. If you are dealing with a more serious orthodontic issue, braces will have better effects on the final product. Compared to the Invisalign cost, braces have an average price of $5000. With braces, you have better payment plans, with a number of patients actually not paying the full amount.
Smile Direct vs. Invisalign Cost
Compared to Invisalign, Smile Direct is a cheaper orthodontic treatment and can cost around $1850. Still, Smile Direct Club appliances do not provide as strong effects as Invisalign and braces do.
How to make Invisalign costs more affordable?
In case you still opt for Invisalign treatment, let's discuss payment methods. Today, there are a number of ways and techniques to cover partial costs of Invisalign treatment. Have a look at your available options below.
What is a Flexible Savings Account?
The FSA is a flexible savings account that allows you to pay medical expenses, including orthodontic treatments. If you are working, your company is the one managing your FSA, with you paying a certain amount every year. Typically, these rates are deducted from your monthly salary. By using this method, you are looking to save up to $2,600 a year.
What is a Health Savings Account?
The HSA is a special type of savings account, which targets patients who have high deductible health insurance plan. Basically, you save money on the account and can use it whenever you need medical assistance. This account covers a variety of medical and orthodontic issues, including Invisalign treatment. By using your HSA, you are looking to annually save up to $3,400 per person, or $6,750 per family.
The Benefits of Using FSA or HSA
One of the biggest advantages of using either an FSA or HSA treatment plan is the no-tax policy. This helps many people get treated with Invisalign. If you are considering one of these two treatments, it is wise you consult both your doctor and benefits manager. With this, you are looking to pay up the full amount faster, and have some of the costs reimbursed later in the treatment.
Is Invisalign Cost Covered by Insurance?
When it comes to insurance, it is good to know that many available plans cover some of the Invisalign costs. Depending on the insurance plan you use, there might be a percentage cover in the costs or a pre-determined coverage amount. Most dental insurance plans also have a lifetime cap on covering some of the costs of Invisalign.
Does My Insurance Plan Cover Invisalign cost?
To learn if your insurance plan covers part of the costs of the treatment, talk to your benefits manager at work. At the same time, you can also contact your insurance company for more information. Sometimes, health insurance, instead of dental insurance, partially covers the Invisalign cost. Therefore, check your insurance details to be certain.
Will My Doctor Cover My Insurance?
If you go with the doctor route, you can ask which insurance plans the office accepts.
How to Pay for Invisalign Treatment with a Monthly Payment Plan?
One of the ways to get some of your Invisalign treatment costs covered is by undergoing a monthly treatment plan. The average cost of Invisalign per month can depend on the rate you are prepared to pay.
What is a monthly payment plan?
In a monthly payment plan, you and your doctor arrange the details of your treatment. That includes determining monthly payment rates, which will take several months to pay in full. At the same time, you have the commodity to save and to always keep up with the monthly rate due for treatment payment.
How to set up a monthly payment plan?
For the best arrangement, discuss the payment options available at your doctor's office. Of course, should you find the payments too big, you can always ask for a second opinion.
FIVE-STAR PATIENT TESTIMONIALS
Omg. I came here as a second opinion due to high prices and crazy time frames from another office. They welcomed me with open arms and their friendly atmosphere made me feel so comfortable and confident!Doctor I is very knowledgeable and set my expectations perfectly. 2 weeks later the team had me in braces! I couldn't be happier!
Empress Vali
I just wanna say Dr Ivanov and his teams are the best!!! I had a very easy breezy experience getting my braces. Everyone was extremely gentle and informative the place was super clean and fresh. They deserve 1000 stars and more. I absolutely love the experience but best of all how caring everyone was.
Jade Menos
When i say the reviews are pretty much an understatement, it does no justice. the service is amazing, The staff takes their time to make sure that you feel very special. if i can leave a honest review 100 times i would. im very pleased and happy that i found this place. thank you guys so much! i have found a HOME!!
Brittnisha Marks
Amazing experience! I've had my braces for 6 month now and I'm impressed of how much my teeth have changed. No pain at all. Dr. Ivanov is such a sweet person and very professional, he knows what he's doing and always cares for patients personal concerns. Highly recommended!
Tula Garcia
Dr. Ivanov was amazing. When I first got my braces I was scared it was going to last 4yrs for my teeth to look better but it only lasted 2yrs and the results are beyond amazing. I'm really happy with everything and would absolutely recommend him to anyone. Thank you so much.
Kimberly Martinez
Very good experience. The attention was great. The doctor is very punctual and they don't make you wait, which for my busy schedule is super important. Also, the time the doctor told me I had to wear the braces was the exact time I needed and I was very happy with the results. Definitely recommend him.
Laura Jimenez
Dr. Ivanov was amazing. He was very understanding and took the time to explain, every step of the process for my daughters braces. I am proud to say with great care her braces were finally removed and the end result is the beautiful smile she now has. Thank you
Christina Jenkins
Ivan and his staff made my experience a smooth and convenient process. I am absolutely delighted and satisfied with the progress and how far my teeth has come. Ivan and his staff works effortlessly to ensure that my teeth are perfected beyond my expectations. If I had any other choice I would still choose Ivanov Orthodontic experts.
Joshua Xavier
My family and I are so happy with the results of Dr. Ivanov!!! So knowledgeable, kind and always available to answer questions. I am so happy we found him and his staff. I am looking forward to addressing my dental needs now that the family is on track!!! How many can say that about their dental experts. Way to go Dr. Ivanov!!!
James C. Murphy
He is awesome. You will start seeing changes quick in your smile. He shows passion in his work, he cares about you and your smiles. The office is very nice and great customer service. You will be in good hands if you choose to go with him.
Ketty Platon
How to find a doctor for a monthly payment plan?
The best way to engage in an Invisalign monthly payment plan is by entering the zip code of your town and looking for nearby orthodontists. They will also be able to help you with the Invisalign retainer cost at the end of the treatment.
Invisalign Cost, Depending on Its Type
Not all Invisalign appliances cost the same, and you may find some of the options unavailable in your region. Below are the types of Invisalign appliances providers to consider.
– Diamond Plus providers – these providers offer VIP services in Invisalign treatment, but then, are rare to find in common areas.
– Diamond providers – this type of service offers full dental care and can be found in dental offices near you.
– Bronze providers – used by 0-4 patients in during 6-month treatment.
– Silver providers – engaging 5-23 patients during a 6-month treatment.
– Gold providers- starting with 24-29 patients during a 6-month treatment.
– Gold Plus providers- from 30 to 59 patients during a 6-month treatment.
– Platinum providers- from 60-99 patients during a 6-month treatment.
– Platinum Plus – starting with 110-139 patients during a 6-month treatment.
– Diamond – from 140 to199 patients during a 6-month treatment.
– Diamond Plus – 200+ patients during a 6-month treatment.
What Type of Treatment Do Providers Offer; Invisalign invisible braces cost?
– Complete Invisalign Full treatment and cases for teens, adolescents, and adults. (unlimited aligners over the course of 5 years.
– Invisalign Light costs between Invisalign Full and Invisalign Express cost
– Invisalign Express cost is the cheapest Invisalign. As a comparison, the Invisalign 5 cost starts at $550.
Invisalign cost with insurance will be lower, but regarding the exact deduction, it will depend on your needs first.
What Else Can Add Cost to My Invisalign Treatment?
If not using the Diamond and Diamond Plus providers, extra aligners can add costs to your bill. Some of the other unforeseen costs in Invisalign treatment include:
Location of the office.
You might not be able to use the best Invisalign package deals due to a deficiency in providing offices in your area.
Post-treatment dental care.
In case you need to wear retainers in continuance to your Invisalign treatment, these will be a separate cost. At the same time, any appointments post-treatment can also add more money to the total cost.
Ordering Online vs. Visiting a Doctor.
Invisalign does not rely on needing doctor's appointments. Also, you can easily do a teeth test online and order your aligners online. While the latter saves you money and regular orthodontist visits, it takes from the custom-fit efficiency of the appliance.
To put it in short, before undergoing Invisalign treatment options:
Choose a reliable doctor with high experience level, who can successfully manage your treatment.
Make sure the appliance has the recognizable Invisalign certification and logo.
Arrange to pay a fixed appointment fee, which will take away from the cost.
Your total fee should include several aspects. These include diagnosis, consultation, replacement aligners, X-Rays, a 3-D teeth scan, retainers, and teeth bleaching.
If your Invisalign does not fit properly, ask for reimbursement and replacement without any additional costs.
Invisalign Treatment: Is It Worth the Treatment?
Aside from the aforementioned benefits, Invisalign is also a high-quality and custom-fit appliance. Invisalign is pricier than braces. On the other hand, it is made of soft plastic which is much more accommodating to the teeth. The aligners are actually made of BPA-free plastic and are based on the patented SmartTrack(R) Invisalign(R) Aligner Materials technology.
Clinically proven and acknowledged, Invisalign results in over 75% improvement in the teeth.
Invisalign acts much faster than braces and can be removed when you eat or sleep. That's said, Invisalign is easier to clean, which makes the appliance more durable. Unlike braces, Invisalign is more comfortable to wear and does not stress the jaw or teeth. Finally, Invisalign aligners require far less doctor's appointments, making the treatment time-friendly and efficient.
Should I Visit my Doctor or Order Invisalign Online?
When purchasing Invisalign online, you provide a 3-D scan of your teeth and have the aligners custom-made for your jaw and teeth. Even so, the purchase alone will cost you around $2000 dollars for one set of aligners. At the same time, know that you are likely to use from 20-30 aligners as part of the treatment, which adds an extra $75 to the bill. All that included, you still don't get the necessary dental retention following the treatment completion.
On the other hand, at a doctor's office, you get the best of both worlds. Here, you can initially pay half of the cost of your Invisalign, or pay in full if you prefer. Sometimes, there are certain discounts on paying on the first day of treatment, so consult your doctor on it. Another benefit to finding an orthodontist for your Invisalign (clear aligners) treatment, is the appointment frequency. Of course, this guarantees a faster and more effective treatment, as your doctor has your diagnosis and information. At your doctor's, you should think about getting retainers, which will additionally help maintain the teeth and jaw health.
Contact Us
IVANOV Orthodontic Experts
12866 Biscayne Blvd, North Miami, FL 33181
https://www.google.com/maps?cid=154326063970645489
Call us at (786) 540-1919 to schedule a free orthodontic exam.