Invisalign Express is a faster version of Invisalign. Its treatment time can be as short as 3 to 6 months. It's a fast way to straighten teeth and correct gaps in the teeth. It's not designed to take care of more advanced issues. Minor space issues and slightly crooked teeth can also be addressed by Invisalign Express.
When you use Invisalign Express, you get a maximum of 10 sets of aligners. If your treatment is taken care of sooner, you may end up using fewer than 10. Your treatment time will be just about 6 months.
This compares to regular Invisalign that will use as many aligners as necessary, but usually between 20 to 30.
Many of the people who get Invisalign Express are doing so because they need to correct teeth that have drifted after having had either braces or Invisalign before. This can happen if they forgot to wear the retainers, or perhaps they got their braces off before their wisdom teeth grew in and thus the teeth have moved. Invisalign Express is a great option for these patients particularly.
Some folks are also looking for just cosmetic dentistry and Invisalign Express is also great for them.
Some Invisalign Express providers will only do the Express 5 treatment which is five aligner sets that are switched out every 2 weeks. Because Invisalign Express is limited, it's not an option for many patients. But, if you just need a little bit of teeth movement or to straighten between one and three teeth, it's a great option.
And, as we mentioned, Express Invisalign before and after can produce some good results for people who are called orthodontic relapse patients.
Because it's not worn for very long, Invisalign Express can only rotate a tooth three to four degrees and only tip teeth 1 mm. It's not able to move the roots a whole lot in that time span.
Also, some orthodontists will give patients Invisalign Express who are using traditional braces but need to look good for a very special event like overseas travel or they are getting married. That way their traditional treatment can be picked up again once the event is over but they're not going to lose ground because the Invisalign Express trays will help maintain their progress.
Some orthodontists have the same cost to provide the Express 10 treatment as they have for a full course of treatment for Invisalign, so they typically don't offer it because traditional Invisalign trays provide a full orthodontic treatment and since the costs are the same, it benefits everyone to use the full length of treatment .
We'll learn more about Invisalign Express in just a moment but first let's take a moment to see what some of the experts of orthodontic medicine have to say about Invisalign Express before and after.
Orthodontic care has changed dramatically in the last few years including an improvement in the aesthetics of treatment because of patient demand (Papadimitriou A et al., 2018).
Patients want to be involved in their decisions about oral health care (Papadimitriou A et al., 2018).
These are the patients who are looking for clear aligners because of their aesthetic advantages over traditional orthodontic appliances like metal braces (Papadimitriou A et al., 2018).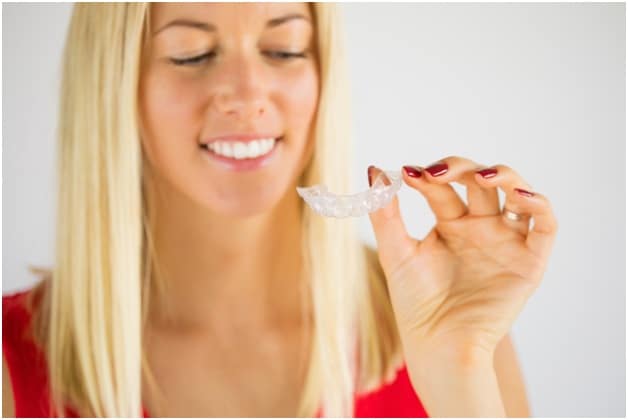 How is Invisalign Express Different?
Invisalign Express as we mentioned before is only for mild spacing or crowding issues. If you have a more complex orthodontic issue, your orthodontist will advise you that the full Invisalign treatment is better for you. At an initial consultation, your orthodontist will evaluate your bite alignment and tooth placement to ensure that you get the right product.
Invisalign Express is an effective treatment if you qualify. It will give you the same reliable treatment results so long as you are a good candidate. Invisalign Express uses the same technology as full Invisalign and your trays will all be made out of the same Smarttrack plastic which provides accurate and effective teeth movement.
If it turns out that the Express program does not actually solve your orthodontic issue, your orthodontist will continue the program using additional Invisalign aligners until everyone is satisfied with the results.
How Does Invisalign Express Work?
As with full Invisalign treatment, your orthodontist will take a 3D scan of your teeth and use the proprietary software to create your aligners that are custom fit for your teeth. Your Express treatment will take 6 months or less.
Just like with the full Invisalign system, you do need to wear your aligners for 22 hours a day and remove them only to eat, drink, and brush and floss your teeth. You will receive a new set of aligners every two weeks to ensure that your treatment progresses.
Invisalign has a number of advantages over traditional braces, mainly that they can be removed to help ensure that you're able to eat any kinds of foods and also brush and floss your teeth effectively.
How long does Invisalign Express last?
Because of its name, you might think that Invisalign Express has a shorter treatment time than regular Invisalign, and you would be correct. Traditional Invisalign usually requires 20 or more aligner sets, while Invisalign Express can be completed with either five or 10 aligner sets. This means that your treatment will be done in 10 to 20 weeks.
Once you are done with Invisalign Express, you will receive the Vivero retainer to keep your teeth in position properly. Because your teeth will have moved, it can be very easy for them to drift back again so the retainer is important to maintain your beautiful smile.
Who is a Good Candidate for Invisalign Express?
You may or may not be a good candidate for Invisalign Express, but your orthodontist will do a full assessment to see if you are. You have to have:
Minimal rotation of your teeth
Less than 2 mm of spacing or crowding per arch
Less than 2 mm of midline correction needed
And less than 1 1/2 mm of dental expansion per arch
How Much Does Invisalign Express cost?
You may be pleased to know that the Invisalign Express cost is less than a full Invisalign treatment. This is because your orthodontist uses many fewer aligners and you have fewer office visits to see your orthodontist.
Invisalign Express will often cost between $1,800 and $3,500. The average cost is about $2,500. This compares to a full course of Invisalign that will cost you between $4,000 and $8,000.
If however you need to be switched to a full course of Invisalign, your cost will increase at that point.
To learn more about Invisalign Express, contact us today and schedule a free initial consultation. Then get ready to have the best smile of your life!
Reference:
Papadimitriou, A., Mousoulea, S., Gkantidis, N., & Kloukos, D. (2018). Clinical effectiveness of Invisalign® orthodontic treatment: a systematic review. Progress in orthodontics, 19(1), 37. https://doi.org/10.1186/s40510-018-0235-z