What Is an Occlusal Guard?
An occlusal guard, also known as an occlusal night guard or occlusal mouth guard, is a dental appliance designed to protect the teeth and jaws from the harmful effects of teeth grinding and clenching, medically referred to as bruxism. It is a custom-made oral device that provides a protective barrier between the upper and lower teeth, preventing them from coming into direct contact and minimizing the potential damage caused by the grinding forces.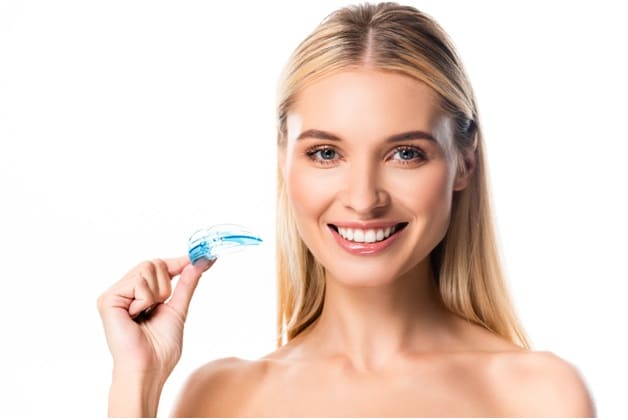 Who Needs an Occlusal Guard?
An occlusal guard, also known as an occlusal night guard or occlusal mouth guard, is highly beneficial for individuals who experience bruxism, a condition characterized by the unconscious grinding and clenching of teeth. Bruxism can occur during sleep or while awake, and it is often associated with various factors, including stress, anxiety, and sleep disorders. The prevalence of bruxism ranges from 8% to 31% in the general population, making it a common concern in dental practice (Manfredini et al., 2020).
When determining the need for an occlusal guard, dentists conduct a comprehensive dental examination and evaluate the patient's symptoms. Jaw pain, headaches, tooth sensitivity, and worn tooth surfaces are indicative signs of bruxism. It is crucial to diagnose and address bruxism promptly to prevent further dental complications and alleviate associated discomfort.
According to a study published in the Journal of Oral Rehabilitation, the use of occlusal guards has been shown to be effective in reducing the signs and symptoms of bruxism (Lobbezoo et al., 2014). The study found that occlusal guards not only protected the teeth from excessive grinding forces but also led to a significant reduction in muscle activity during sleep, resulting in decreased muscle pain and fatigue. This highlights the importance of occlusal guards in managing bruxism-related issues and improving overall oral health.
Furthermore, individuals who engage in activities that increase the risk of teeth grinding and clenching may benefit from using occlusal guards. For example, athletes involved in contact sports or those who participate in activities that exert pressure on the jaw, such as weightlifting, may experience an increased likelihood of bruxism. Occlusal guards provide a protective barrier, minimizing the impact of these forces on the teeth and preventing potential dental injuries.
It is worth noting that the use of occlusal guards should be determined on an individual basis through consultation with a dental professional. They can evaluate the severity of bruxism, assess the patient's specific needs, and create a customized occlusal guard that fits comfortably and effectively addresses the underlying issues.
How Occlusal Guards Work?
Occlusal guards function by redistributing the forces exerted during teeth grinding and clenching. By creating a cushioning effect, the guard absorbs the impact and protects the teeth from wearing down or chipping. Additionally, it helps alleviate strain on the jaw joints, reducing the risk of temporomandibular joint (TMJ) disorders and associated discomfort. The guard is custom-fitted to ensure a comfortable and secure fit, allowing for proper jaw alignment and muscle relaxation during sleep.
How Much Does an Occlusal Guard Cost?
The occlusal guard cost can vary depending on several factors, including the dentist's expertise, the materials used, and the geographical location. In Miami, the average cost of an occlusal guard ranges from $300 to $800. While this may seem like a significant investment, it is essential to consider the long-term benefits and potential savings on dental treatments due to bruxism-related damage. Many dental insurance plans offer coverage for occlusal guards, so it is recommended to check with your provider for specific details.
How Long Does an Occlusal Guard Last?
Determining the lifespan of an occlusal guard involves considering several key factors. The quality of materials used in the fabrication of the guard plays a significant role in its durability. Higher-quality materials, such as hard acrylic or dual-laminate, tend to be more resilient and can withstand the forces exerted during teeth grinding for a longer duration.
The severity of teeth grinding also impacts the lifespan of an occlusal guard. Individuals with more intense grinding habits may experience accelerated wear and tear on the guard. In such cases, regular monitoring and prompt replacement may be necessary to maintain the guard's effectiveness in protecting the teeth.
Proper maintenance and care are crucial in extending the lifespan of an occlusal guard. Regular cleaning of the guard using non-abrasive toothpaste or denture cleaners helps prevent the buildup of bacteria, plaque, and odors. Thoroughly rinsing the guard after each use and allowing it to air dry or storing it in a designated case promotes hygiene and prevents damage.
Additionally, routine dental check-ups are essential for evaluating the condition of the occlusal guard. During these visits, the dentist can assess the guard's fit, check for signs of wear or damage, and determine if a replacement is necessary. Dentists may also provide guidance on proper usage and maintenance techniques to prolong the lifespan of the occlusal guard.
On average, a well-maintained occlusal guard can last between 1 to 5 years. However, it is important to note that individual experiences may vary. Some individuals may require more frequent replacements due to their specific grinding habits or changes in their dental condition. Regular communication with the dentist is key to addressing any concerns and ensuring the occlusal guard remains effective in protecting the teeth and alleviating bruxism-related symptoms.
What Is the Difference Between an Occlusal Guard and Occlusal Splint?
While the terms "occlusal guard" and "occlusal splint" are often used interchangeably, there are subtle differences between the two. An occlusal guard is primarily designed for protecting the teeth from grinding and clenching forces, focusing on minimizing the damage caused by bruxism. On the other hand, an occlusal splint serves a broader purpose. It not only provides teeth protection but also aims to improve the alignment of the bite and reduce jaw muscle tension. Occlusal splints are commonly used in orthodontic treatments and for managing more complex bite issues.
In conclusion, an occlusal guard is a valuable dental appliance that offers protection against the damaging effects of teeth grinding and clenching. It is particularly beneficial for individuals with bruxism, helping alleviate symptoms, prevent tooth damage, and reduce strain on the jaw joints. The cost of an occlusal guard in Miami varies but is a worthwhile investment for long-term dental health. Remember to consult with a dentist to determine your specific needs and receive a custom-fitted occlusal guard. To learn more or book an appointment, visit Ivanovortho.com.