The journey towards a perfectly aligned smile doesn't end when the braces come off. The successful maintenance of that picture-perfect grin involves an often-underestimated phase – wearing a retainer after braces. This phase isn't simply a protocol; it's a pivotal segment in the orthodontic journey designed to uphold and stabilize the results achieved through braces.
Retainers, sometimes referred to as retainer braces, serve an indispensable role in preserving your teeth's alignment post-braces. The objective of orthodontic treatment is to guide your teeth into optimal positions. After your braces have achieved this, it becomes the retainer's responsibility to ensure your teeth remain in their newly adjusted locations.
Why is this so crucial, though? To answer this, we must delve into the biology of our oral cavity. When braces exert pressure on your teeth to reposition them, the bone and ligaments around them also adapt and transform. Once the braces are removed, these tissues and bones require time to stabilize in their new arrangement. Without a retainer, your teeth might yield to the natural forces in your mouth, possibly drifting back towards their initial positions, a process orthodontists refer to as 'relapse' (Little, 2000).
This rationale isn't speculative; it's fortified by ample scientific research. A study published in the American Journal of Orthodontics and Dentofacial Orthopedics highlighted the necessity of a retainer for braces to avert undesirable tooth movement post-braces (Reitan, 1969). Similarly, research in the Journal of Clinical Orthodontics underscored the importance of wearingbraces retainer for the long-term stability of orthodontic treatment (Little, 2000). In essence, retainers are integral in safeguarding the investment you've made in your smile. By faithfully using a retainer after braces, you're proactively contributing to maintaining your teeth's health and alignment.
How Does a Retainer Work?
Understanding how a retainer works requires a quick trip into the biological mechanics of our teeth and jaw. When orthodontic treatment, such as braces, moves your teeth, it isn't just the visible part of the tooth (the crown) that's moving. The root of the tooth, embedded in the jawbone, is moving as well. The bone and ligaments around the tooth adjust and change to accommodate this movement. This process, while effective, leaves these structures in a somewhat unsettled state even after the braces come off.
This is where a retainer comes in. A retainer is a custom-made dental device, meticulously crafted to fit your mouth. It is typically used post-orthodontic treatment when the braces have done their job of aligning the teeth in the desired position. However, the journey doesn't stop there.
The primary function of the retainer is to counteract a natural tendency known as relapse. In dental terms, relapse refers to the propensity of teeth to drift back towards their original position after orthodontic treatment. The retainer prevents this from happening. It does so by holding your teeth in their new alignment, acting as a supportive framework while the bone and tissues around the teeth adjust and solidify in their new arrangement.
Over time, the retainers help stabilize the teeth in their new positions. They essentially 'train' your teeth to stay put, reinforcing the work done by the braces. By wearing a retainer regularly, you help ensure the longevity of the results achieved by the orthodontic treatment. This stabilization phase is crucial because it helps your body establish a new 'default' position for your teeth.
In essence, a retainer works by bridging the gap between the active movement phase of orthodontic treatment (where braces shift your teeth) and the stabilizing phase (where your teeth solidify their new position in your mouth). This process is a crucial final step in your orthodontic journey and plays a pivotal role in maintaining your newly acquired, beautifully aligned smile.
What Are Your Options For Retainers After Braces?
Choosing the right type of retainer after braces is a critical step in your orthodontic journey. The best choice for you will depend on several factors, including your dental condition, lifestyle, and personal preferences. Consulting with your orthodontist is paramount to make an informed decision. Here are some of the most common types of retainers:
1. Fixed Retainer
A fixed retainer, also known as a permanent retainer, is a custom-made orthodontic device consisting of a thin wire that is cemented or bonded to the back (lingual side) of your teeth. It's often used in cases where there's a high risk of relapse or significant tooth movement after braces.
The primary benefit of a fixed retainer is that it provides constant support without any action required from the wearer. It stays on your teeth 24/7, making compliance a non-issue. Moreover, because it's hidden behind your teeth, it's virtually invisible from the front. However, it can make flossing and cleaning more challenging, and hence, maintaining good oral hygiene is crucial when you have a fixed retainer.
2. Clear Retainer
A clear retainer is a type of removable retainer made from a clear plastic or thermoplastic material that fits snugly over your teeth. These retainers, such as Invisalign'sVivera retainers, are aesthetically pleasing, as they are virtually invisible when worn. They are custom-made from a mold of your teeth to ensure a precise fit.
Clear retainers offer the convenience of removal during meals and oral hygiene routines, which many patients appreciate. However, they require responsible use and regular cleaning, as forgetting to wear them or misplacing them can compromise their effectiveness.
3. Hawley Retainer
Named after its inventor, Dr. Charles Hawley, a Hawley retainer is a traditional type of removable retainer. It consists of a metal wire that typically surrounds the six anterior teeth and is designed to keep them in place. A plate made of acrylic material rests against the roof of your mouth (for the upper arch) or along the tongue side of your teeth (for the lower arch).
Hawley retainers are durable and adjustable, providing a stronghold for your teeth. The wire can be tweaked by your orthodontist to make minor adjustments to tooth positions, if necessary. One of the benefits of a Hawley retainer is its longevity, as it can last for many years if taken care of properly. However, some people may find the visible wire less attractive than a clear retainer, and it may take a little time to adapt to speaking with it.
Each of these retainers has its own strengths and potential drawbacks. The best option for you depends on your individual needs, lifestyle, and the specific recommendations of your orthodontist. Therefore, having an open discussion with your orthodontist will help guide you in making the best decision.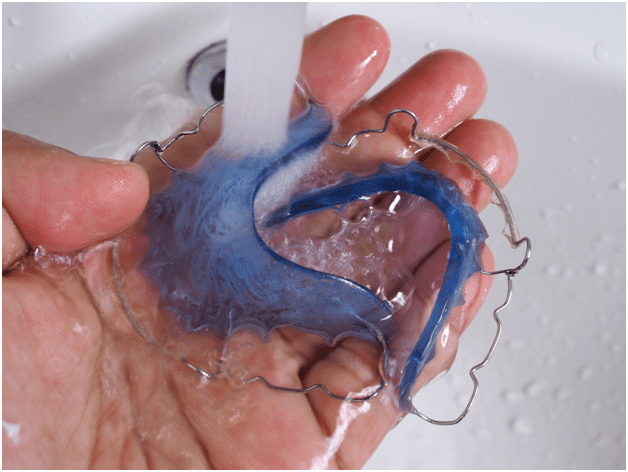 How Long Do You Have to Wear Retainer After Braces?
The duration you need to wear your braces retainer varies depending on the individual's teeth and the type of orthodontic treatment they have undergone. Some people might need to wear their retainers full-time for a while, while others might only need to wear them at night. Your orthodontist will provide you with the best advice based on your specific situation.
In conclusion, wearing a retainer after braces is a small commitment to make in exchange for maintaining the beautiful smile you've worked so hard to achieve. If you have any concerns about your braces retainer, be sure to discuss them with your orthodontist. Make your appointment today at ivanovortho.com and learn more about retainers after braces.