Teething is a significant milestone in a baby's teething journey. When observing teething babies, many parents wonder about the right baby teething age. Typically, this phase kicks off at about 6 months of age, when babies start teething, and during this time, it's common to see baby teeth coming in. Some are even surprised to find a baby born with teeth; however, it is rare to have babies born with teeth. As baby's teeth coming in, it's natural to seek baby teething relief and baby teething remedies. For those keen on tracking the progress, a baby teething chart or teething chart baby can be handy, just like a baby teeth chart that provides a visual of teeth chart babies.
Parents should be aware of the baby teething symptoms. Recognizing the signs of teething in babies can be beneficial. Common signs baby is teething include drooling, fussiness, and chewing on objects. These signs of teething baby can sometimes be subtle, so understanding the teething baby symptoms is key. Being informed about symptoms of teething in babies helps in offering the right comfort to your little one. Always look out for signs of baby teething and remember, if you're ever in doubt about signs your baby is teething, seeking professional advice is the way to go.
Offering teething baby relief during this time is crucial for both the child's comfort and the parents' peace of mind. Let's find out some more specifics that you may be wondering about when it comes to the teething process for your little one.
What Age Do Babies Start Teething?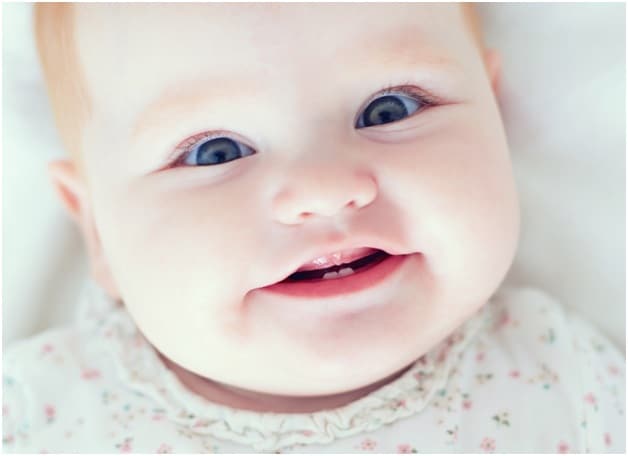 While the baby teething age varies from one child to another, most babies start teething between 4 to 7 months. However, it's not uncommon for some babies to start teething a bit earlier or later. The baby teething chart can provide a generalized timeline for when to expect each tooth, but remember that every child's development is unique (Schroth et al., 2018).
Can Babies Be Born With Teeth?
Yes, although it's rare, some babies are born with teeth. These are called natal teeth. Babies born with teeth can surprise parents, but usually, these teeth aren't a cause for concern unless they're loose and pose a risk of being swallowed.
When Do Babies Teeth Come In?
Babies' teeth come in at various stages, starting typically with the lower central incisors and followed by the upper central incisors. A baby's teeth coming in can be spaced out over several months, with most children having a full set of 20 primary teeth by the age of 3 (American Academy of Pediatric Dentistry, 2016).
What Teeth Do Babies Get First?
The journey of a child's dental development is fascinating. Most commonly, babies usher in their teething journey with the eruption of the bottom central incisors. These are the two teeth located right at the front and center of the lower jaw. Usually, not long after, the top central incisors make their debut, gracing the upper front portion of the mouth.
However, it's essential for parents to note that while there's a general pattern to how baby teeth emerge, individual variations are widespread. Some babies might surprise their parents by following a slightly different sequence. The teething chart baby parents often refer to provides a generalized timeline, but it's always crucial to remember that each child is unique. The appearance of the first tooth is a milestone, but if your child's teeth come in a different order than typically expected, it doesn't necessarily indicate a problem. Always consult with a pediatric dentist if there are concerns about your child's teething sequence or dental health.
When Do Baby Teeth Fall Out?
Baby teeth, also known as primary teeth, begin to fall out around age 6, making way for permanent teeth. This process continues until approximately age 12, but the baby teeth chart can provide a more detailed breakdown of expected timelines.
When Do Babies Get Teeth Chart?
Navigating the teething journey of a baby can be both exciting and nerve-wracking for new parents. To assist in this process, many turn to a baby teething chart. This teeth chart babies parents frequently consult offers a roadmap, presenting a generalized timeline for when each set of teeth might make their appearance. Typically, it kicks off with the bottom central incisors popping up between 4-7 months. The chart then sequentially progresses, concluding with the second molars, which usually emerge between 23-33 months.
However, it's essential to note that while this chart provides a valuable guideline, the exact timing can differ for every child. For parents looking to obtain a teething chart, they're readily available online, at pediatric dental clinics, or even in baby-care books. Some pediatricians also provide these charts during regular check-ups. The key is to use the chart as a reference, understanding that individual variations are natural and normal. If there are ever any concerns about your baby's teething progress, it's always best to consult with a pediatric dentist.
How to Know If Baby Is Teething?
Recognizing the signs of teething in babies can help parents address and alleviate their baby's discomfort promptly. Some common baby teething symptoms include drooling, irritability, a slight rise in temperature, and a tendency to chew on things. Other signs baby is teething include swollen gums and disturbed sleep patterns. Every child is different, so while some might display clear signs your baby is teething, others might show subtle symptoms.
What Are the Symptoms of a Baby Teething?
The symptoms of teething in babies encompass a range of signs from behavioral to physical. Teething baby symptoms might include increased fussiness, drooling, swollen or reddened gums, and a mild fever. It's essential to differentiate between the signs of teething baby and potential illnesses, so always consult with a pediatrician if uncertain.
How to Help Teething Baby?
Witnessing the discomfort of a teething baby can be heart-wrenching for parents and caregivers. Naturally, seeking teething baby relief becomes a top priority. Multiple baby teething remedies have stood the test of time and come recommended by experts and experienced parents alike.
One of the simplest and most effective methods is offering a cold teething ring. The coolness provides a numbing sensation which can soothe the baby's inflamed gums. For added relief, some parents refrigerate the ring, but it's essential never to freeze it, as it could become too hard and harm the baby's gums.
Gentle gum massages using a clean finger can also provide substantial relief, as the light pressure can counteract the pain of emerging teeth. If you notice your baby is drooling more than usual, keep their chin dry to prevent skin irritation, and consider offering a drool bib to keep them comfortable.
Over-the-counter pain relievers specifically designed for infants can be another viable option. These can help reduce inflammation and alleviate pain. However, it's of utmost importance to consult a pediatrician before administering any medications to ensure they're safe and to confirm the correct dosage. Additionally, parents should be cautious of over-the-counter teething gels or creams, as some may contain ingredients not recommended for babies.
In these teething times, maintaining a calm environment and offering extra cuddles can also go a long way. Babies teething often just need the reassurance and comfort of their loved ones to help them navigate through this challenging phase.
How Orthodontists Can Help with Baby Teething Problems?
While teething is a natural process, occasionally, babies might face teething problems that require professional intervention. For instance, if a tooth is not coming in straight or if there's no space for a new tooth, an orthodontist can provide guidance. They can also offer advice on baby teething relief techniques and ensure that the baby's teeth are coming in properly.
Have concerns about your baby's teething process or looking for expert guidance? Book an appointment with the specialists at Ivanov Orthodontics ivanovortho.com in Miami and get professional insights and support for your little one's dental journey.