There are various causes of an overbite, some of which can be avoided by simply changing some habits and some of which require more specialized attention from an orthodontist.
Many people might ask – is an overbite bad? That will depend significantly on whether you have a slight overbite or severe overbite. While a slight overbite is less noticeable and in some cases you may be able to get away with it entirely, severe overbites can cause major bite problems. While your overbite causes may differ, there is usually only one method for actual correcting it. That's why you may hear people ask about a retainer for overbite. But before we get into the problems and possible solutions that an overbite may cause, what do the experts in overbites have to say about the subject?
Overbite problems
The first thing to know is that an overbite may influence the treatment that you receive (Fattahi H et al.,2014). This is because there are different types of treatment for different dental issues.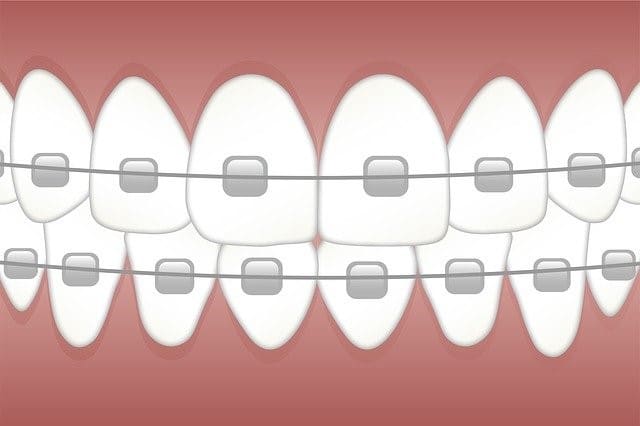 What Kind Of Problems Can An Overbite Cause? Image by Mudassar Iqbal from Pixabay
It's important to know that there are different types of overbite and different levels of severity: Deep bite is the most common type of malocclusion in children and adults (Fattahi H et al.,2014). This is often treated with braces and varying strengths of elastics to pull the upper teeth back into alignment with the lower teeth.
Severe overbite that is considered a clinical problem should be corrected through orthodontic or ortho-surgical intervention (Fattahi H et al.,2014). This also can occur when there are simply too many teeth for the space of the upper jaw.  If caught early, a child may benefit from the use of a palate expander which can widen the upper jaw and create enough room for all of the teeth.  Later on, however, the only option may be tooth extraction or jaw surgery.
Seeing this, many individuals may ask the question then is an overbite really that bad for you?  Some individuals may be able to get away with having a very slight overbite. It is important to know that there are a number of potential health complications and problems that can arise from a severe overbite. What are some of these major issues that a severe overbite could potentially cause?
A severe overbite can lead to actual distortion of your facial features. This can lead many individuals to develop an appearance that many consider to not be aesthetically pleasing. This can cause a whole host of psychological problems including low self-esteem totally independent of the actual physical harm that a severe overbite can cause.
Physical issues that a severe overbite can cause may include things like trouble speaking. Yes! A severe overbite can significantly impede your ability to speak clearly which can contribute to low self-esteem, lack of communication abilities, and problems where communication is important.
There are other physical issues that may develop as a problem due to severe overbite such as problems chewing. The fact is your teeth are designed to be aligned properly and if they are misaligned not only will it be more difficult for you to chew but it can allow for irregular wear on the enamel surfaces which leaves individuals open to developing cavities and gum diseases, and can cause teeth to wear irregularly leading to the need for extractions. Needless to say, nobody wants to deal with the pain or discomfort that comes with dental extractions as these are often very invasive procedures and remove the actual removal of teeth or bone material.
Another major issue that may develop in individuals who have severe overbite is gum disease. Not surprisingly, if the teeth in your mouth or your jaw in general is not aligned properly, it can lead individuals to have not only irregular wear on the enamel surfaces but can also lead to wear on the gum surface itself which can be a major contributing factor in receding gums, gum disease, gingivitis, and even, as with the tooth issue, tooth loss as well. The truth is while some overbite fixes maybe just be an aesthetic fix for some individuals, for others it is incredibly medically serious, especially since overbites can get worse over time if certain habits that cause the overbite in the first place are not removed.
Is an overbite bad?
There are times that overbites are caused by the things we do. These causes as in the case of young children can include things like thumb sucking or sucking on a pacifier far past when it is appropriate to do so, and that can cause them to develop an overbite. Adults may even develop overbites through various habits they may engage in.  That's why talking with your orthodontic office if you're doing any habits that may contribute to an overbite would be very helpful in making sure that you do not help exacerbate any situations you may have.
This of course leads individuals to ask about whether an overbite is treatable? The answer of course is a resounding yes. Modern medical science has produced many wonders and for individuals who have a minor overbite, they may even be able to simply wear an overbite retainer to help keep it from developing any further. For individuals with severe overbites, though, there are a variety of techniques that might be utilized to help solve the problem. Some may involve tooth extractions and others may utilize braces or other orthodontics to help correct the problem.
Slight overbite
Regardless of how nominal or severe your overbite is, it's absolutely essential to book a meeting with your orthodontic or dental office. While it may not seem like a big issue at the moment, these things can develop and get worse over time, and years of ignored orthodontic issues can lead oftentimes to severe consequences. The fact of the matter is that it is always far cheaper to fix an orthodontic problem when it is first developing than after you are already suffering from severe symptoms. And, not only is it easier but is also far more likely to be cheaper if caught early.
This is why if you notice an overbite developing either in you or your child, speaking with an orthodontic or dental office immediately can help offset any potential negative long-term consequences that an overbite might have incurred.
Resource:
Fattahi, H., Pakshir, H., Afzali Baghdadabadi, N., & Shahian Jahromi, S. (2014). Skeletal and dentoalveolar features in patients with deep overbite malocclusion. Journal of dentistry (Tehran, Iran), 11(6), 629–638.
Contact us:
IVANOV Orthodontic Experts, 12866 Biscayne Blvd, North Miami, FL 33181
https://www.google.com/maps?cid=154326063970645489
Call us at (786) 540-1919 to schedule a free orthodontic exam.
How Much Does A Retainer Cost to Replace?