You should be able to get the answers to your questions regarding your oral health and orthodontic treatments. If you want to know how braces work or if you require information on insurance plans for your dental care, just ask, the staff will be happy to help you.
Cosmetic dentistry Invisalign
Cosmetic dentistry has its appeal; however, it also has drawbacks. Cosmetic bonding can be useful for whitening teeth, correcting tooth enamel loss, and many other cosmetic issues.
One example of cosmetic dentistry is cosmetic bonding. This is when the dentist places a resin material in strategic places in your mouth. In dental bonding, a teeth-colored resin is placed in the required place and is hardened with laser light or ultraviolet light. After this, the dentist does more work on your teeth, as needed.  This procedure has been used to repair decayed, chipped, or misshapen teeth, and can also give crooked teeth the appearance of being correctly aligned. The cost can range from $100 to $400 per tooth.
Another type of cosmetic dentistry is veneers. This is an alternative to Invisalign. Veneers are thin porcelain sheets that are placed on the front of your teeth, so that they cover up chips and cracks, and help smooth the surface of your teeth. It will correct cosmetic problems such as the shape, texture, size, and color of teeth, and it will also help improve your smile and can cover up extra spaces and gaps between your teeth, but it will not correct the underlying problems.
In general, cosmetic dentistry is a shorter procedure than orthodontic treatments like braces or Invisalign, due to the differences in the processes and the functions of each of the procedures. As mentioned above, talk to your dentist or orthodontist near me before deciding on your treatment choice.
After comparing cosmetic dentistry and orthodontic treatment, and you decide that you require orthodontic treatment to straighten out your teeth, you may be unsure if you should choose Invisalign or braces.
Is Invisalign really better than braces?
The goal of Invisalign and braces is to straighten out misaligned teeth. Some of the advantages of Invisalign include their invisibility or relative invisibility. The treatment process of Invisalign involves using clear plastic aligners that are virtually invisible. This is a huge advantage over traditional braces if you are likely to be self-conscious with braces.
Invisalign aligners are also easily removable, and you do not need to visit the orthodontist each time you need to adjust them, and you can easily remove them before you eat, drink, or brush and floss your teeth.
Why do so many people use braces and not Invisalign?
On the other hand, braces can be quite visible, especially if you choose traditional metal braces. These use a system of metallic wires and brackets to pull the teeth into alignment. They are very effective and are advantageous because of the benefit of the fast treatment in comparison to Invisalign.
To combat this visibility issue, you can choose ceramic braces, which are tooth-colored and are less visible than their metal counterparts. They are also made up of wires and brackets.
You can also choose lingual braces. These are installed behind the teeth and so are not visible and will still work as effectively as the above two.
As mentioned above, braces work much quicker than Invisalign because they are working 24-7 and this is an attractive quality about them. If you are willing, you could get the best of both worlds by opting for lingual braces, which are quick and hidden.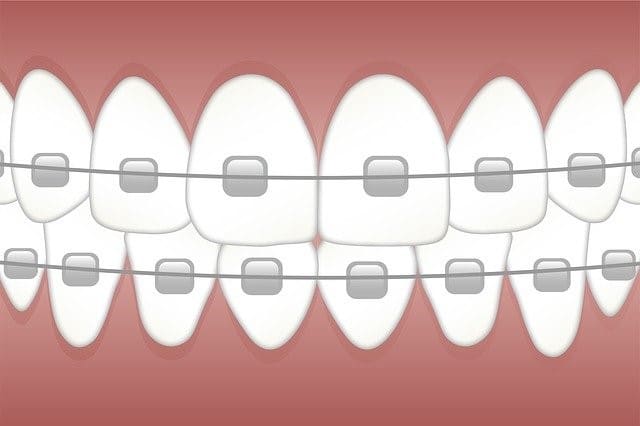 What would be the minimum price for dental braces?
If this sounds good, you may be wondering about the cost of these. In general, lingual braces can be quite expensive and can be up to $10,000 in cost.
Traditional metal braces are the cheapest and even cheaper than Invisalign. They can cost between $3,000 and $6,000.
Ceramic braces can range in cost from $4,000 to $8,000.
On average, Invisalign costs can be anywhere from $3,000 to $8,000 as well. The prices vary depending on the type of braces you need, the amount of dental work that needs to be done in your mouth, and how well you follow the orthodontist's instructions regarding the care and treatment of your braces or Invisalign.
If you are concerned about the cost of braces or orthodontic treatment in general, you should speak to your orthodontist regarding purchasing more affordable options.
Orthodontist prices for braces near me
At Ivanov Orthodontics, we care about your dental plan, treatment, and budget. In light of our patient's needs, we have a variety of payment options including payment plans. We also accept credit card payments. If we want to look into insurance plan options, we accept a range of preferred providers. We can offer you a payment plan or a dental plan that is best suited to your needs and budget.
How will your face change after dental braces?
The shape and characteristics of the face may change depending on various factors. For example, a child or teenager is still growing and may experience differences in their faces just because their bones are not completely set yet. Orthodontists are well aware of this and are skilled in guiding jaw structure and growth with their appliances.
In teens and children, their jaws and facial structures can be more easily manipulated than that of an adult. Adults can still have their faces more symmetrically aligned after orthodontic treatment. For example, in adults with underbite, an orthodontist will correct the alignment so that your bottom jaw does not stick out, and this alone will make your face look more proportional and alter the shape of your face.
Secondly, depending on the level of facial discrepancies and asymmetries that begin in the jaw, the angles of the face will change as the teeth and jaws are better aligned due to orthodontic management.
Contact Us
IVANOV Orthodontic Experts, 12866 Biscayne Blvd, North Miami, FL 33181
https://www.google.com/maps?cid=154326063970645489
Call us at (786) 540-1919 to schedule a free orthodontic exam.
Best Orthodontists Near Me