What Is the Difference Between a Dentist and Orthodontist?
Below are the comparison whether you visit a Dentist or an Orthodontist:-
When comparing orthodontists and dentists, there are a few similarities between the professions. However, one main similarity is that they both help patients achieve good oral health. In fact, an orthodontist may work in a dentist's office and a dentist may work in an orthodontist's office. They are both doctors and dental specialists.
Both dentists and orthodontists are fully trained in dental school. They both start out embarking on a four or five-year dental program at university. Then, those who have successfully completed their schooling earn the title of the dentist. Once graduated, then those dentists who want to specialize in orthodontics can spend more time at university or dental school studying to become orthodontists.
Like all health professionals, dentists are provided with extensive training in their field and like doctors, they must complete a residency program before they can be certified. Upon completing this program, they must pass an in-depth certification exam or the national dental examination to get licensed.
Orthodontists, in addition to completing the rigorous process of certification in dentistry, are required to attend a special orthodontic residency program for an extended period of time to get a specialty certification in orthodontics. Once this is completed successfully, then orthodontists can begin practicing orthodontics.
What is the difference between a Dentist and an Orthodontist?
The American Dental Association recommends that a child visit a dentist at the age of six months or once their baby teeth have begun erupting. The recommendation for visiting an orthodontist is around the age of seven, once some of the permanent teeth have erupted. The reason for this is because orthodontists can diagnose and prevent any potential problems with the child's teeth and jaw alignment.
If however, you did not visit an orthodontist as a child, you are still able to visit an orthodontist for your needs. And, it is recommended that adults and children still regularly visit their dentist.
Difference between Orthodontist and Dentist
Dentists typically provide services that are related to preventing and treating tooth decay; treating gum diseases; performing root canals; placing crowns, bridges, and veneers on teeth; and even teeth whitening. This is not an exhaustive list.
Orthodontists, on the other hand, specialize in teeth, mouth, and jaw alignment and provide orthodontic services such as correcting misaligned teeth, crowded teeth, overbites, underbites, crossbites, and this also is not an exhaustive list.
If you need assistance with crooked teeth, an orthodontist will be able to help. Unfortunately, this may be the body of knowledge that an average individual may possess regarding orthodontics.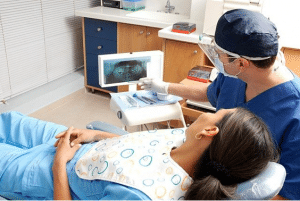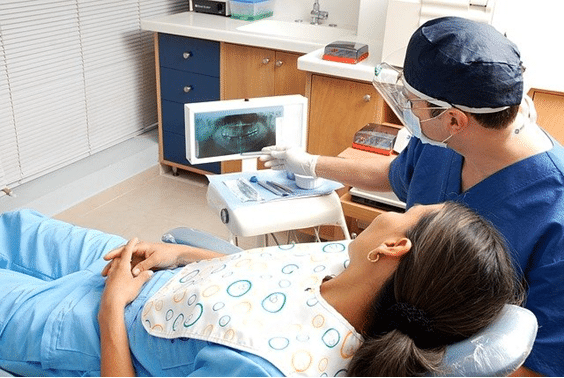 An orthodontist will also help with other problems such as overbites and underbites, crossbites, extra spaces between teeth, overcrowding of teeth, and the treatment of temporomandibular disorders (TMD).  If you have additional problems with your jaw, you may need to visit an orthodontist.  If you have more severe problems and require more specialized assistance or surgery, your orthodontist will refer you to a dental surgeon if they cannot do the work themselves.
To learn more about the difference between dentists and orthodontists, or to schedule a free, no-obligation initial consultation with Ivanov Orthodontics, visit our website or give us a call to schedule your appointment today.
If you or a family member suspect that you or they may have a poorly aligned or crooked jawline or teeth, you may want to simply visit the orthodontist. Ivanov Orthodontic Experts employ specialists and if you require the services of a pediatric dentist, you can save time and money by simply booking an appointment with one of our staff instead.
More About Dentist and Orthodontist
If you are still unsure about whether you should see an orthodontist or a dentist, you should come to think of your general dentist as a general practitioner and your orthodontist as a more specialized dental practitioner. At the very least, you should visit your dentist, as most standard dental problems will be recognized by a dentist and can be treated by them. If not, then they will refer you to the appropriate professional.
Do you have tooth pain, oral infections, gum disease, oral inflammation, tooth decay, or are you in need of tooth repair or tooth extraction? Your dentist can diagnose and treat these conditions.
When it comes to the difference between orthodontist and dentist, once you visit your dentist and are assessed, if it turns out you also have a jaw malocclusion (not lined up correctly), or you require more specialized interventions like palatal expansion or braces or Invisalign treatment, then your dentist will recommend that you see an orthodontist and may refer you to see one.
Dental insurance generally well covers dental issues; however, you will want to confirm that your orthodontic care is covered by insurance, as they are viewed as different. An orthodontist is generally seen as a specialist and so specialist treatments may not be covered by your current insurance provider.
At Ivanov Orthodontics, we are able to discuss your insurance and payment options with you, and we may be able to offer you easy payment plans if you are partnered with one of our preferred insurance providers for your dental or orthodontic treatment.
Dentist vs. orthodontist
In summary, this article has provided a brief description of some of the differences between dentists and orthodontists. They are both two types of doctors who have undergone extensive training and practice in diagnosing and treating oral health problems.  Finally, dentists and orthodontists may do similar things, but orthodontists are qualified to do certain things that a dentist is not qualified to do. When in doubt, take advantage of a free consultation and learn more about what options you have available to you.