You might be surprised to learn that braces for children can actually be affordable. By using a combination of insurance and payment plans, you can provide your children with a great smile and a healthy mouth for life.
Children's braces near me – dental insurance for children's braces
There are a variety of places where you can get good prices on orthodontic treatment for your children. One thing you should keep in mind is that many orthodontists will accept a variety of payment types so worrying about affording your child's braces should not be one of the top things you consider when looking for children's braces near me Miami FL.
There are a few things that you can do that will help bring down the cost of your child's braces. This includes choosing a type of braces that is more affordable. Traditional braces like metal braces cost a lot less than some other types of orthodontic treatment do. One of the most expensive types of braces you can get is lingual braces.
If trying to preserve your child's smile and still get orthodontic treatment at the same time is important to you and your child, you should consider the Invisalign treatment system. Invisalign cost about $1,000 more than metal braces do, but they give you absolutely transparent treatment.
You can ask your pediatric orthodontist at a free consultation what kinds of treatment options are right for your child and also what kinds of payment plans they can work out for you. Many of the top orthodontists in Miami will take most of the major dental insurance plans. This means you can go to any orthodontist and get great care for your child.
We'll look more at children's braces near me in just a moment, but first let's take a moment to see what some of the experts of pediatric orthodontic medicine have to say.
Choosing a pediatric dentist is important and parents should understand the importance of selecting the right person (Mourad, MS et al.,2020).
One thing that many parents consider when choosing a pediatric dentist is whether anyone has had a negative experience at this dentist. These are experiences other children or even parents may have had in the past (Mourad, MS et al.,2020).
Parents often also rely on recommendations from friends and family, research they've done on the internet, as well as websites of the pediatric dentists themselves (Mourad, MS et al.,2020).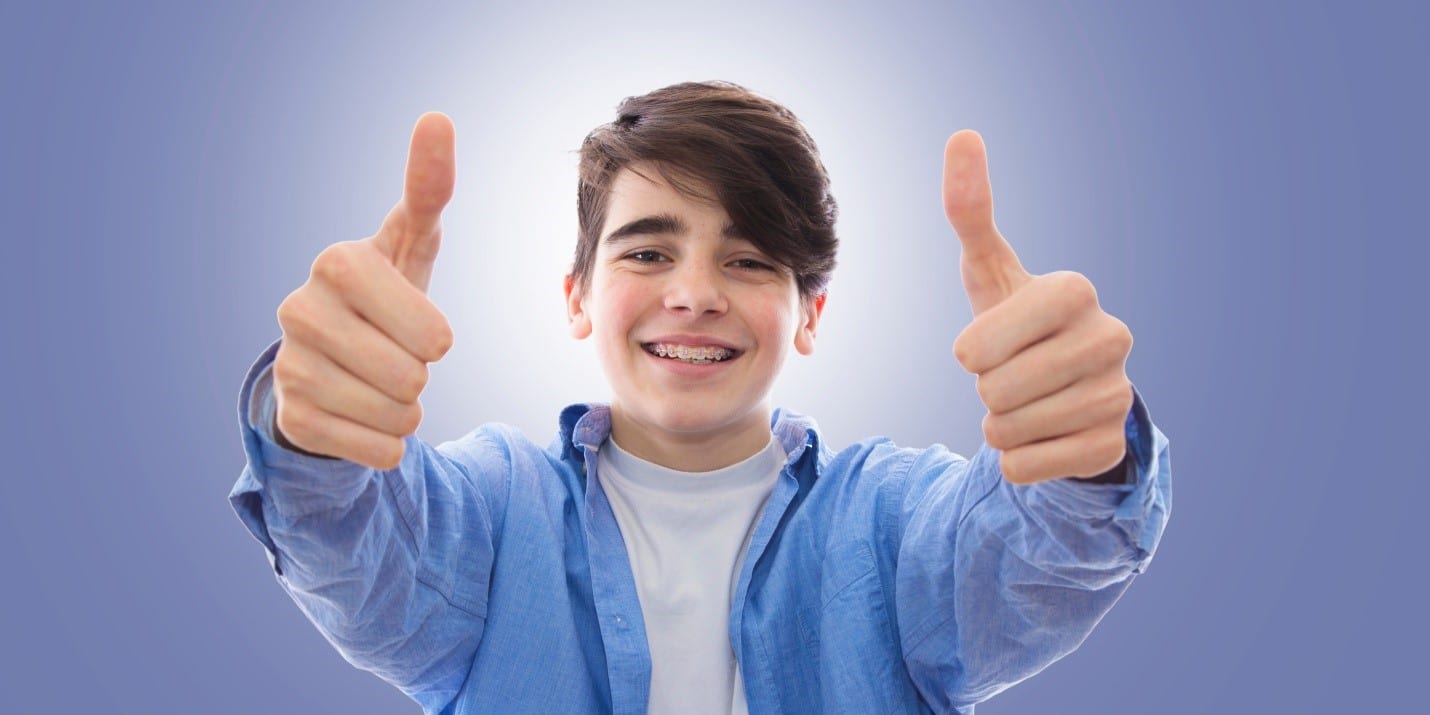 What age is recommended a child get braces? Is 10 too young?
Most children get braces between the ages of 10 to 14, so 10 is definitely not too young. Some children get orthodontic appliances even before all of their adult teeth have come in because of issues that are detected during early orthodontic visits. The American Association of Orthodontics recommends that children visit the orthodontist for the first time by age seven. This gives the orthodontist the chance to assess your child's mouth and assist with any issues like narrow upper palates.
Getting early intervention and early treatment is important so that your child has enough room for all of their adult teeth to come in, and avoid any crowding of your child's teeth. Crowded teeth can lead to tooth decay so it's important to make sure that your child has every opportunity to have a healthy mouth.
While your child may not necessarily get braces at their early appointments, it is important to start orthodontic care as soon as is necessary.
How does an orthodontist fix dental issues in children? How much do children's braces cost?
Typically an orthodontist will do an assessment of your child's teeth and jaw alignment at the first appointment. They will often take x-rays or do a digital scan of the teeth and review with you their findings. They will then set up a treatment plan for your child that may include braces, headgear, palate expanders, or other orthodontic appliances. Most children just need braces.
Then, at the next appointment, the orthodontist will actually install the braces. The brackets attach to the teeth with a dental safe adhesive, and then an arch wire is run through that connects all of them and helps apply the pressure that is needed to move the teeth into the new positions. This arch wire is held in place by small rubber bands. Your child may actually look forward to each appointment because they can choose the color of rubber bands that they want.
Your child will probably be wearing braces for 2 to 3 years. Most children have a treatment time of about 2 years. The braces will gently move the teeth and towards the end, your child's appointments may not have much happening at them. This is because the orthodontist is letting the teeth settle into their new positions and let the bone grow back so that the teeth will stay where they have been moved to.
Every few weeks you will go in for an orthodontic check. This is when the orthodontist will tighten the braces, or if you have chosen to go with the Invisalign clear aligner system, you will pick up the next set of aligners.
The last appointment will be the removal of the braces. It's highly likely that your orthodontist recommends that your child wear a retainer for the next several months or even years. Some orthodontic patients may actually have a permanent retainer installed on the lower teeth that will help keep them from drifting. This is very common in older teens and adults because the bone is more set and it is more likely for the teeth to drift back to their old positions.
Braces cost in general between $3,000 and $8,000, depending on the type you get and how long your child has to wear braces.
Is it worth it to buy my kid braces? Children's braces and dentistry
If you have had a dentist recommend that your child get braces to correct any dental alignment issues, it is definitely worth getting your child braces. Not getting braces can lead to crowded or crooked teeth that are harder to clean, and teeth that are harder to clean are much more susceptible to tooth decay and possible gum disease.
Also, there's a self-esteem factor to consider. Your child may have teeth that make them feel self-conscious and they may not smile much or laugh out loud for fear of someone noticing their misaligned teeth. These self-esteem issues can carry forward into adulthood and can lead to less confidence during job interviews or during any sort of presentation because your child is again not confident about their teeth and their smile.
If your child's teeth are well aligned and they are not experiencing any sort of jaw pain or difficulty chewing, it may not be necessary for your child to have braces. But, if your child could benefit from closing gaps or other dental issues, it is worth at least consulting with an orthodontist to learn more.
Can parents take a kid to get braces without the kid's consent? Children's braces and dentistry
The fields of dentistry orthodontics are unique in that they are fields where patients play an active role in their treatment plan. While a parent can certainly take their child to get any sort of medical care without the child's consent, you are far more likely to get by-in from your child in maintaining their teeth if you make them an active partner in their orthodontic plan. Pediatric dentists are experts at working with children and helping them feel comfortable about what can be otherwise a scary process. Your child should feel comfortable and confident in going to the dentist or orthodontist.
If you want to learn more about children's orthodontics, please contact our office and set up a free consultation. We'd be happy to meet with you and review all the treatment options and payment plans available to you.
Reference:
Mourad, M. S., Brendebach, J., Alkilzy, M., & Splieth, C. H. (2020). Choosing a paediatric dentist: Factors influencing parents' decision. European journal of paediatric dentistry, 21(1), 74–79. https://doi.org/10.23804/ejpd.2020.21.01.15
Contact us:
IVANOV Orthodontic Experts, 12866 Biscayne Blvd, North Miami, FL 33181
https://www.google.com/maps?cid=154326063970645489
Call us at (786) 540-1919 to schedule a free orthodontic exam.
Learn More about How To find a Specialist Orthodontist On A Shoestring Budget at
How To Find a Specialist Orthodontist On A Shoestring Budget