Best Way to Clean Retainers
Having clean retainers is an essential part of maintaining your oral health and steadily progressing on your orthodontic treatment. The reasons why individuals may fail to clean their retainers on a regular basis are many but ultimately it can come down to simple laziness or forgetfulness. However, these are not traits that will serve your orthodontic treatment well as it is absolutely essential that you make sure to clean your orthodontic appliances on a regular basis.  The consequences are you may start to come up against some of the unfortunate side effects that occur when cleaning does not take priority.
Retainers Cleaning
Want to know how to clean retainers. Some of the simple ones can include things such as bad breath. If you're putting a dirty retainer in your mouth without getting it properly cleaned on a regular basis then you are simply reintroducing bacteria that can cause halitosis. Even if you brush your teeth right before, within a short while that bacterial growth can make your mouth smell bad.
In addition, not cleaning retainers can also introduce more harmful bacteria than just the ones that cause halitosis and can even negatively start to affect your oral health. With that in mind and knowing that a clean retainer is a goal, let's learn about the best way to clean retainers.
How to clean retainers will largely depend on the type of retainer you have. When you're looking to clean a retainer it will make a difference if you have metal retainers, Hawley retainers, or a plastic retainer. Regardless of what type of retainers cleaning, you're doing, it is important to know how to disinfect a retainer and how to store retainers to make sure that you get the cleanest ones possible before you put them back in your mouth.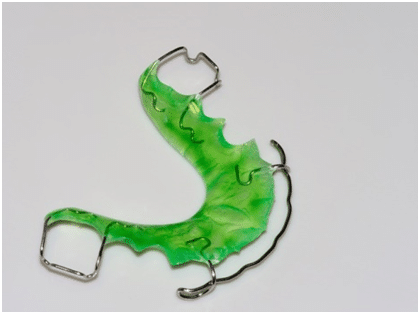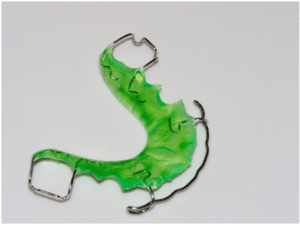 How to Clean a Plastic Retainer
Cleaning retainers of any type are not particularly difficult. Cleaning a plastic retainer is easy in some ways since you are able to remove it. Simply removing the retainer from your mouth and trying to clean it just as soon as you can is a great start. Making sure to clean the retainer while it is still wet is an important part of making sure that you can get rid of as much of the debris, plaque, and tartar that has built up inside your retainer. After you've taken it out, the next step is to make sure that you use a brush. A soft bristle toothbrush will do just fine for cleaning your retainer and should be done at every meal.
Cleaning it with every meal with warm water and a soft-bristle brush will help ensure its cleanliness throughout the day. A good rule of thumb is to simply brush your retainer the same amount of time that you would brush after a meal.
How to Clean Hawley Retainers
Hawley retainers can be cleaned similarly to normal plastic retainers but there are some other things that you might want to do with them as well. One thing to make sure of is when you soak your retainer to make sure that you do it in distilled water. Why distilled and not simply some tap water? Tap water is simply not as pure and can actually still contain mineral deposits or bacteria which can build up or cause damage to your retainer. Using distilled water helps to minimize any of these issues.
Like with the plastic retainers, use a soft bristle brush to remove any of the buildups that have occurred inside or around it and clean it thoroughly. It's important to use a soft bristle brush to make sure that you do not score or damage the retainer. If you're noticing more issues that the brush simply is not getting to or is not able to reach deep enough into the crevices, using a cotton swab to gently wipe away issues can also be an option.
How to Clean Metal Retainers
Not all retainers are removable and some retainers are fixed, These are also known as bonded retainers. These ones can be a bit more difficult to clean as they are in your mouth at all times. The most important thing that you can do with these retainers is to floss around them on a regular basis. If you do not, it will eventually cause buildups of food and plaque which will not only make your mouth and breath smell bad but can also lead to bacterial growth as well which can lead to other health side effects.
This is why following proper flossing procedures is important. You can simply take half a foot of floss and thread it between your front teeth with a floss threader, making sure to get it under the retainer wire so you can move it up and down between the retainer wire and the gum line. This is important to make sure that you can actually reach the gum line as that is often where food will build up. Simply repeat this process between every tooth that you can to ensure that the entire wire is thoroughly flossed and cleaned.
However, some individuals do struggle with this part as flossing in and around all these fixed wires can be difficult for some individuals to manage on their own. If this is the case, have a talk with your orthodontic office and see what tips they might be able to provide.
Some orthodontists might recommend a low-power water flosser while others might teach you new methods of being able to floss properly. Whatever the case, having an orthodontic specialist like Ivanov Orthodontic Experts give you advice on the best way to safely ensure that your retainer is clean is a great way of protecting your oral health and ensuring that your orthodontic equipment can do its job and give you a beautiful smile.