Getting orthodontic treatment as an adult is a great way to correct any bite issues or crooked/crowded teeth. Your treatment time will likely be longer than it would have been as a teenager, but generally speaking, you can expect to wear your braces for anywhere from 18 months to three years. Your treatment time will depend on what treatment you need to have done.
Orthodontics in grown-ups is actually very effective. It's never too late to straighten your teeth. Your treatment time will likely be longer than it would be if you were a teenager, but whether you choose invisible braces or traditional metal braces, you can still achieve excellent results by wearing braces in adulthood.
There are also some other orthodontic treatment adult types you may choose, including lingual braces. These are braces that look and function like traditional metal braces, but they are attached instead to the back of the teeth so they are completely invisible. This makes him very desirable for adults who would like to straighten their teeth without making it obvious to everyone else.
Can underbite teeth be fixed for an adult?
The answer is yes! It's never too late to fix underbites, overbites, crossbites, crooked teeth, or gapped teeth. And, you will achieve some other benefits as well when you wear braces as an adult, including reduced jaw pain because now your jaws will be in alignment.
Is it OK to get braces at the age of 30?
Not only is it okay to get braces at the age of 30, but it's actually a great idea if you weren't able to take care of it as a teenager. The most common orthodontic appliance you will encounter is traditional metal braces. But you can also opt for ceramic braces which are virtually invisible, lingual braces, or truly invisible braces otherwise known as Invisalign clear aligners.
As an adult, you can still get the same great results and beautiful smile you would have if you had gotten braces when you were younger. Just be aware, you may need to wear your braces for longer and you may need to wear a retainer afterward either more often or for longer periods of time than younger orthodontic patients.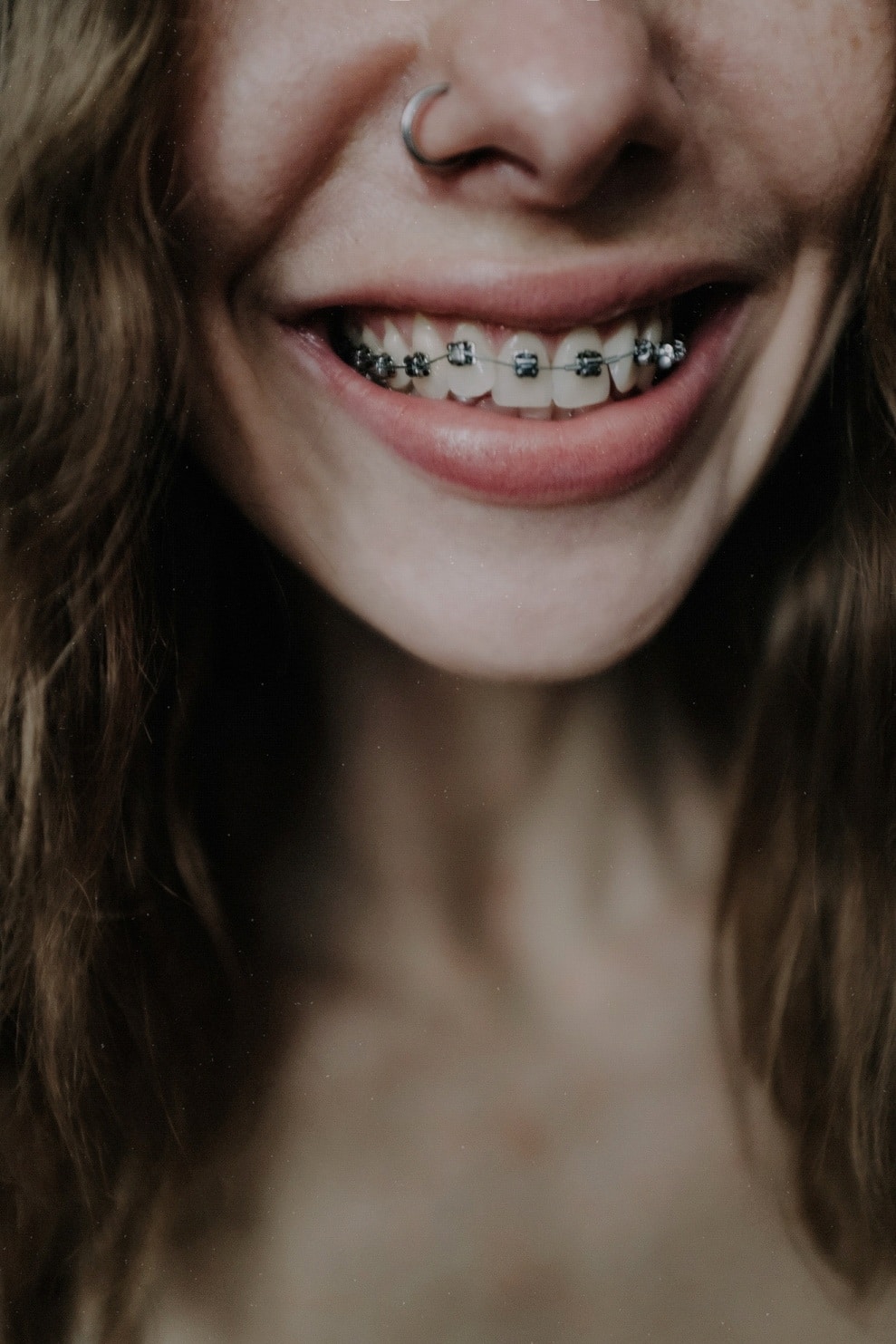 Is it bad for your gums to start wearing braces at 25?
No, it is not bad for your gums to begin wearing braces at 25. In fact, you may actually be doing your gums a favor. If you have crooked teeth or a bite alignment problem, getting your teeth into better alignment means it will be easier to keep your teeth clean. And clean teeth mean healthier teeth and gums.
Not only will brushing and flossing become easier, but your dental hygienist will have an easier time doing your routine cleanings because he or she will be able to get in between the teeth much more easily.
By reducing the amount of plaque and tartar that is on your teeth, you will be able to reduce the amount of gum recession you have.
What are the benefits of orthodontics?
The study of orthodontics is all about teeth and jaw alignment. Your orthodontist will do an initial assessment and determine your treatment plan that will resolve whatever issues you have and straighten teeth.
If you have one of the following:
Overbite
Underbite
Cross-bite
your orthodontist will come up with an orthodontic treatment that will bring your bite into correct alignment. Most people have a slight overbite of between 5 and 25%. This means that your teeth are in a healthy alignment and you can chew correctly and also form words correctly.
Orthodontists can also treat:
gapped teeth
crooked teeth
By bringing your teeth into proper alignment or eliminating any teeth that cross over each other, your teeth will be much happier and healthier. Because you will have straight teeth that meet correctly, the enamel will wear properly and you will avoid any premature wear. Even though we all have two sets of teeth in our lifetime, the adult teeth grow in somewhere between ages 7 and 14 and then they are the only other set we have for the rest of our lives. The more you can do to keep them healthy the better off you will be.
Best braces for adults
The best braces for adults practically speaking are the ones that do the work you need them to and also fit your budget. That said, there are a couple of types of braces that many adults choose because they are more aesthetically pleasing.
Many adults choose Invisalign clear aligners because of the fact that they are completely clear and you can wear them and not have anyone know that you are getting orthodontic treatment. Plus, they have the added benefit of being removable so you can take them out when you need to eat or brush your teeth. That means your teeth will be easier to keep clean than if you were wearing braces with metal brackets. Invisalign works the same way as braces do because they move your teeth gently by applying pressure.
The other type of braces adults really like are ceramic braces. These function much the same as traditional metal braces in that they are brackets affixed to the teeth connected by an archwire. Where they differ is the material the brackets are made out of. Ceramic braces are made from a tooth-colored ceramic material which makes them much more difficult to detect.
Adult orthodontics near me
Choosing an orthodontist for orthodontic treatment adults start by doing either an internet search for a Miami orthodontist for braces or by asking your friends and family who they have had a great experience with. Then, set yourself up an appointment to be able to meet the orthodontist and his or her office team to see if this is the place that will have the right orthodontic treatment near you.
Contact Us
IVANOV Orthodontic Experts, 12866 Biscayne Blvd, North Miami, FL 33181
https://www.google.com/maps?cid=154326063970645489
Call us at (786) 540-1919 to schedule a free orthodontic exam.
Learn more about Affordable Braces and Orthodontics at the Nearest orthodontist at
Affordable Braces and Orthodontics at the Nearest orthodontist